Fort Bend Children's Discovery Center: Adventures for Kids of All Ages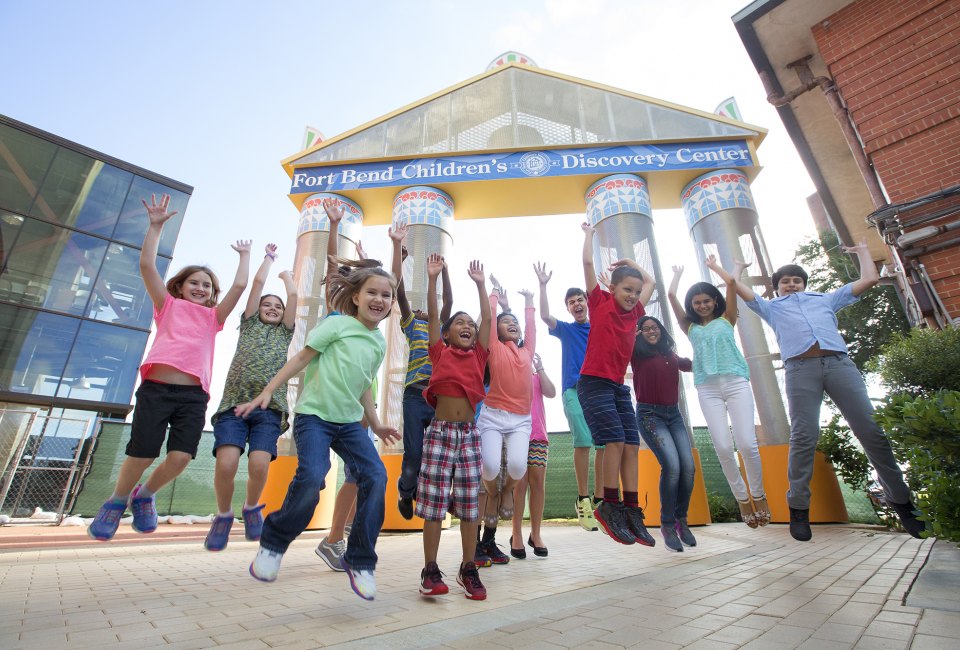 9/18/16
- By
Rachael Cherry
The Fort Bend Children's Discovery Center opened in May of this year, and it is more than a branch of the Children's Museum of Houston. Although it is sponsored by the organization, it isn't merely a replica of the popular downtown museum. Instead, it is filled with attractions that make it worth a visit in its own right.
My son and I took a trip with his best friend to the Fort Bend Children's Discovery Center to check it out shortly after it opened. It's a great suburban alternative to the Children's Museum of Houston, which my son loves, but unless you get there early it can get crowded quickly and be a bit overwhelming to navigate with a toddler.
The 12,000-square-foot discovery center features six exhibits, which makes it a good deal smaller than its 90,000-square-foot counterpart in downtown Houston. This was a definite perk for us with two active toddlers; the smaller space and more streamlined layout made it easy to spot them as they ran around, and I never worried about them getting lost in the crowd. There's also only one entrance to the center, and any adults who arrive without children have to check in with a valid photo ID at the front desk.
The six exhibits include Kidtropolis, How Does It Work?, Cyberchase, Dragons and Fairies, Tot*Spot, and Faces of Fort Bend. We started our morning the same way we always start at the Houston location by heading to Kidtropolis.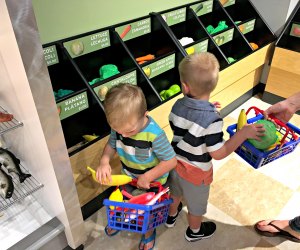 Photo by Rachael Cherry
The interactive mini metropolis is designed to teach kids how life works as an adult, whether it's grocery shopping, taking your pet to the vet, working as a news anchor, or performing other daily "adult" tasks. While I am extremely happy that the discovery center isn't a mirror image of the downtown museum, I am also glad that this exhibit is consistent with the one downtown! Watching kids try to act like adults is both hilarious and endearing.
Cyberchase is a math-based learning adventure, which is a little too advanced for the toddlers I was with, so while we walked through that exhibit, it wasn't one where we spent a lot of time. This stop is based on the PBS Kids cartoon of the same name and is focused on providing kids with an entertaining and interactive way to enhance and improve their critical thinking and math skills. What parent doesn't love that?
Our next adventure took us to Dragons and Fairies, which takes children on a trip through Vietnam. Here, kids are able to see how Vietnamese people live and are taught the values of "steadfastness, adaptability, inventiveness, respect for family and teachers, the belief that the most beautiful results come from simple means, and the need to elevate the group over the individual," according to the center's website.
One of the truly innovative parts of the discovery center for me is the Faces of Fort Bend exhibit. Over 100,000 photos of children from the surrounding area create a wall that showcases the cultural diversity present in Fort Bend County. Kids are encouraged to have their photo taken at the center's entrance so it can be added to the wall, and it's a beautiful tribute to children of all ages.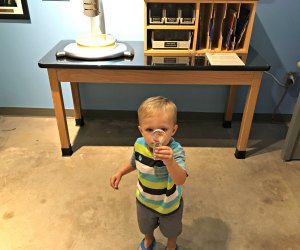 Photo by Rachael Cherry
We ventured onward to How Does It Work?, which is a scaled-down version of the exhibit of the same name at the downtown location, and its smaller size was a breath of fresh air for me as the parent of a toddler. We love How Does It Work? downtown, but the sheer size of it makes it overwhelming when you're trying to keep track of an excited 2-1/2-year-old. The discovery center's exhibit is much more contained, occupying a small hall instead of spanning both an entire lower and upper level. Here, you'll find projects that are more science-focused, such as how wheels and cogs work together and how to operate a pulley system.
Our last stop was Tot*Spot, an exhibit designed for toddlers 35 months and younger. All of the toys and activities encourage parent-child interaction and are designed to engage each of the five senses. This exhibit is set apart from the other five, so you never have to worry about your child wandering away. My son and his friend especially loved the train station where they were able to crawl inside and then slide out, and the miniature car. Apparently pumping gas is quite the event when you're under three.
Given that the Discovery Center is the closer of the two locations for us and much more manageable for both myself and my son, I definitely foresee us making many future trips here. We loved our first visit and can't wait to go back!
Admission to the Discovery Center is $12 for both children and adults (children under a year are free), which is the same as the downtown museum. Anyone visiting after 5 p.m. will save $2 on admission prices. For those interested in a center membership, there are several different membership options and membership will get you entry at both the Fort Bend and downtown locations.

Top photo courtesy Jacob Power/Catchlight Group
Places featured in this article:
---
Fort Bend Children's Discovery Center
Click Here to Sign Up!