Create, Play, and Learn at the Galveston Children's Museum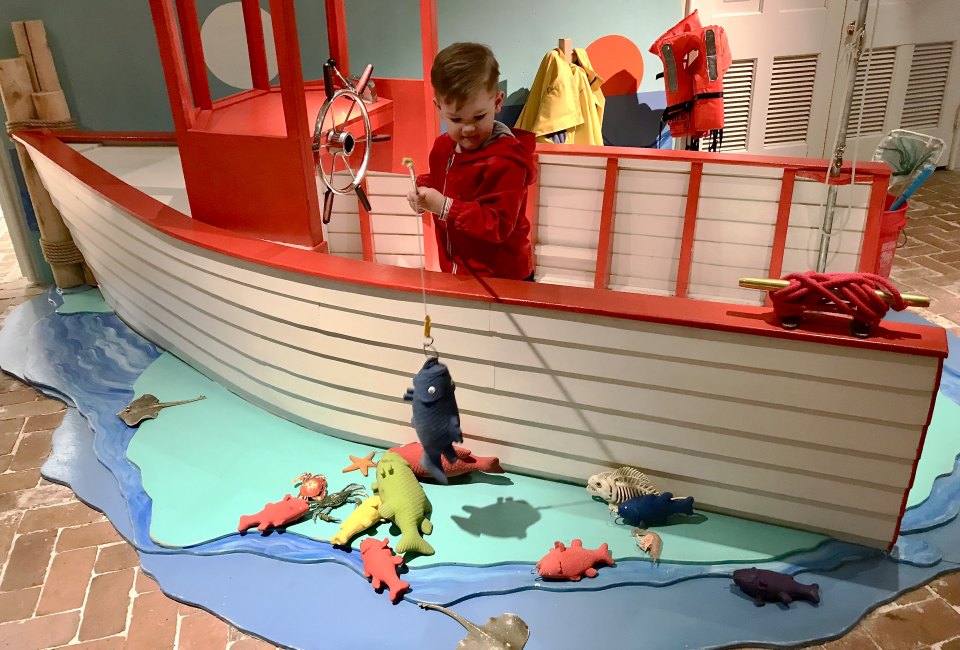 1/25/18
- By
Ashley Jones
Located on the ground floor of the historic Moody Mansion, the Galveston Children's Museum is a one-of-a-kind play place that allows children to learn and explore with a variety of fun and educational activities. From the moment kids enter the museum, everything in each exhibit is completely accessible and made to be totally interactive. If you're looking to add something to your Galveston to-do list that doesn't involve a beach, look no further!
Designed for kids ages 2-10, each room of the museum boasts different activities that inspire curiosity and creativity. On our most recent visit, our three-year-old basically had the run of the place and was able to thoroughly enjoy exploring each room of the museum at his own pace. We started out in the very front room of the museum where our son got to pretend to be a fisherman on a small wooden boat complete with kid-sized fishing poles, nets, life jackets, rain coats, and foam fish to "catch" with the hooks of the end of each pole. In the same room, there is also a play kitchen set up with a pizza-making station, brick "oven," a cash register, and a restaurant booth, table, and chairs for parents to sit at while their kids serve up a delicious (plastic) pizza lunch. At the opposite end of the room, a kid-sized lifeguard tower offers kids the chance to climb up and keep watch.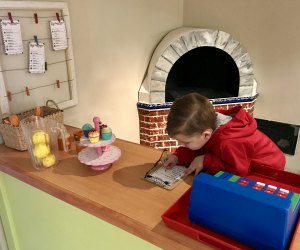 Taking "orders" in the pizzeria.
The next room is full of opportunities for exploration and discovery. Moveable ramps and tubes are attached with magnets along one wall and also set up on the floor with wooden balls to roll down the chutes and into baskets. A wall of moveable gears and a kinetic spinning table are two of the main attractions in this area. There is also a wind tunnel where kids can build their own parachutes out of paper cups and napkins to float up the tunnel. Our son loved being able to use different materials like balloons and silk scarves in the tunnel to see how they would float.
One of my personal favorite spots in the museum is the toddler room. A tranquil room with plush green carpet is a welcoming space for toddlers and preschoolers. It's filled with a variety of wooden Montessori-style toys and even features a reading nook with touch and feel books for little ones. This room also has a table in it filled with kinetic sand that our son kept going back to play in. The kinetic sand table was the perfect nod to a sandy Galveston beach, but without the mess.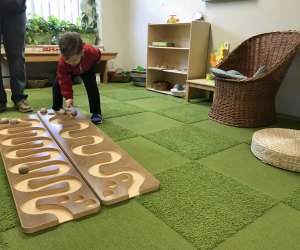 Enjoying the wooden toys in the toddler room.
For older kids, the very back room of the museum features a workshop where kids can use real tools to take apart toys or even build their own contraptions. Materials like wooden bobbins, corks, screws, and springs can be made into tinker toys with hammers and screwdrivers. This room definitely requires a bit more supervision than the others, but is a great learning and creating space for budding engineers. And for builders that may not be up to the task of using real tools yet, throughout the back hallway, several building stations are set up with various materials including Kinex, light up tubing, and even an entire wall space just for making LEGO creations.
A light and airy art room features a space for painting beautiful masterpieces. Different crafts are also set up in this room depending on the season. On our recent visit, a needlepoint activity (with plastic needles) and a snowflake craft were set up at the kid-sized tables. Although our son was not very into the idea of creating any art with us, he very much enjoyed peering into the tank of the bearded dragon that lives in the corner of the art room.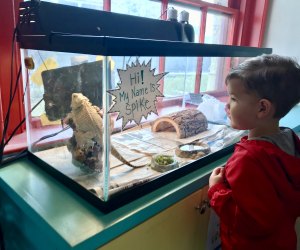 Visiting with Spike, the museum's pet bearded dragon.
In the center of the museum, an entire room is devoted to theatrical arts. A stage complete with fabric backdrops, costumes, and musical instruments provides a great space for kids to use their imagination. Kids can even put on their own puppet show inside of a specially built puppet theater. Adjacent to the theater is a special reading room filled with books for all ages and comfortable pillows for kids to lay on and read.
The kids' clinic room was a definite hit for our 3-year-old. He loved getting to play doctor and give the baby dolls in this room their check-ups with a real stethoscope and scale. There is also a drum in the clinic that beats based on the pulse of your hands. Outside of the clinic, there is an interactive exhibit featuring a skeleton on a screen that moves when you move to demonstrate the way your body looks on the inside when you move.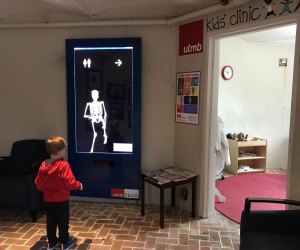 Taking a look at how our bodies work outside the kids' clinic exhibit.
What to know before you go:
Any crafts that kids make, they are welcome to take home with them.
There is plenty of seating located throughout each exhibit for parents to sit while their kids play.
Once you have paid admission, you'll be given a sticker that allows you to come and go from the museum as you please for the remainder of the day.
Outside food is welcome. There is a small cafe table located near the restrooms, as well as an eating area outdoors.
Museum hours are 9:30 a.m.- 5 p.m. Tuesday- Sunday. The museum is open on Mondays during most school holidays and during the summer months.
The museum is available for private events and birthday parties and often hosts their own special events throughout the year. Find out more by checking out their website here.
All photos by Ashley Jones
Places featured in this article:
---
Galveston Children's Museum