15 Father's Day Crafts and Gifts That Kids Can Make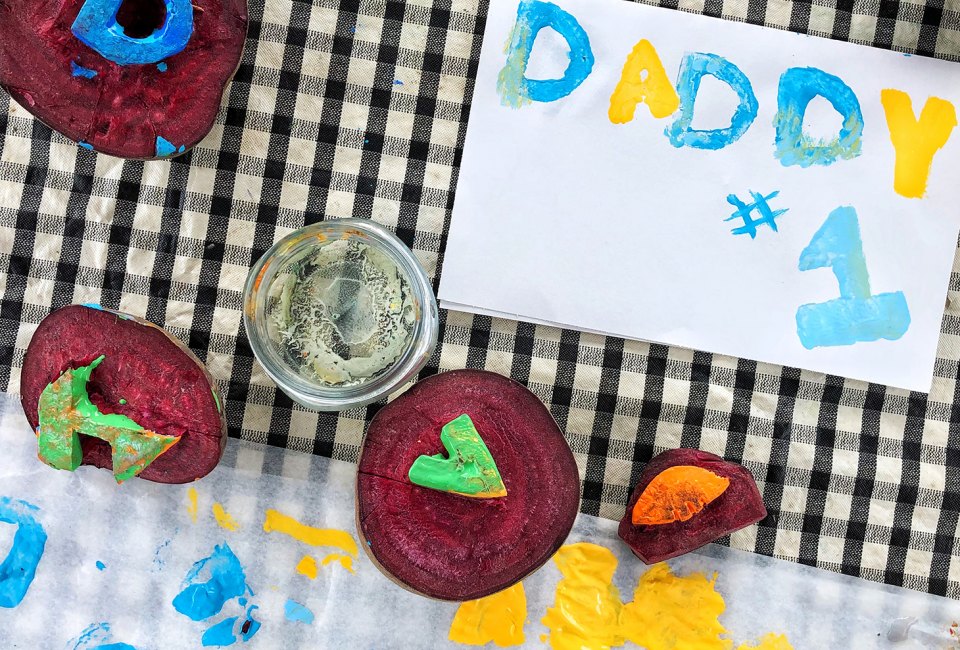 6/11/20
- By
Ally Noel
Give Father's Day 2022 an extra special homemade touch with these DIY gifts from the kids.
Homemade Father's Day crafts, gifts, cards, and desserts are the perfect way to show dad just how much he means. Create the perfect Father's Day card from the kids using candy, footprints, or even potatoes. Love and a little bit of frosting are all you need to whip up these desserts. So go ahead and grab the kids for some easy Father's Day crafts.
Give dad a place to put his keys, wallet, and phone with this photo tray Father's Day craft.
Easy Father's Day Crafts and Gifts
1. Photo Coasters
Give your Instagram pics a chance to shine on these easy-to-make customizable coasters. All you need for this Father's Day craft is a set of printed square photos, some square white tiles from the hardware store, and waterproof Mod Podge. Cut the photos to the size of the coaster and glue and seal with the Mod Podge.
2. Photo Tray Father's Day Gift
A plain wooden tray is the start of this easy Father's Day craft. Dress it up and decorate it especially for dad to give him an extra special spot to place his keys, wallet, and phone. Select a bunch of photos to create a collage on the bottom of the tray. Use Mod Podge to seal the photos for a lifetime of memories
3. Personalized Spatula
Dads who love to grill will certainly flip over this spatula. Let the kids paint personalized messages and follow these easy directions from Skip To My Lou.
4. Bobblehead Dad
This Father's Day gift is perfect for all those funny dads out there who always know just how to make you laugh. A personalized bobblehead craft is sure to make the dad jokester smile.
5. Keychain Father's Day Craft
Picking out the perfect phrase to tell dad just how much you love him is probably the hardest thing about making this personalized keychain Father's Day gift. Pick out your letter beads, some thread, and a keychain loop pull it all together.
6. Personalized Father's Day Mug
This Baked Sharpie Father's Day Mug is the perfect last-minute gift! All you need are some Sharpie markers and a white ceramic mug for an easy Father's Day craft.
RELATED: 25 Corny Dad Jokes and One-Liners Sure to Make You Cringe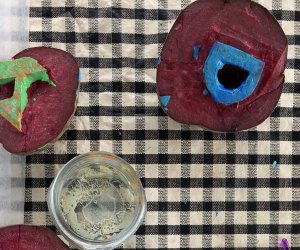 Potatoes make the perfect stamps for little hands to hold on to while they personalize this Father Day's card.
DIY Father's Day Cards
7. Potato Print Cards
With a little help from an adult, potatoes can make the perfect-sized stamps for toddler-sized hands. We cut the letters D-A-D into our stamps to spell out dad, but you could also cut shapes, patterns, or other figures to make an impression on with this homemade Father's Day card.
8. Following My Daddy's Shoes
Those little chubby toes won't be this small forever. You can preserve this moment by creating this following my daddy's shoe card using one of dad's shoes.
9. Taco Card
We all know your dad is awesome, but let's taco 'bout how awesome he is with this awesome taco Father's Day card!
10. Crayon Resist Cards
Send dad a secret message using the crayon resist method. Using a white crayon, write a sweet secret message for dad. On Father's Day, let him use watercolor paints to reveal the kids' words.
11. Bowtie Father's Day Card
Is your dad the sweetest? Does your dad have a sweet tooth? Then, this candy-inspired bowtie Father's Day card is the perfect way to say "Happy Father's Day!"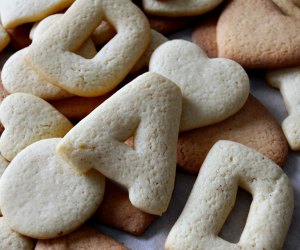 Dish out a personalized Father's Day dessert with some D-A-D cookies. Photo by Mommy Poppins
Father's Day Cakes and Desserts
12. D-A-D Cookies
There is a whole lot of love in this sweet treat. Cut the letters "D," "A," and another "D" out of your favorite sugar cookie dough to spell out DAD. Grab his favorite candies, sprinkles, and frosting, and decorate the cookies especially for your dad.
13. Hamburger Cupcakes
If your dad loves burgers AND dessert, then try this Father's Day cake treat on his special day. These hamburger cupcakes are easy enough for kids to assemble and decorate.
14. Lawnmower Cupcakes
Make all the other dads green with envy with these clever lawnmower cupcakes for backyard-themed Father's Day gift. Mini chocolates and M&Ms melt together to create the lawnmower.
15. Banana Split Lasagne
This banana split lasagne is filled layer upon layer of deliciousness! Better yet, it doesn't require an oven to make all your sweet treat dreams come true. This festive treat can be made in advance, so it's the perfect way to serve ice cream at a backyard barbecue.
This article might contain some affiliate links, which means we may earn a small commission if you make a purchase. There is no extra cost to the reader. We only recommend products and services that we have personally used or have thoroughly researched.
Click Here to Sign Up!