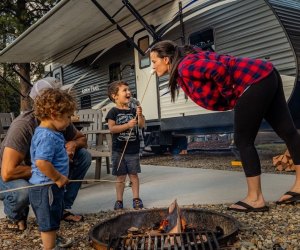 12 Connecticut Campgrounds That Are Extra Fun for Camping with Kids
A family camping trip is fun anytime, but a getaway to the great outdoors is especially appealing this summer. We have found several Connecticut campgrounds that are welcoming families in 2020, and many offer great kid-friendly amenities like playgrounds, swimming pools, and mini golf.
Don't forget to check out Mommy Poppins' camping guide for Connecticut, our list of short hiking trails and longer hiking trails, and our entire summer fun guide for more outdoor adventures.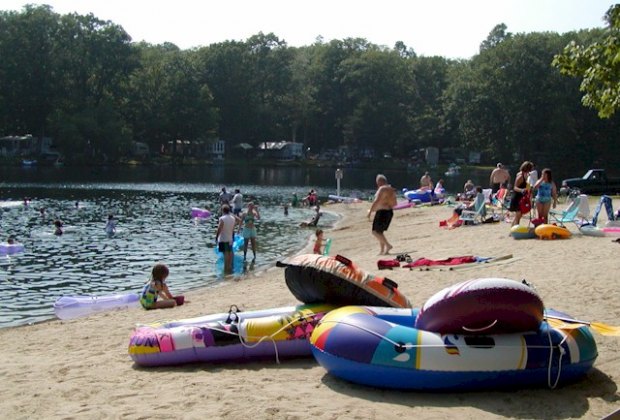 There is a beach for swimming or floating at Water's Edge. Social distancing measures will be in place this summer. Photo courtesy of the campground
2020 update: The Recreation Hall and some activities have been adjusted for the 2020 season. The pool is open, but it has limited capacity.

This 10-acre camping destination located in Lebanon is wooded with a stocked fishing lake as well as a huge swimming pool for families to take a dip in on hot summer days. During open season, the campground's several activities include a fishing derby, Bingo tournaments, Cinco De Mayo weekend, Bicycle parade, horseshoe, Texas Hold 'em tournament, and an 80's themed weekend. Go and visit during July and enjoy a steak and lobster dinner and an ice cream social.
Lodging types offered: R.V., tent, cabins
Amenities include: swimming pool, free WiFi, dog park, water and electric, bathrooms with showers.
​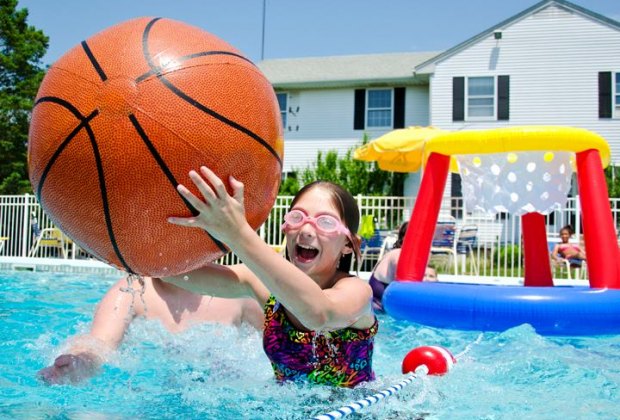 Kids have a ball in the swimming pool at Mystic KOA. Image courtesy of the campground
2020 update: There are some capacity restrictions, some amenities and recreation might not be available, and there will be curbside check-in.
This KOA is located on a historic site in Southeast Connecticut. It has a swimming pool, WiFi, and even a mini-golf course on site. This KOA offers families Campfire Theatre where employees tell stories, roast s'mores, and entertain kids by the fire. They also have a playground and something called a "bouncing pillow" which is like a trampoline. Staff will tie-dye with your kids and even take them on a haywagon ride twice a week.
Lodging types offered: R.V., tents, cabins
Amenities include: WiFi, pool, playground, dog park, and bike rental.
2020 update: Pool and some other activities have reduced occupancy. Reservations can be made for many activities to allow for social distancing.
Located in the Quiet Corner, Brialee considers itself a real family oriented camping location. They have a packed weekend schedule starting in early April going all the way until October. Bring your kids to camp and enjoy events like the Marvel superhero scavenger hunt, Candyland weekend, or Winter Wonderland. Go to their website to see all their weekend events.
Lodging types offered: R.V., tents, cabins
Amenities include: playground, mini golf, pond, snack shack, volleyball court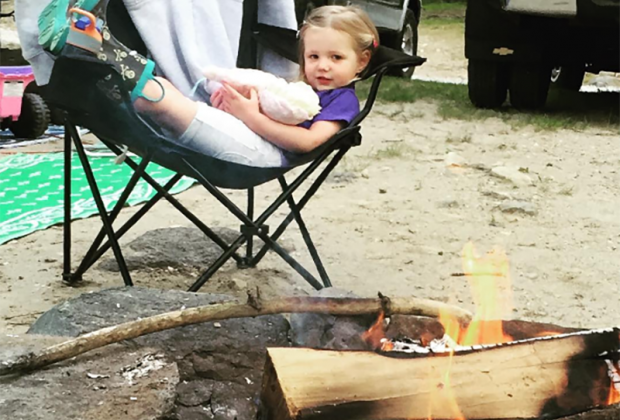 Cozy Hills lives up to its name. Photo by bethlehemtuz via Instagram
2020 update: Adjustments are being made to certain activities this summer; inquire with the campground for details.
Open from April to October for family camping, Cozy Hills offers families bingo, crafts, and wagon rides every Friday morning. Come out and enjoy camping on Father's Day weekend, Carnival Weekend, or Pirate Weekend. Cozy Hills has a 12-acre pond for fishing and playing, a playground, and an indoor playground. If you're looking to get off campus for a little while, Action Wildlife is just twenty minutes away.
Lodging types offered: R.V. tents, cabins
Amenities include: pool, WiFi, basketball court, arcade, arts and crafts (free!), and lending library.
2020 update: Some amenities are closed or at reduced capacity for the season. Contact campground for more information.
Wolf's Den has several ponds, a mini golf course, horseshoes, and a swimming pool. Every summer, on different weekends, Wolf's Den sets up a huge water slide, bounce house, toilet seat horseshoes, and coconut bowling. They are open for camping from April to October. Kids will love the the fun outdoor games and swimming pool. Just a short drive away is Brownstone Exploration and Discovery Park and Gillette Castle.
Lodging types offered: Tents, rental R.V.
Amenities include: pool, wifi ($), pets welcome, softball field, recreation hall.
2020 update: Some amenities that are closed or at reduced capacity for the season.
A Central Connecticut campground with a lot to do. Located on a whopping 175 acres, Nelson's has been serving families since the 1960's. Bring your R.V. or rent one. Tent spaces are plentiful as well. Nelson's offers themed weekends such as Mad Scientist, Bingo Mania, and Happy Days (50's-60's theme). On site, your family can enjoy horseshoes, volleyball, soccer, a recreation hall, and an arcade. There is also a fishing pond and a swimming pool and pond.
Lodging types offered: tents, R.V. and rental R.V.
Amenities include: laundry room, wifi ($), hiking trail, and access to Lake Pocotoaug.
2020 update: Many of the areas will be limited in capacity per state orders and enforced by Odetah staff​. There will be no trams, spa, or non-registered visitors this summer.
Located on 500 acres, Odetah offers campers cabins, tent space, and, get this...yurts! They have a 32-acre lake, beach, and tennis court. Themed weekends include "Blast-off!", "Christmas in July," and "Superhero Celebration." There is on-site cafe and ice cream as well as a pool and jacuzzi. Regular events are run by the staff and include things like tug-o-war, hay-rides, and group scavenger hunts.
Lodging types offered: tents, R.V., cabins, yurts
Amenities: jacuzzi, pool, cafe, tennis court, social hall, ice cream, mini golf, playground
2020 update: Pool Is not currently open as of publication date, and other activities have been adjusted; contact campground for more information.
Scenic wooded R.V. and tent sites are provided by Hemlock Hill. Large pool, whirlpool tub, playground, and tons of themed weekends. Your family can enjoy the open air pavilion and the grilling area or take in a game of ball on the basketball courts. Local to the campground are other fun things to do with kids as well such as Lime Rock Park or Action Wildlife.
Lodging types offered: R.V., tents
Amenities include: swimming pool, basketball court, playground.
​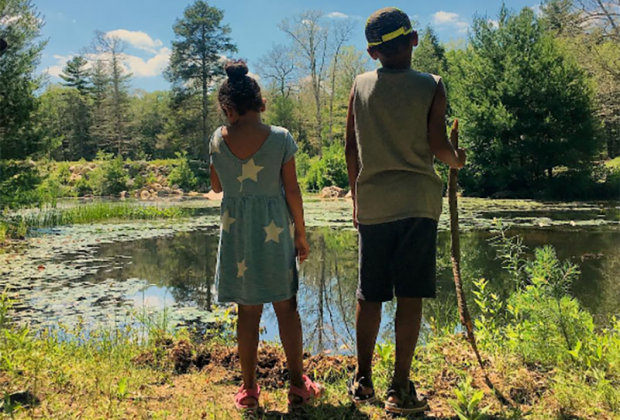 Pitch a tent and head to the water to canoe, fish, or swim at Nature's Campsites. Photo by rozny via Instagram
2020 update: Pool is open with capacity restrictions and reservations. No visitors or group sites will be available.

​Located in Pachaug State Forest, Nature's Campsites is a large campground with many beautiful spots to park your tent ot R.V. Bring another family along and utilize Nature Campsite's group tent sites. There are plenty of places to fish, canoe, or swim. There is a playground, basketball court, zorb balls, campfires, paint ball, and swimming pool.
Lodging types available: tents, R.V., rental R.V., cabins
Amenities offered: WiFi, pool, group games and dance parties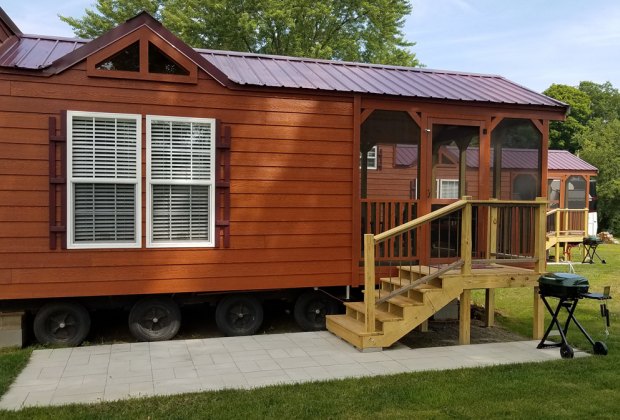 "Luxury cabins" at Charlie Brown Campground feature screened-in porches, air conditioning, and TVs. Photo courtesy of the campground
2020 update: Playground is currently open. Indoor gatherings are limited to 24 people or less.
If you're looking to explore the quiet side of Connecticut, this campground offers opportunities for horseback riding, biking, fishing, hiking, and swimming in the Natchaug River. Children will enjoy moon bounces, pony rides, horseshoe tournaments, and entertainment. The revolutionary town of Eastford features charming antique shops, ice cream parlors, and an orchard.
Lodging types available: cabins, R.V.
Amenities offered: WiFi, TVs, video games, swimming hole, and moon bounces
2020 update: The arcade, playgrounds, the basketball courts, all volleyball courts, the jumping pillow are closed, but all pools will be open during normal business hours.
You will not run out of things to enjoy here: the campground features five pools (including a kids' diving pool and a kids' swimming pool), indoor arcade, recreation center, super soaker wagon rides, a jumping pillow, athletic fields and courts, a nine-hole Frisbee golf course, and plenty of activities to keep the family entertained all day.
Lodging types available: cabins, R.V.
Amenities offered: pools, arcade wagon rides, athletic fields and courts
2020 update: Bear Creek will be reopening on Wednesday, July 1. Some amenities may not be available; check closer to the opening date.
In addition to RVs or tents, Bear Creek offers deluxe tipis, cub huts, and cabins. You can also participate in family-friendly activities and take advantage of transportation to and from Lake Compounce Family Theme Park.
Lodging types available: cabins, R.V., tipis, "cub huts", or tent
Amenities offered: play area, basketball court, volleyball court, tram service to Lake Compounce