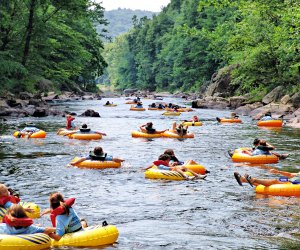 Summer Day Trips in Connecticut for Families that are Fun for Kids
When you live in Connecticut and within a short drive of great beaches, state parks, and amuseument park rides, every summer weekend is an opportunity for a quick, easy family day trip with kids. Here, we've collected some outings that Connecticut kids will love, grouped by area so you can easily double up on attractions and create your own itinerary. Click through each link for more information and inspiration, whether you are looking to explore natural beauty, expand knowledge, or scream with delight on a water slide or roller coaster. Find even more summer activities in our Connecticut Summer Fun Guide.
Litchfield-Area Day Trips

Enjoy the rides at the Quassy Amusement Park. Photo by Makayla O'Keefe/Mommy Poppins
Bring a blanket and settle in for some first rate bluegrass music at the Roxbury Pickin' n Fiddlin' Contest.
Ride in a restored vintage 1920s train coach while taking a scenic 20-mile round trip ride on the Naugatuck Railroad from Thomaston Railroad Museum of New England.
Soak in the fun at Quassy Amusement Park with old-fashioned rides, a small water park, and a lake with a beach.
RELATED: 8 Great Theme Parks for Families in New England
Go on a drive-through safari and see exotic wildlife at Action Wildlife.
Visit more than 50 alpacas and their new babies at Southwind Farms during the Daylily Alpaca Fest in July.
Bring a blanket and hear amazing jazz musicians perform on stage at Litchfield Jazz Festival.
Spend the day rafting down the scenic Housatonic River with Clarke Outdoor River Guides.
Picnic on a hillside while watching race cars speed by at Lime Rock Park; touted as "The Road Racing Center of the East".
Hike up to the top of Kent Falls and swim at the top.
Go on horseback trail ride or pony ride at Lee's Riding Stables.
Race go-karts and play phazerball at the family entertainment center R&B Sportsworld in Winsted.
Hike up to the Lookout Tower and enjoy the view at Mount Tom State Park and then jump in for a swim at the sandy beach on Lake Tom.
Go spelunking at Tory's Cave in New Milford.
RELATED: Short Hikes to Take with Kids in Connecticut
Hartford-Area Day Trips


Be an astronaut for the day at The New England Air Museum. Photo Credit: coachdenis via Instagram.
Admire restored carousel horses at the The New England Carousel Museum.
Sit in the cockpit of a fighter jet at the New England Air Museum.
Enjoy unlimited rides on vintage vehicles at the Connecticut Trolley Museum.
Spend the day exploring water forces, bubbles, robots, galaxies, and more scientific wonders at the Connecticut Science Center.
Get hands on with prehistoric history at Dinosaur State Park.
Take a ride on a vintage 1927 wooden roller coaster at Lake Compounce, the nation's oldest, continuously operating amusement park.
Enjoy fireworks, music, great food, and more on East Hartford's riverfront on the Fourth of July.
Head to one of the oldest continuing agricultural fairs in the state, The Brooklyn Fair.
Go canoeing or tubing on the Farmington River.
RELATED: 45 Unmissable Things to Do in the Hartford Area with Kids
Spend the day ziplining, wake boarding, and cliff jumping at Brownstone Exploration & Discovery Park in Manchester.
Pack a picnic basket and blanket and head for the beautiful hills of Storrs/Mansfield at the University of CT. Park your family under a tree at Horsebarn Hill, then enjoy an ice cream cone at the renowned UConn Dairy Bar, run by the School of Agriculture.
Watch a show at the Southington Drive-in theater.
Greater New Haven and Mystic Day Trips


Meet the ferocious Torosaurus at the entrance to the Yale Peabody Museum. Photo courtesy of Visit CT
Marvel at giant dinosaurs, tiny ant colonies, artifacts from ancient Egypt, plus so much more at the Yale Peabody Natural History Museum.
The North Branford Potato & Corn Festival features live music, food, games, contests, hay rides, a car show, and delicious food.
Irish music, traditional food, and entertainment for adults and children, including a petting zoo, await at North Haven's Connecticut Irish Festival.
Walk amongst the prehistoric giants at The Dinosaur Place.
RELATED: Finding Dinosaurs Throughout Connecticut with Kids
Get your share of 30,000 oysters, live entertainment, arts & craft vendors, amusement rides, a schooner boat cruise, plus canoe and kayak races at the Milford Oyster Festival.
Visit Mystic for the aquarium, seaport, and, of course, pizza.
See one of the largest fireworks displays in the nation at New London's weekend long Sailfest.
Visit Ocean Beach Park for swimming and old fashioned boardwalk fun.
Tour a submarine and learn about the amazing history behind the use of submarines in the military at the USS Nautilus Submarine Force Museum.
Visit the little beachside community of Groton Long Point and wander over to their "casino" (a penny candy store).
Fairfield County Day Trips


Berry picking at Connecticut farms is delicious and fun. Photo Credit: Mommy Poppins
Go berry picking at Jones Family Farm or one of the many others statewide.
Norwalk Oyster Festival has a Kids Cove with character meet and greets, variety shows, demonstrations, and more.
Explore 80 miles of trails, Nature's Playground, Otter Pond, Bendel Pond Picnic Area, and the Animal Embassy at the Stamford Museum and Nature Center.
Take your little ones to Stepping Stones Museum in Norwalk for art-inspired activities.
RELATED: Free Museum Days in Connecticut
Race on the largest multi-level go-kart track in the world.
Take in a polo match at the Greenwich Polo Club.
All train lovers will enjoy the Danbury Railway Museum, which offers history lessons, train rides, and hands-on learning.
Spend the day at one of Connecticut's affordable beaches (state beaches are free!) on the Sound.
Sit on the edge of the Housatonic River and enjoy a lobster roll at Knapp's Landing in Stratford.
Head out to Hummock Island Oyster Farm, explore its beauty, and see how oysters are farmed.