40 Awesome Summer Day Trips for Connecticut Families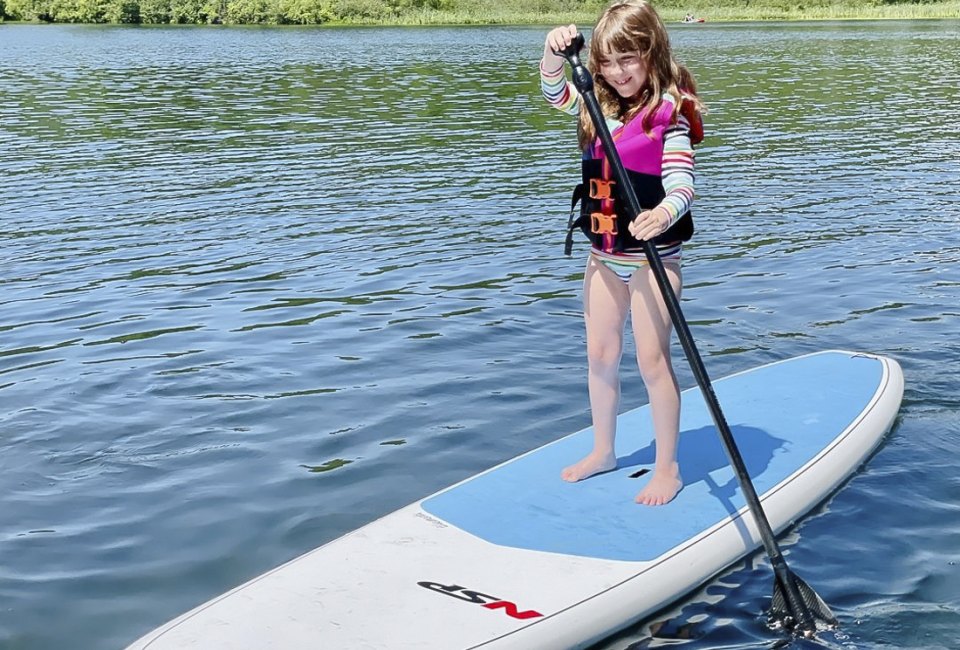 6/24/22
- By
Anna Fader
One of the best things about living in Connecticut is that great beaches, state parks, and amusement park rides, are all within a short drive. We've rounded up the best summer day trips from Connecticut that kids will love. We grouped these getaways by area so families can easily double up on attractions and create their own itinerary.
Whether you're looking to explore natural beauty, expand knowledge, or scream with delight on a water slide or roller coaster, these day trips in Connecticut are just the ticket. Find even more summer activities in our Connecticut Summer Fun Guide.
Best Summer Day Trips from Connecticut - Litchfield Area
1. Thomaston Railroad Museum of New England
Ride in a restored vintage 1920s train coach while taking a scenic 20-mile round trip ride on the Naugatuck Railroad from Thomaston Railroad Museum of New England.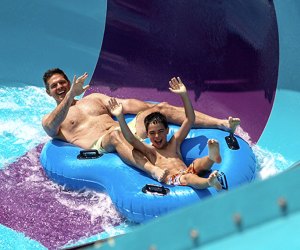 Water slides always make for the best summer day trips. Photo courtesy of Quassy Amusement Park
2. Quassy Amusement Park
Soak in the fun at Quassy Amusement Park with old-fashioned rides, a small water park, and a lake with a beach.
3. Action Wildlife
Go on a drive-through safari and see exotic wildlife at Action Wildlife.
4. Clarke Outdoor River Guides
Spend the day rafting down the scenic Housatonic River with Clarke Outdoor River Guides.
5. Lee's Riding Stables
Go on a horseback trail ride or pony ride at Lee's Riding Stables.
6. R&B Sportsworld
Race go-karts and play phazerball at the family entertainment center R&B Sportsworld in Winsted.9.
7. Mount Tom State Park
Hike up to the Lookout Tower and enjoy the view at Mount Tom State Park and then jump in for a swim at the sandy beach on Lake Tom.
8. Pleasant Valley Drive-In
Enjoy a movie from the comfort of your own car at the Pleasant Valley Drive-In in Barkhamstead.

Pick your own berries for a great summer activity. Photo courtesy of March Farm, Facebook
9. March Farms
Pick your favorite fruits all summer long at March Farms. They have farm fresh cherries, blueberries, and peaches.
10. Covered Bridge Electric Bike
Experience the fresh air and quintessential New England charm in nearby Cornwall with a trip over the West Cornwall Covered Bridge on an electric bike. Drivers need to be 18 or over, but kids can ride along on a cargo bike.
11. Lime Rock Park
Picnic on a hillside while watching race cars speed by at Lime Rock Park; touted as "The Road Racing Center of the East."
12. Kent Falls State Park
Hike up to the top of Kent Falls and then go grab a sweet treat at Kent Coffee & Chocolate Co.
13. Lake Waramaug
Spend the day kayaking, swimming, and enjoying the stunning views at Lake Waramaug.

Nothing beats a laid-back adventure! Photo courtesy of Farmington River Tubing
14. Farmington River
Go tubing down the Farmington River.
RELATED: Short Hikes to Take with Kids in Connecticut
Best Summer Day Trips from Connecticut - Hartford Area


Be an astronaut for the day at The New England Air Museum. Photo Credit: coachdenis via Instagram
15. New England Carousel Museum
Admire restored carousel horses at the The New England Carousel Museum.
16. New England Air Museum
Sit in the cockpit of a fighter jet at the New England Air Museum.
17. Connecticut Trolley Museum
Enjoy unlimited rides on vintage vehicles at the Connecticut Trolley Museum.
18. Connecticut Science Center
Spend the day exploring water forces, bubbles, robots, galaxies, and more scientific wonders at the Connecticut Science Center.
19. Dinosaur State Park
Get hands-on with prehistoric history at Dinosaur State Park.
20. Lake Compounce
Take a ride on a vintage 1927 wooden roller coaster at Lake Compounce, the nation's oldest, continuously operating amusement park.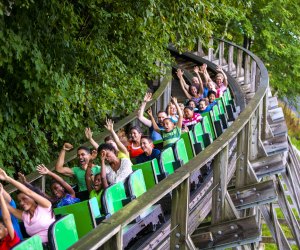 Take a ride on a classic wooden coaster. Photo courtesy of Lake Compounce Amusement Park
21. Brownstone Exploration and Discovery Park
Spend the day ziplining, wake boarding, and cliff jumping at Brownstone Exploration & Discovery Park in Portland.
22. Dunkin Donuts Stadium
Cheer for the home team and watch a Yard Goats game in downtown Hartford.
Best Summer Day Trips from Connecticut - New Haven and Mystic Area
23. UCONN
Pack a picnic basket and blanket and head for the beautiful hills of Storrs/Mansfield at the University of CT. Park your family under a tree at Horsebarn Hill, then enjoy an ice cream cone at the renowned UConn Dairy Bar, run by the School of Agriculture.
24. The Dinosaur Place
Walk amongst the prehistoric giants and run through the state's largest splash pad at The Dinosaur Place.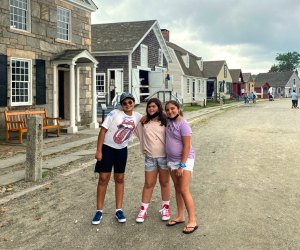 Mystic Seaport takes the family baack to a simpler time. Photo by Ally Noel
25. Mystic
Visit Mystic for the aquarium, seaport, and, of course, pizza.
26. Ocean Beach Park
Visit Ocean Beach Park for swimming and old fashioned boardwalk fun.
27. Lavender Pond Farm
Take a deep breath and inhale the fragrant smell of lavender as you stroll around Lavender Pond Farm.

Connecticut pizza is worth the day trip. Photo courtesy of Modern Apizza, Facebook
28. New Haven Pizza
Take a pizza tour through New Haven and see if you can pick a favorite pizza.
29. USS Nautilus Submarine Force Museum
Tour a submarine and learn about the amazing history behind the use of submarines in the military at the USS Nautilus Submarine Force Museum.
30. Groton Long Point
Visit the little beachside community of Groton Long Point and wander over to their "casino" (a penny candy store).

Throwback fun awaits at the roller rink! Photo courtesy of Roller Magic.
31. Go Rollerskating
Take a trip back to the 90s with a skate around the rink at Roller Magic.
Best Summer Day Trips from Connecticut - Fairfield County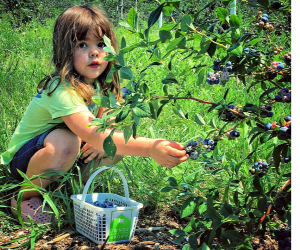 Berry picking at Connecticut farms is delicious and fun. Photo by Ally Noel
32. Jones Family Farm
Go berry picking at Jones Family Farm or one of the many others statewide.
33. Stamford Museum and Nature Center
Explore 80 miles of trails, Nature's Playground, Otter Pond, Bendel Pond Picnic Area, and the Animal Embassy at the Stamford Museum and Nature Center.

Get up close with marine life at Pinniped Cove. Photo courtesy of Maritime Aquarium
34. Maritime Aquarium
South Norwalk is home to the Maritime Aquarium. The Maritime will provide visitors of all ages with insight into the rich biodiversity of Long Island Sound.
35. Sheffield Island Cruise
Cruise around Norwalk Harbor with the Seaport Association. The Lighthouse Cruise will take you by three historic lighthouses.
36. Adventure Park
Pack your sense of adventure and swing through the trees at Adventure Park.
37. Polo
Take in a polo match at the Greenwich Polo Club.
38. Earthplace
Sign up for a Canoe Paddle, or just drop by for a Birds of Prey feeding at Earthplace in Westport.

Sherwood Island is just one of Connecticut's beaches worthy of a day trip. Photo by Ally Noel.
39. Sherwood Island
Spend the day at one of Connecticut's affordable beaches (state beaches are free for residents!) on the Sound.
40. Go Kayaking
Rent a kayak and take a trip down the Saugatuck at the Sea Kayak CT