All Aboard for Fall Foliage at the Railroad Museum of New England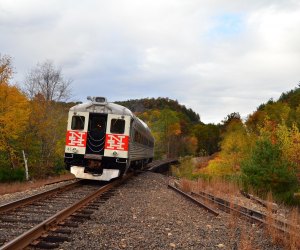 When you live in New England, you tend to get really excited about all of the fall things. From country fairs to cider donuts, pumpkin patches to corn mazes—fall is our very favorite. Which brings me to the season's main event: leaf peeping. This fall, why not try riding as a passenger a New England's vintage railroad, and really wrap yourself up in autumn's patchwork quilt of colors. For the ultimate leaf-peeping experience (with heaping slice of nostalgia) climb aboard a railcar at the Railroad Museum of New England tucked in the upper Naugatuck Valley. For more seasonal fun, check out our guide to Fall activities and subscribe to our newsletter for even more ideas delivered straight to your inbox.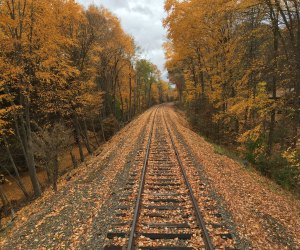 Come October, nature begins its spectacular performance starting in the Northwest corner of the state, slowly making its ways across the peaks and valleys on down to the coastline. And well, we all just love to watch it. Putting you front and center for some great fall foliage, fall foliage train tours offer a special way to take in the colors of the season. Your enchanting foliage tour begins in Litchfield County at the historic 1881 Victorian railway station at Thomaston, just north of Waterbury. We suggest arriving 30 to 45 minutes before departure (trains depart at noon and 2pm) to ensure stress-free parking. Tickets can be purchased in advance and picked up at will call (in the train station) on the day of departure. Or, Visitors could purchase tickets right at the station.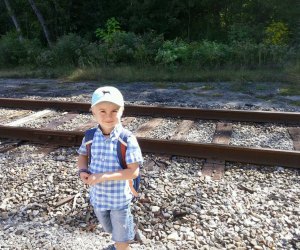 Once inside the station, you can check out the railroad's history, a model train display, and peak at all of the train-themed toys for sale. There is an assortment of snacks and drinks available in exchange for donations. (You can also bring your own snacks to enjoy on the picnic tables outside the station or on the train ride.) Also—bathrooms are located alongside the picnic area and are NOT available on the train.
Home to one of the largest (and most impressive) collections of preserved historic railroad equipment in New England, RMNE has been active since the 1960s, when it began organizing steam train excursions in Connecticut. There are plenty of antique railcars for the kiddos to explore while waiting for their train to arrive for departure.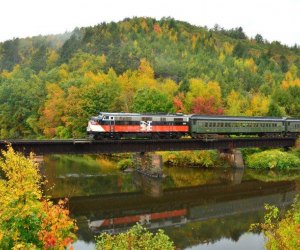 Once aboard the train, there is no assigned seating—just find the first available seats and hunker down. From your window, savor the movable vistas, some visible only by train on RMNE's 20-mile round-trip scenic ride through history as it chugs alongside old factories, through Mattatuck Forest, along the Naugatuck River and across the face of a dam. You'll rumble along networks of historic tracks down to Waterville, where the beautiful Naugatuck River hugs the tracks, crossing under in several places allowing for coveted views of the river and surrounding scenery.
Returning back up through Thomaston, visitors will soak in views from the face of the Thomaston Dam, looking down on the valley and river below. From here the train will continue its journey north through several magnificent rock outcroppings on up to the summit, offering even more views of the autumn scenery before returning to Thomaston Station.
In October, foliage train tours include a stop to RMNE's very own pumpkin patch where children are invited to select their very own pumpkin to bring home.
Fall Foliage and Pumpkin Patch Train Tours are offered on Sundays at 10am, 12pm and 2:00pm and Tuesdays at 10:00am through September and October. Tuesday train departures include a stop at Fascia's Chocolate Company.
Trips last 75 minutes. The memories last a lot longer.
Photos courtesy of Railroad Museum of New England