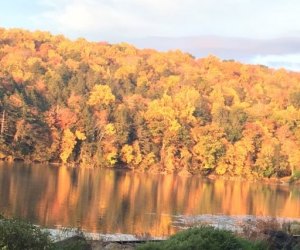 Hikes and Scenic Fall Family Activities in Litchfield County, CT
Litchfield County, in the foothills of the Berkshire Mountains, provides a vibrantly colorful backdrop for autumn leaf peeping and fall activities. If you love fall, you've got to take a road trip and enjoy what the Litchfield hills are offering up right now. Many of the small towns and villages in Litchfield County date back to the early 1700's and offer visitors a beautiful experience of New England charm. Check out our CT Halloween and Fall Fun Guide and be sure to sign up for our weekly newsletter so that you can keep up with all of the fun events happening across Connecticut.
Some of the hikes may be challenging so choose according to your group's ability. And don't forget snacks and water.
WHERE TO GO?

Macedonia Brook State Park, Warren, Cobble Mountain
Take Cobble Mountain Trail, blazed white, to find views of the Harlem Valley into the Taconic and Catskill Mountains. From Kent, take Route 341 west two miles to Macedonia. Take the first right onto Macedonia Brook Road into the park, bearing left at the fork.

Mohawk State Forest, Cornwall, Lookout Tower
Scenic vistas include the Catskill, Taconic, and Berkshire ranges. From Torrington, drive west on Route 4 for 14 miles to the park entrance, Toumey Road, on the left. At the 'T' intersection, turn right onto Mohawk Mountain Road. The Lookout Tower is at the end of the road.

Macracostas Preserve, Washington, Steep Rock Preserve
This unspoiled land – a mix of meadow, farmland, wooded ridge and wetlands — sits just north of Route 202, opposite the junction of Route 47. For killer views overlooking the stunning Lake Waramaug you want to hike up to the pinnacle. You'll find the trail head with directions once you park in the lot. One of my all time favorites! Challenging but kids can do it. Bring a lunch to eat once you reach the top. Take Route 47 north from Washington Depot. At junction off Route 202, turn right and then turn (hard) left onto Christian Street. Turn right just in front of the old red house; parking is behind it.

Bulls Bridge 
Bulls Bridge Road,
 Gaylordsville
This historic bridge was built in 1842 and carries Bulls Bridge Road over the Housatonic River. There are no vistas here but the waterfall is a huge attraction and can be quite beautiful and powerful. Sadly, it is as dangerous as it is beautiful so please keep children at a safe distance. There are many easy trails to take through the woods along the river. My kids and I especially like linking up to the Appalachian Trail here and walking through the thick pine forest. US Route 7 North 2.6 miles from junction with State Route 55 in Gaylordsville; west on Bulls Bridge Road; 0.1 miles to the bridge.
WHAT TO DO?
While out and about with the family encourage them to do a nature hunt (picking up acorns, interesting leaves, feathers, fallen bark and pine cones along the way). Once you get back home they can decide what they want to make with the bounty. Let their imaginations run wild.
An easy and long lasting project is pressing leaves. All you need are 2 pieces of cardboard, a bungee cord and some paper towels (oh and don't forget the beautiful leaves!) Lay the paper towels on top of the cardboard, then lay a single layer of leaves on top and then top with a paper towel. Repeat process until you are out of leaves. Top with the second piece of cardboard and wrap the bungee cord tightly around the pack. Place a few heavy books or other object on top and let it sit for at least a week.

Another fun thing to do with the kids is geocaching. Geocaching is a real-world outdoor treasure hunting game where players try to locate hidden containers, called geocaches, using GPS-enabled devices. You can then share the experience on-line. Geocaching is done all over the world including tons of places here in Litchfield County. Kids love hiking through new places and finding the hidden object containing a prize. They of course must then refill with their own gift (marbles, pins, etc. are perfectly fine) for the next geochacher.
Enjoy your time out in nature with the family!
Originally published on 10/5/12.