All Aboard the Pumpkin Patch Express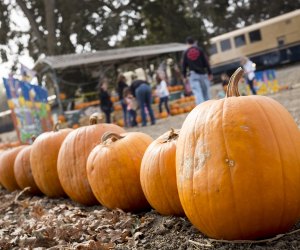 These rattling, toot-tooting relics are truly treasures across New England landscapes. Each time those vintage diesel locomotives come to life, you can hear that pitter patter of those train-loving little souls of ours. Their dome-cars with padded seats offer the ultimate views for the leaf peeper in all of us and a stop at the pumpkin patch is sure to delight those littles in tow. Here is a roundup of historic Connecticut trains and trolleys to climb aboard this fall. And, for more autumn adventures, check out our CT Halloween Guide for Kids.

Photo courtesy of Sacramento River Train
Railroad Museum of New England - Naugatuck
Take a ride through the Upper Naugatuck Valley on the Railroad Museum of New England's annual pumpkin patch train. Traveling through Waterville alongside the Naugatuck River and the Thomaston Dam, you're guaranteed some pretty stellar autumn scenery. During RMNE's pumpkin patch trains, all visitors will get the chance to stop at the Pumpkin Patch and select their very own pumpkin before heading back to Thomaston Station. Reservations are recommended.
Connecticut Trolley Museum - East Windsor
Travel through the picturesque Connecticut countryside in the crisp fall air aboard one of the Connecticut Trolley Museum's antique trolley cars. Then, hop out at the Pumpkin Patch and search for a pumpkin that's just right for you. Every child admission includes a free pumpkin!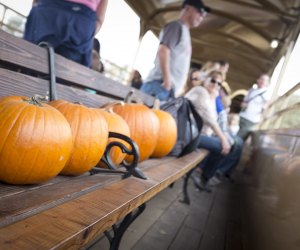 Photo courtesy of Sacramento River Train
The Danbury Railway Museum - Danbury
Climb aboard a vintage train to the pumpkin patch! Each train ticket includes a free pumpkin for every child
 as well as free cider and cookies. Stop for a turntable ride in a restored 1903 station and rail-yard. The kiddos will love the coloring station, temporary tattoos, and more. Costumes always encouraged!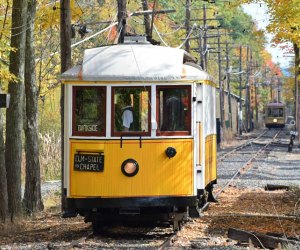 Photo courtesy of Shoreline Trolley Museum
The Shore Line Trolley Museum - East Haven
Take the trolley to the pumpkin patch, where children select their own little pumpkin to decorate. Coloring pages, toy train layouts, refreshments, and more! Pumpkin Patch opens at 10:30 a.m. Other non- Halloween-themed rides, but still a great ride on a train during Fall leaf peeping season!
Essex Steam Train & Riverboat - Essex
Undoubtedly one of the most visited train rides in Conn. (hello Polar Express tickets sell out in five minutes!) known for their Thomas the Tank Engine and circus-themed events. But, many don't always think about visiting the ever-popular Essex Station during autumn. Several routes are available to ride on the Essex Steam Train during prime foliage season (September 28-October 22) with trains running daily except for Wednesdays.
Cover photo courtesy of Sacramento River Train.