Roller Coasters and Water Play at Quassy Amusement Park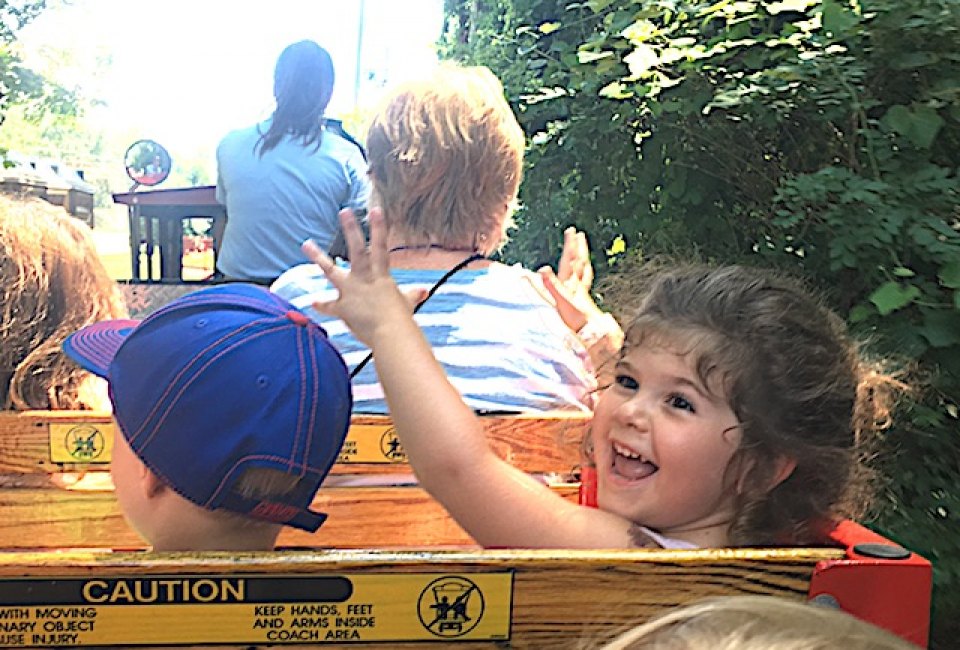 7/20/17
- By
Makayla O'Keefe
More than 100 years ago, Quassy Amusement & Water Park opened in Middlebury, Connecticut along the shoreline of Lake Quassapaug. For years, the lakeside amusement park has drawn families from all over the state as a staple in Connecticut entertainment. Today, Quassy is a New England treasure that has remained a family favorite for generations.
I can remember my very first roller coaster experience, climbing aboard the park's Monster coaster, a small steel roller coaster that was at the park for more than 40 years. And while the Monster coaster is long gone, Quassy continues to offer a special place for making those lasting childhood memories.
We visited the park to check out what's new and notable and also, to experience a blast from our past.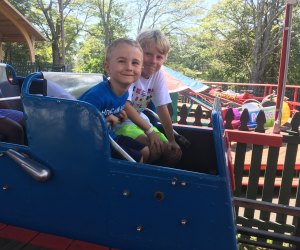 Whether you're looking for the quintessential kiddie rides (like a choo-choo, carousel, or fog hopper), thrill rides to excite your older children, or a water park for the whole family, Quassy has covered all of the bases.
One of the biggest draws about the park is it's size. For any parents toting children, strollers, beach bags, and snacks (like us, always,) you'll be happy to know the parking lot is located adjacent to the park entrance and the entrance is centrally located between kiddieland and the water park. It's nice to not feel entirely overwhelmed, or to listen to whines of "are we there yet" from the parking lot to the actual park. (also, us, always.)
Also, while we are at the park entrance, it's important to note that the park's only restroom facilities (outside of the water park) are located next to the park's main entrance. There are two family restrooms equipped with baby changing stations (only offered in the family restrooms.)
The park is open from Memorial Day to Labor Day with a few weekend openings before and after those dates. During the peak season, the park is open daily from 11:00 am to 8:00 pm throughout the summer months. Splash Away Bay (and its lockers) closes at 7:00 pm every day.
Like most amusement parks, visitor's height determines not only which rides you can go on but also how much the entrance fee will be. That being said, unlike most parks, you don't actually have to pay a penny to go inside. The way the park operates is that you only need to pay to go on the rides or to enter the waterpark area. So, if you're not too thrilled about going on any thrill rides, you can just pay for your children to ride on all the rides they want while you play spectator.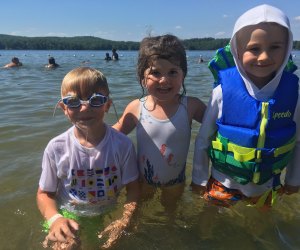 If you do plan to take the kids to the water park, you will have to purchase a pass to access Splash Away Bay Water Park & Quassy Beach. The water park features its own entrance accessing a beach area for the lake, a spray pad for wee ones, and a large water park area complete with slides big and small and a giant playscape called Saturation Station.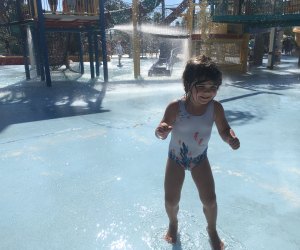 Another perk about this park is that they offer several opportunities for reduced-priced admission. Head to their website for all of the details.
Let's talk food. There are several food options in the park including the Quassy Restaurant, Pizza and Fried Dough Stand, and The Dog House. Another awesome park perk at Quassy is that you can actually bring in your own food to the park as long as it is not in a glass container. We packed plenty of snacks and easy things for the kids to grab in between rides as they weren't too excited about actually sitting down and eating a meal.
To burn off some energy, we headed for The Quassy Zoo where the kids had a blast climbing all over the giant elephant, giraffe, kangaroo and lion. This attraction also appeals to parents as it is lined with partially-shaded benches offering the chance to sit down for five minutes.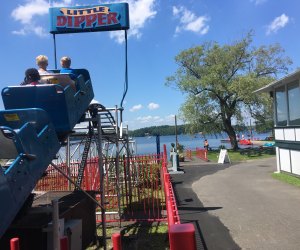 With our group of a 6,5,3, and 1.5 year olds, there were so many options as far as rides. And, because the park wasn't crowded (we went mid week in the afternoon), the kids were able to stay on the rides without having to get off.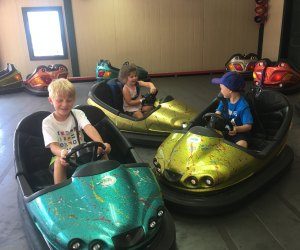 They rode the bumper cars three times in a row and the kiddie boats four times. There is a great little roller coaster, fighter planes, teacups, and a frog hopper all suitable for toddlers. The park also added two new kiddie rides including Up, Up & Away and Skipper's Clippers that overlook the lake.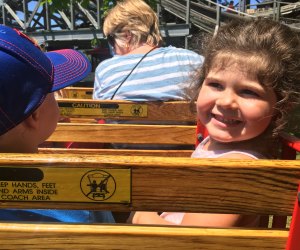 My personal favorites were the Grand Carousel (because who doesn't like an old fashioned carousel) and the Quassy Express Train, which does two laps and goes through a tunnel that the kids absolutely loved.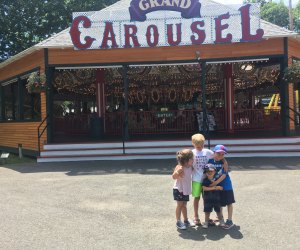 Alongside the carousel is one of the park's newest attractions, Frantic. This thing flips completely upside down while spinning! You wouldn't catch me on this in a million years but I'm sure it appeals to big kids. Also alongside the Grand Carousel is the Carousel Theatre, offering a hilarious magic show at 1:00, 3:00 and 5:00 each day.
When it comes to roller coasters, Quassy's Wooden Warrior is a family favorite. It was actually rated among the top 25 wooden roller coasters in the world in a 2012 poll of coaster and theme park experts. Kids must be 48 inches to ride alone or a minimum of 42 inches to ride with an adult.
Other thrill rides include North America, added to the park in 2016, the Paratrooper, Galleon Pirate Ship, Free Falln'N, Yo-Yo Swing, and bumper cars. And, you'll hear music booming from Music Fest, a high-speed circular ride with 18 two-passenger cars pumping through a forward and backward ride cycle.
The whole family will love riding on the Big Flush Water Coaster where you'll definitely get wet, but not soaked, on this two-person raft ride that plunges you into darkness. And, what's a day at an amusement park without twisting and turning down a gigantic slide on a grain sack?
So let's review: Quassy is still a family favorite. It's not too small. Not too big. If you'd like, pack your own lunch. The water park is a blast. Ride the train, bumper cars, and Wooden Warrior. And, when you do, make sure to put those arms up and enjoy the ride.
Places featured in this article:
---
Quassy Amusement & Waterpark
t Click Here to Sign Up!