A Visit to Action Wildlife Foundation in Goshen, CT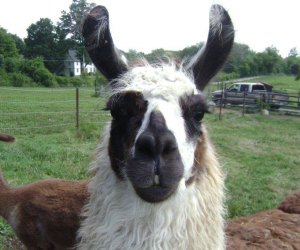 Llamas, zebra and reindeer! Tucked in the northwest corner of the state, Action Wildlife Foundation is really a hidden little gem of a place, and one of the top animal attractions in Connecticut.
Driving along Route 4 in Goshen, you might have wondered what that story-high stone mountain is. Mostly because more often than not, there really aren't any visible animals from the roadside. Well, should curiosity get the best of you and you decide to stop at Action Wildlife, you won't be disappointed. It's a great opportunity for both adults and children to catch a glimpse at some of the world's most unusual animals, in a bucolic New England setting.
The 116-acre menagerie is home to an impressive collection of animals—32 species to be exact-- from the Aoudad to the Zebu, right in Litchfield County. (And if you're never been, a visit this summer is definitely in order.) Formerly a dairy farm, the non-profit animal kingdom has long been a labor of love for owner Jim Mazzarelli, who opened it two decades ago. Creating a place where children and families would learn about animals hands-on by touching, seeing, smelling, and experiencing, Action Wildlife is a cornerstone for animal education in the state.
Home to about 250 animals, Action Wildlife serves as an educational animal safari-type zoo experience with donkeys, reindeer, ostriches, bison, goats, sheep, deer and their friends from around the world. There's a a pair of Russian boars, various Watusi cattle from Africa, Asian yaks and Japanese sika deer. And, perhaps one of the most intriguing creatures of all is the Poitou donkey from France that is half-zebra and half-donkey. Or, a "zonkey."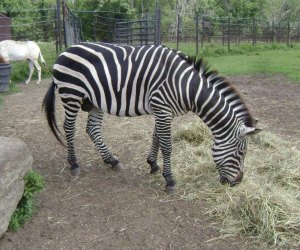 Providing the animals, picnic area, playground, museum, petting zoo and a "safari" drive-through, Action Wildlife really covers all of the bases for a range of ages. While you can drive along the two-mile, marked safari route, you'll probably find yourself stopping more than once to get out of the car to get a closer look at animals like water buffalo, emu, and llama. Stop by the petting zoo located across from the green museum building and feed the animals. Feed is available for purchase for $5.00 per cup. Visitors can feed a selection of baby animals, like goat "kids."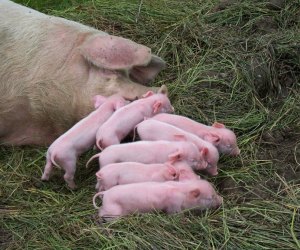 Older children will definitely be intrigued by the museum gallery, hosting three decades worth of taxidermy with dozens of mounted animals, both exotic and native to North America. The incredibly authentic and detailed diorama of lifelike animals seemingly frozen in time and space in their native habitat features wooded areas and jungles, with an antelope on one wall in full flight, mountain goats scaling a mountain, a snow leopard, as well as an impressive bison. A smaller diorama inside the museum features a waterfall with native North American animals like foxes and bears.
While school and camp field trips are a staple at Action Wildlife, anyone with a group larger than 25 can reserve a guided hayride. And, Action Wildlife hosts seasonal events like a summer carnival and fall pumpkin patch and hayrides. There is also an exploration center with plenty of hands on games and puzzles about animals and a gift shop chock full of animal-inspired goodies.
Be sure to pack a picnic lunch to enjoy under the pavilion and head to the playscape to round out your afternoon at Action Wildlife. And trust us, your kids will be wild about it.
Images courtesy Action Wildlife Foundation.