Riding the Trolleys at the CT Trolley Museum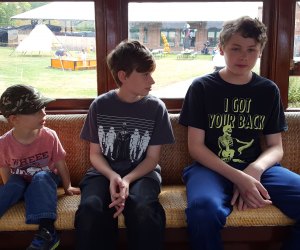 One of our annual Autumn trips, since my boys were young, has been a trip to the Connecticut Trolley Museum in East Windsor. From an early age, my boys, like many boys, loved trains; and this local museum has been able to meet their needs many times over. We attended this year during their annual Pumpkin Train Ride but they offer a variety of events throughout the year. The museum has a small staff, and relies on their many, many volunteers to drive the trolleys on the fun but short jaunt from the museum.
Welcome to the Trolley Museum where parking is easy and plentiful.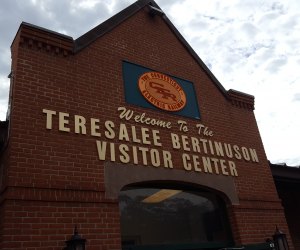 As you enter you will see the Trolley Museum's distinctive passenger car luncheonette. This is definitely a great addition to every visit. Kid friendly foods are offered.
The Trolley Museum has about 70 pieces of train and trolley-related equipment for your children to peruse, view and even ride. Some pieces date back to the late 1860's. Inside the visitor center you can view ongoing restoration projects.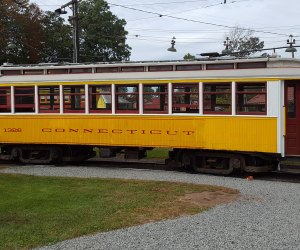 This street car, circa 1910, came from Waterbury, Conn.
With the price of admission, kids can ride the trolley as many times as they like. If the museum is running more than one at a time, as they often do during the Pumpkin Patch rides, you may even get to ride in different cars each time. The person driving your trolley is called a "motorman" (and woman!) and the Museum has a slew of trained hobbyists that have a passion for the rails.
Each year the Museum offers many holiday related events such as Easter Bunny Fun Days, Rails to the Darkside, Pumpkin Patch trolley rides, and Winterfest. When the Museum is not set up for a holiday, it's just as fun and fascinating.
When our family attended, we came to ride the trolley to the pumpkin patch. A brief ride and you are in a field littered with all sizes and shapes of pumpkins. Kids can run through the field, and choose their favorite pumpkin with the price of admission. Ironically, my kid chose the smallest pumpkin in the entire field.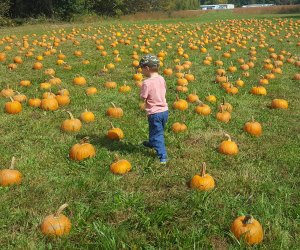 The trolley takes kids out to a field where they have placed freshly cut pumpkins of all types.
Ongoing exhibits include the "History and Evolution of the Electric Trolley" and the attached Fire Truck Museum. The Fire Truck Museum is included in admission and shows off a collection of fire equipment and an impressive array of firefighting vehicles.
The Pumpkin Patch is open through the month of October. Check their website for detailed information.
Rails to the Darkside (ultra scary train ride) is also in October. Winterfest comes during the months of November and December.