Eco Exploring at Beaches in Connecticut: Find Sea Glass, Tide Pools, and More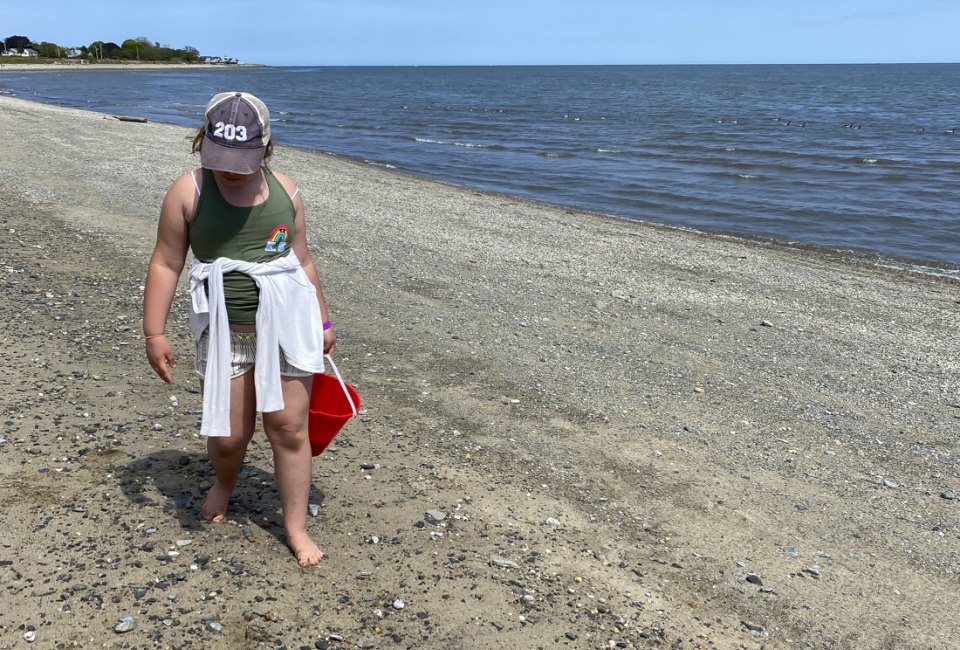 5/15/22
- By
Ally Noel
My very favorite memories of summer fun include walking the beaches in Connecticut and gathering up every glittering shard of beach glass and shell while exploring the coast. I could spend hours mining through rocks and sand, collecting all of the little treasures left behind by the tides. Fortunately, we can enjoy the unique ecosystem of the Long Island Sound on many of our Connecticut Beaches. Each of the beaches on this list offers the perfect setting for your budding marine life expert. Make sure you check out the tide charts before you hit the road.
For more ways to teach kids how to protect and connect with our natural environment, check out our Earth Kids Guide. For more stories like this sent straight to your inbox, sign up for newsletters.

A handful of beautiful sea glass. Photo by Makayla O Keefe for Mommy Poppins
Best Beaches in Connecticut with Sea Glass
Ranked as one of the best beaches in New England, Sandy Point Beach is a sanctuary in West Haven known for rare shorebirds, fishing, and trails. But as long as you stay off the nesting dunes, Sandy Point is a great place to look for sea glass. Head down to the end of the point where ever-changing tides wash up all kinds of seashore goodies.
Just a bit down the road from the hustle and bustle of Rocky Neck, McCook Point Beach is a local favorite of East Lyme area families. With white sand beaches sloping gently to the water's edge, McCook's park consists of a beautiful bluff between two beaches. On the bluff where the McCook summer home once stood, is a green lawn shaded by copper beeches, perfect for picnics. Below is a swimming area sheltered on the east by a stone jetty that helps to harbor treasures. This park is a popular spot during the summer, but if you head there in the early mornings or off-season, you're sure to find more sea glass.
Home to two beaches, Cove Island offers endless appeal for budding naturalists who will love exploring the small salt marsh, intertidal mudflats, and coastal havens for viewing water birds. And Cove Island is also a wonderful place for beachcombing.
RELATED: 15 Connecticut Area Beaches That Are Great for Families

Unearth a trove of beach treasures from mermaid slippers to scallop shells and handfuls of sea glass!
Nestled just south of Milford Harbor, Silver Sands' somewhat remote location makes for a much less crowded experience than other beaches in Connecticut. The sheltered, calm waters at Silver Sands make this seaside park a great spot for families and treasure hunters. From the shore of Silver Sands State Park, particularly at low tide, it's difficult to resist the lure of Charles Island, only a half-mile walk from shore along the tidally submerged sandbar. This particular sandbar unearths a trove of beach treasures from mermaid slippers to scallop shells and handfuls of sea glass.
Tucked in the picturesque seaside village of Stonington Borough, duBois beach offers a lovely family-oriented setting. There are plenty of rocks for climbing and kiddos will love splashing in the shallow waters and hunting for small treasures at this quiet hidden gem on the easternmost edge of the state.
Tucked between Stonington and Mystic, this small family-friendly beach is located at the mouth of the Thames River, just next to the UCONN Avery Point campus. The water is shallow and the amenities are plentiful, which makes it popular with parents.
With its towering trees and fern groves, Bluff Point is not your typical Connecticut beach. This shockingly beautiful and interesting coastline makes for a great spot to search for sea glass. The coastal preserve is surrounded by Mumford Cove to the East, Fisher's Island to the South, and Poquonnock River to the west. The only way to reach the beach is to walk the 1.5-mile trail out to the point where the Bushy Point barrier beach stretches out before you. A pebbly seashell-laden beach stretches out to the right.
Best Beaches in Connecticut with Tide Pools

The beaches at Silver Sands State Park are rocky and rough and allow for tons of exploring between sandbars.
If the tide is on your side, enjoy a walk out to Charles Island. The beaches here are rocky and rough and allow for tons of exploring between sandbars. This is a great place for kids to look for little crabs at low tide.
Many visitors have referred to this park as a "little slice of heaven" as it provides spectacular wildlife viewing of the Long Island Sound. Be sure to pack your sneakers for the walk through the woods to the bluff.
The clear water and amazing walking paths make this park a true treasure at low tide. According to the DEEP, this state park is "Bounded on the west by a tidal river and to the east by a broad salt marsh, Rocky Neck was known to both Indians and colonists as a place of abundant fish and wildlife."
Waterford Beach Park provides its guests with a "rare opportunity to experience an unmodified natural beach with outstanding views of the Long Island Sound and an extensive tidal marsh."
RELATED: Great Connecticut Beaches for Toddlers: Gentle Surf, Playgrounds, and More

Find all kinds of aquatic life at Connecticut beaches. Photo courtesy of Connecticut Tide Pools
At low tide, a seemingly endless stretch of sand expands to the water's edge offering families plenty of space to build sandcastles, comb for shells, and hunt for sea glass alongside the Long Island Sound. Plus, the crowds tend to be small at Harvey's Beach, meaning less people are treasure-hunting. Your best bet is to hit the beach in the morning, but be sure to head to Harvey's around low tide for maximum beach frontage.
Coastal Nature Centers at Connecticut Beaches
Connecticut's oldest state park is known for its fantastic nature center with some wonderful (and free!) programming. This summer facility is located on East Beach and is lovingly operated by the local non-profit, Friends of Sherwood Island. The Center has tanks and terrariums filled with local creatures and a team of volunteers all too happy to let visitors get up close and personal with the local wildlife. Dive your hands right into the touch tank and explore spider crabs, whelk, clams, oysters, and a variety of other local creatures. There is also always a coloring table set up with crayons, markers, and stencils of sea life.
RELATED: Best Swimming Ponds and Lakes for Connecticut Kids

Learn more about our environment at Meigs Point Nature Center.
Hammonasset is a widely popular summer destination in Connecticut. Meigs Point Nature Center has a touch tank with some of its tide pool inhabitants. We loved getting a closer look at a real live whelk. Make sure you also check out the birds in the salt marshes.
Located at the outermost tip of the city, this coastal haven harbors all types of wildlife inside and out. Check out the snakes, turtles, and fish located inside the Audubon. Head outdoors and take a walk along the barrier beach at Milford Point. Be sure to climb the spiral staircase to the tower for spectacular views of the marsh and Long Island Sound.
Located at the Innis Arden Cottage in Greenwich Point Park, this spot educates visitors about life in the Long Island Sound. There is a touch tank that is perfect for toddlers and family-friendly activities scheduled throughout the season. There is no admission charge to visit the seaside center, but from May thru October, guests need a beach pass from the Town of Greenwich to enter the park.
All photos, unless otherwise indicated, courtesy of the author
Sign up for the Mommy Poppins Newsletter today!