A Visit to Silver Sands State Park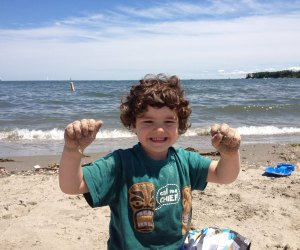 We know. We know. Sometimes, taking the kids to the beach requires military precision. Between the packing and prepping, the sandy feet on blanket dilemma or stepping on slimy things in the water—there's a lot to consider when you've got littles in tow. That carefree bikini and tanning oil approach to the beach may be a thing of the past, but we've got you covered for some easy peasy beach fun, with the kiddos.
For a day filled with saltwater swimming, sand castle sculpting, and treasure hunting, head to Silver Sands State Park in Milford for some low key (and hopefully stress-free) family fun. And for more of our favorite beaches, check out our picks for 5 Beach Trips Near Fairfield County or our top 10 Fun Beach Day Trips to enjoy in CT this summer.
Silver Sands State Park offers miles of preserved natural beach connecting the Walnut Beach and Fort Trumbull Beach neighborhoods in Milford. The 47-acre park features the beach, a restored salt marsh, and a three mile boardwalk stretching from the end of East Broadway to Walnut Beach.
Silver Sands can be accessed for free, unlike most parks throughout the state, and offers a wonderful picnic area with picnic tables, charcoal grills, and sweeping lawns perfect for playing frisbee or flying kites. Enjoy saltwater swimming, building sandcastles or casting a line, particularly toward the end of summer which has, in recent years, been chock full of bunker.
From the shore of Silver Sands State Park, particularly at low tide, it's difficult to resist the lure of Charles Island. Only a half-mile walk from Silver Sands along the tidally submerged sandbar, only visible at low tide, Charles Island is a 12-acre wildlife sanctuary serving as a haven for shorebirds. On a clear day, you will see groups of beachcombers making their way along the sandbar out to the island, despite three signs warning "DANGER! Sandbar floods twice daily with strong currents and undertow."
If you have little ones, it can be fun to explore the first 1,500 feet or so of sandbar, which is more wide, dry and secure, than the narrow stretch of slippery rocks as you near the island. Charles Island is known as the "thrice cursed island" and home to many legends and artifacts of Connecticut history. In the 1800's, Charles Island was home to a resort hotel and small village known as the Charles Island House and later as the Ansantawae House. There are plenty of well-documented legends surrounding the island but none are more exciting than the tale of Captain William Kidd landing in Milford and burying his final treasure.
In fact, Milford dedicates an entire weekend to Captain Kidd with their annual Milford Pirate Weekend featuring a pirate ball, treasure hunt, and pancakes with pirates.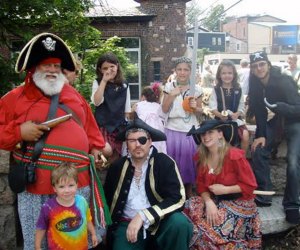 Image courtesy of Downtown Milford Business Association
If you forgot to pack a picnic, or it was just too much to haul with all of your beach gear, head to The Greek Spot Café, a five minute walk from the Silver Sands Parking lot, for some casual but absolutely delicious Greek fare. They offer breakfast (try the homemade challah bread French toast) with killer iced coffee, lunch (chicken soulvaki and garlic feta fries are our fav) and dinner. Plus plenty of frozen treats.
Or, if you're in the mood for some dreamy creamy homemade ice cream, walk along the boardwalk to Walnut Beach, about a 15 minute walk from the Silver Sands State Park parking lot (bring a wagon or a stroller for little ones), and try some Walnut Beach Mud or Sandi Annie ice cream at the Walnut Beach Creamery for the perfect end to your day at the beach. You'll thank us.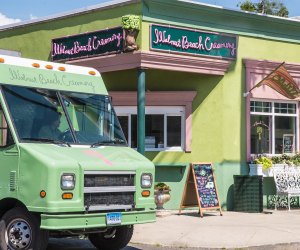 Image courtesy of Walnut Beach Creamery
Cover image courtesy of Cindy Phillips