Five Fantastic Beach Day Trips near Fairfield County, CT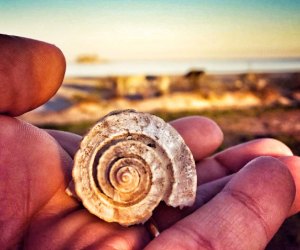 I have to admit, I have never been the kind of girl to grab a bottle of tanning oil and head off to the beach to bake for hours at a time. Don't misunderstand me; I love the beach! But after 15 minutes of sunbathing, I start getting antsy. Not surprisingly, my kids are the same when it comes to beach habits. So when we head out on a beach adventure, I always look for beaches that offer more than just sunbathing. Below are a few of our favorites. They all work as day trips from Fairfield County. Then for more beach fun, check out 10 more Fun Beach Day Trips.
Main Beach, Groton Long Point, CT
Well worth the drive up Rte 95 (stop in Clinton for some outlet shopping!) is the small community of Groton Long Point. A small residential community between Groton and Mystic, Groton Long Point offers visitors beaches, playgrounds, and great walking loops. Visit Main Beach, where you can enjoy swimming and sand castling, and then walk to the marina and the playground. Pack your bikes and scooters – it's a great community to ride about!
Main Beach, Groton Long Point, CT 06340
duBois Beach, Stonington, CT
North of Groton Long Point is the beautiful area of Stonington. I love, love, love the charm of this area. Beautiful old homes dot the coast of this charming town, and the village offers quaint shops and cafes. In the midst of downtown Stonington is tiny duBois Beach. The water is lovely, the sand is great, and there are lots of rocks for climbing. When you tire of the beach, grab your flip-flops and wander through the village of Stonington.
duBois Beach, Stonington, CT 06378
Ocean Beach Park, New London, CT
I'm not one for big crowds, but nonetheless, we'll be giving Ocean Beach Park in New London a try this summer. The beach is enormous, with clean sand and water. And an Olympic sized swimming pool is part of the park, in case some of your swimmers tire of the salt water.
98 Neptune Avenue, New London, CT 06320, 1.800.510.7263
Chocomount Beach, Fisher's Island, NY
If you're up for an adventure, head to New London and hop on the ferry for a short ride across the Long Island Sound to picturesque Fisher's Island. This small island is rarely over-crowded, as it doesn't offer much in terms of places to stay, etc., but there is plenty to do in terms of boating, fishing, and swimming on their beaches. If you're really ambitious, you can kayak from Groton Long Point straight across the sound to Fisher's Island. In good weather only, please!
Chocomount Beach, Fisher's Island, NY 06390
Second Beach, Middletown, Rhode Island
Love this beach near Newport, RI! The beach itself is idyllic – lots of white sand and beautiful water. There's a conveniently located building with restrooms, hoses for washing the sand off, and some food options. The views from the beach are charming, and the water is actually quite mild in mid summer. Another great reason to visit this beach? A pit stop at nearby Sweet Berry Farm, one of my favorite farms, cafes and orchards all rolled in one. Trust me, the cookies won't last the car ride home.
Second Beach, 474 Sachuest Point Road, Middletown, RI 02842
​As always, remember to check with the town to which you're headed for information regarding parking and access fees - particularly during the summer months. Enjoy!
Originally published 5/20/12.
Image courtesy of Ally Noel