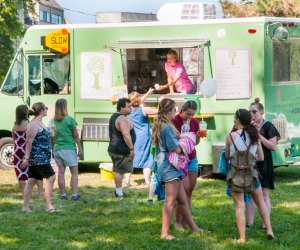 25 Things to Do With Kids in Milford
Known as 'A Small City with a Big Heart,' Milford, located at the Southern tip of New Haven County, offers a small town vibe with plenty of New Englandy appeal. Walk over Hotchkiss Bridge for the best waterfall views, head to the Sundae House for a an upside down banana split, and top off your evening at Gulf Beach for the best summer sunsets. Franco's Pizza offers the best slices of pizza and River Street Wednesdays is a completely free and amazing kid-friendly program on the City Hall green. A community designed for families, here's our list of the top 25 things to do in Milford with your kiddos.
1. Scoot & Paddle – Tucked in the Walnut Beach business community, Scoot & Paddle rents kayaks, paddle boards, bikes, and motor scooters for full or half days. Children's bicycles and bike trailers are available for rental.
2. Duck, Duck, Goose – This downtown children's store located on River Street offers organic, eco-friendly, made-in-the-USA clothing and toys for your newborn, baby, toddler or child. And, the store offers a free music class on the second Saturday of the month.
3. Coastal Center at Milford Point – Located at the outermost tip of the city, this coastal haven harbors all types of wildlife inside and out. Check out the snakes, turtles, and fish located inside the Audubon. Be sure to climb the spiral staircase to the tower for spectacular views of the marsh and Long Island Sound. The Coastal Center offers a monthly "Sea Squirts" program for preschoolers.
4. Walnut Beach Creamery – Crafting each small batch of their gourmet ice cream by hand, Walnut Beach Creamery offers everything from Cinnamon Toast to Chocolate Chili to Peanut Butter Ice cream (from April through October).

Photo courtesy of Walnut Beach Creamery
5. Launch – With over 10,000 sq. feet of trampolines, you can catch some serious air at Launch. New to the world of trampoline-entertainment, Launch has quickly become a top destination for kids (and adults) of all ages.
6. Walnut Beach Boardwalk – Built in 2011, this three-quarter mile boardwalk connects the neighboring seaside communities of Walnut Beach and Silver Sands. One of the longest continuous boardwalks in the state, this boardwalk skirts the edge of a vibrant bird habitat and the Long Island Sound. We should mention there are no dogs and no bikes permitted on the boardwalk.
7. Terri Annas Ceramic Studio – This paint-your-own pottery studio offers both drop-in hours as well as classes for pottery painting.
8. Bodie's Place – Undoubtedly the city's most-visited playground, Bodie's Place, located inside of Eisenhower Park, offers hours of fun year-round. The playground was especially designed to accommodate children of all abilities with sensory activities by including oversized structures and plenty of open spaces.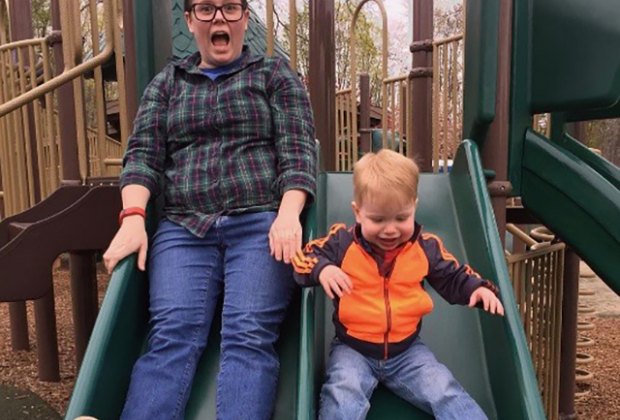 Photo via Instagram user Cakers404
9. Colony Grill – Home of the original 'hot oil pizza,' Colony serves up 12" thin-crust pies in the former Milford landmark Harrison's Hardware store. Kids will love seeing photos lining the walls of local police and fire department heroes.
10. Bounce Town USA – Home to Connecticut's largest indoor inflatable adventure zone. They offer inflatable obstacle courses, slides, rock climbs, and other surprises you'll have to 'bounce in' to see.
11. Greek Spot Café – This family run, completely casual Greek café offers some of the best carry out food in the city. It's one of the only restaurants located within walking distance to the beach (it's literally across the street) making for easy and quick lunch while spending a day at Silver Sands State Park. We highly recommend the chicken souvlaki and spanakopita.
12. Anchor Beach to Woodmont Beach Walk – Pick up this walk, at just under three-quarters of a mile, at the public parking lot on Beach Ave and walk alongside the Anchor Beach toward flag rock and follow the sidewalk along the water until you connect to Woodmont Beach. This is a stroller friendly, scooter and bicycle friendly, and, toddler approved walk. It's probably our family's very favorite.
13. Mondo Pond – The Mondo Ponds Nature Preserve includes five ponds and wetlands with walking trails on 36 acres of property on the west side of town. Be sure to bring your binoculars (and fishing pole) as Mondo Pond harbors some of the best bird-watching in the city. The main trail loop is a perfect under-an-hour loop for kids.
14. Milford Arts Council – For twenty years, the Milford Arts Council, easily mistaken for a train station, has brought spectacular programming for the arts to the city of Milford. Catch a cabaret-style Pantachino show from September through May or pop in to watch some of the children's productions during the summer months.
15. Cinemark Connecticut Post 14 and IMAX – Catch a movie on the big screen at the movie theater located inside the Connecticut Post Mall.
16. The Connecticut Post Mall. There's a Target. No further description needed.
17. Spring Meadow Farm – Have a horse-lover in the house? Spring Meadow Farm offers beginning riding lessons for kids ages 4 and up. They also offer therapeutic riding for kids between the ages of 6 and 12.
18. Cartwheels, Ect. – Offering gymnastics classes for kids of all ages, starting at 18 months, Cartwheels offers year-round instruction in a non-competitive setting. Pop in on Tuesdays from 11-1 from September through May for open play on their trampolines, uneven bars, and balance beams.
19. Eisenhower Park – Arguably the best park in Milford, Eisenhower offers three miles of trails on a fairly flat terrain. You can go on a 20 minute adventure, or, pack a picnic and make a day of it. There's a great bug-themed letterboxing trail perfect for kids. And when you're done, head up to Bodie's Place.
20. Milford Ice Pavillion – The Northford Ice Pavilion offers a wonderful introduction to hockey and to figure skating and offers an hour and a half of public skating daily.
21. Strawberry Picking at Glendale Farms – With so many pick-your-own farm giants in neighboring towns, many haven't heard of Glendale Farms. Known primarily for its annuals and vegetable business, Glendale also offers PYO strawberries beginning in early June.
22. Milford Riders Club – Got the need for speed? Take your kiddos to watch The Milford Riders Club. Mondays are designated peewee night reserved for beginning riders and young kids. There is no fee for spectators on Mondays. Check their calendar for ongoing events.
23. Milford Public Library – Located right in the heart of downtown, the Milford Library offers a wonderful children's department and ongoing programming Monday through Thursdays for kids. From Spanish-English story time to Lego Club to monthly cooking demos, the library offers something for kids of all ages.
24. Scoopy Doos – Serving Milford's own Buck's French ice cream, Scoopy Doos has been scoopin' over eighty flavors of ice cream downtown for nearly 20 years. In the summer, you're sure to see a line a mile-long but we assure you, it's worth the wait.
25. Goodie's Gulf Beach – Planning a day at the beach? Goodies serves up classic beach stand burgers, hot dogs, and fries right at Gulf Beach.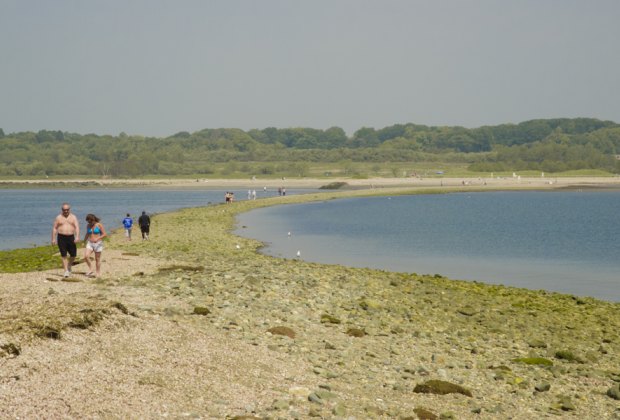 Photo by kenneth casper/CC By 2.0
​Cover photo courtesy of Walnut Beach Creamery