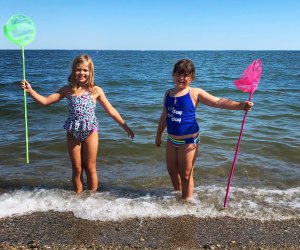 Island Living at Sherwood Island State Park
Your Connecticut license plate gets you more than the privilege to drive on our roads - it is also your FREE ticket to Connecticut's State Parks as part of the "Passport to Parks" program. Located in Westport, Sherwood Island is Fairfield County's only coastal state operated facility. With over 238 acres of shoreline to explore, swim, fish, hike, or relax in, it is no wonder that Sherwood Island is a gem of Fairfield County.

Touch tanks are always a favorite at the Nature Center.
We always begin our adventures to Sherwood Island by making a stop at the Nature Center. This summer facility is located on East Beach and is lovingly operated by the local non-profit, Friends of Sherwood Island who keep it open from 10am-4pm Wednesday-Sunday. The Center has tanks and terrariums filled with local creatures and a team of volunteers all to happy to let you get up close and personal with the local wildlife. Dive your hands right into the touch tank and explore spider crabs, whelk, clams, oysters, and a variety of other local creatures. There is also always a coloring table set up with crayons, markers, and stencils of sea life.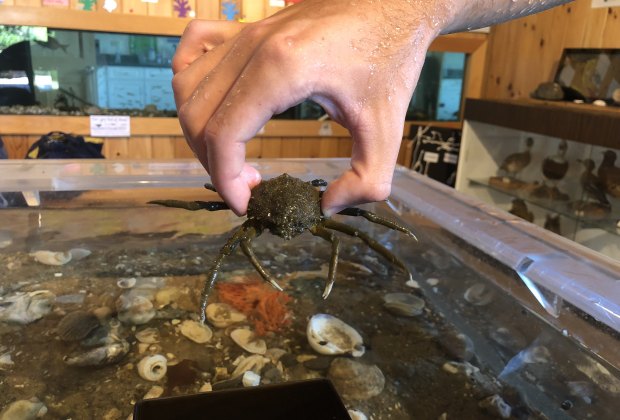 Get up close and personal with local wildlife.
Several other displays explain the history of the Island and its unique habitat. Make sure to check their calendar or call ahead for their daily activities and programs. All activities are free, but a donation is suggested.
Behind the Nature Center, you will also find a nature trail that runs through the salt marsh with several marked stops along the way. The flat terrain makes it ideal for early walkers and their parents. I would not recommend taking a stroller on the trail. Grab a map from the Nature Center before you start exploring!
Sherwood Island is also home to an Art Trail Plaque and a Model Aircraft "airport" for remote controlled aircraft enthusiasts.
After we have had our fill at the Nature Center, we hop on over to East Beach. There is a large bathhouse located here that provides showers, changing rooms, and toilets as well as a first aid station. We change into our suits, and head on over to the beach.


Dip your toes into the Long Island Sound.
As typical of the Connecticut coastline, Sherwood Island is a bit rocky. Our feet are used to getting a little scuffed up in the summer, but water shoes would probably be a good idea. The beach is guarded Wednesday-Sunday. I will openly admit that I have never ventured to Sherwood on a weekend, but on weekdays we have the park pretty much to ourselves.
The kids hop right in the water and begin swimming and exploring. We build sand castles, watch the tide go out, search for seashells, and swim. Before I know it the sun is going down and I have to bribe the kids out of the water with the promise of an ice cream.


Enjoy a perfet day of sun, sand, and shoreline!
There are several picnic areas at Sherwood Island, and a small concession stand (cash only). We grab two popsicles and park ourselves at a picnic bench under a shady tree.
With coastal access at a premium in Fairfield County- a daily pass at nearby Compo or Penfield Beaches will cost you anywhere from $20-$65 per car. Sherwood Island provides a lovely respite from the hustle and bustle of daily life. If you feel like exploring even more of the coastline, make sure to check out these 8 Affordable Fairfield County Beaches.
All images courtesy of Ally Noel
Sherwood Island State park
Sherwood Island Connector
Westport, CT 06880