Drive-In Movie Theaters and Pop-up Outdoor Movie Nights on Long Island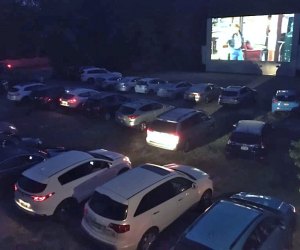 Last year, the pandemic brought about a revival of drive-in movie theaters throughout Long Island, and the fun continues this summer as well. Put on your PJs, grab a cozy blanket, pack some snacks, and pull up to a big screen flick under the stars. This old-school activity has found new life.
We've curated a list for Long Island families looking for a safe, socially distant evening of summer fun. Check out these outdoor restaurants if you want to grab some grub ahead of the movie, grab a pint of ice cream, a decadant dessert, or create your own portable dessert board for the car.
Many of these drive-in movie theater pop-ups announce upcoming flicks at the last minute, but we're keeping this post updated and listing plenty of more family-friendly events on our always updated Event Calendar. For more seasonal fun with Long Island kids, be sure to see our Summer Fun Guide.