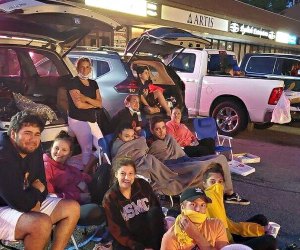 Drive-in Movie Theaters and Pop-up Movie Nights on Long Island
Long Island may not have any permanent drive-in movie theaters of its own, but the pandemic has brought about a surge in pop-up drive-ins, plus a revival of drive-in movie theaters throughout the tri-state area. Tracking down these pop-up movie spots can be a little bit challenging, so we're doing our best to curate a dedicated list for Long Island families looking for a safe, socially distant evening of summer fun.
Many of these drive-in movie theater pop-ups announce upcoming flicks at the last minute, but we're keeping this post updated and listing plenty of more family-friendly events on our always updated calendar. For more fun with Long Island kids, be sure to see our Summer Fun Guide. No matter where your fun takes you, remember, even though we're in Phase 4 of reopening, masks are still required. Keep you family safe with these kid-friendly picks.