The Best Locations for a Family Picnic on Long Island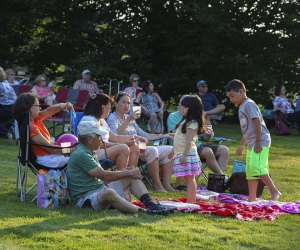 5/4/18
- By
Lisa Mancuso
Nassau
Eisenhower Park — East Meadow
Smack in the middle of Nassau County, Eisenhower Park features a 930-acre open space with a number of picnic areas and an array of activities to keep the family engaged, including athletic fields and courts, playgrounds, fitness trails, and more. There's also an 18-hole miniature golf course that is sure to captivate and engage children. Nassau County residents can obtain a Leisure Pass for less expensive access.
RELATED: The best bike trails for Long Island families

Relax on the grass and enjoy a picnic at Gerry Pond Park. Photo courtesy of the Town of North Hempstead.
Gerry Pond Park — Roslyn
With picturesque views and a serene atmosphere, Gerry Pond Park provides the perfect setting for a picnic day. While there is not a designated picnic area inside the park, it is spacious and has many places within to enjoy. Benches are available for seating. A favorite attraction is the large pond surrounded by trees that provide shade on a hot day. The pond is also popular with the ducks who call it home and who are known to join in on visitor's lunches.
Jones Beach State Park — Wantagh
Jones Beach, New York's most visited state park, is a popular destination for families all summer. Why not cap off a fun day at the beach with a picnic or barbeque? Visitors have the option of using the picnic areas at Field 6 or heading over to the approved barbecue areas at Fields 5 or 10 to grill up some burgers and hot dogs. Afterward, enjoy a stroll on the boardwalk. Bathrooms are easily accessible for picnic-goers.
North Hempstead Beach Park — Port Washington
Formerly known as Bar Beach and Hempstead Harbor park, this location has 34 acres of sandy beach and recreational activities. In addition to picnic areas with barbecues and shelter pavilions, there is also a fishing pier, boat ramp, bathhouse, concession area, and playground, along with sports fields for basketball, softball, soccer, and more.
RELATED: Great camping sites for LI families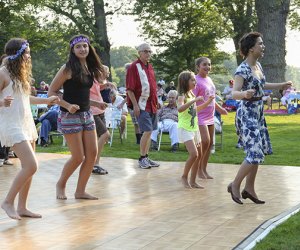 Kick off your shoes and dance at Old Westbury Gardens' Picnic Pops series. Photo by Alyssa Romano and courtesy of the gardens.
Old Westbury Gardens — Old Westbury
There are designated areas for picnicking as well as a cafe if you don't want to bring in your own food. Families can enjoy a stroll through the beautiful grounds that boast 200 acres of gardens, woodlands, ponds, and lakes, and tour the magnificent mansion on their own. Guided tours are available.
RELATED: Family-friendly day trips and getaways on Long Island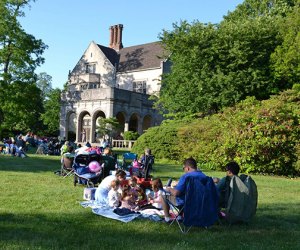 A picnicking trip to Planting Fields Arboretum offers nature at its most beautiful. Photo courtesy of the arboretum.
Planting Fields Arboretum State Historic Park and Coe Hall — Oyster Bay
Planting Fields Arboretum State Historic Park is 409 acres of nature's beauty at its best. With grounds that are well kept and vast, it is an ideal picnic destination, and its greenhouses, gardens, and hands-on programs for children make it a great day-trip option. Be sure to take a tour inside the mansion, and if you forget your picnic basket stop by the park's COFFEED cafe for a bite to eat.
Suffolk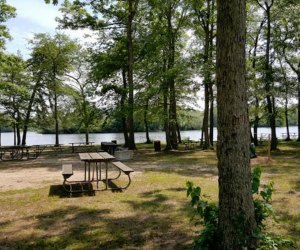 Enjoy a picnic in the shadow of the vast lake at Belmont Lake State Park. Photo courtesy of the park.
Belmont Lake State Park — North Babylon
With more than 400 acres of natural Long Island scenery, Belmont Lake State Park makes a great picnic spot. This park has designated picnic areas as well as pavilions available. Belmont also has a variety of activities to get you up and moving after you've filled up on your picnic lunch. An exercise trail, playground, paddle boating, row boating, biking, and a walking trail are all accessible in the park. Grills are available.
RELATED: Animal farms and petting zoos on Long Island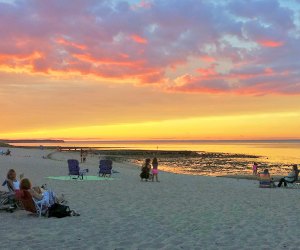 After a late picnic, why not watch the sun go down at Crab Meadow Beach. Photo by Bob Mancuso
Crab Meadow Beach — Northport
In addition to a beautiful beach and a large playground (with a jungle gym, see-saws, slides, and swings), there is also a picnic and pavilion area here, along with grills to use. Visitors to this Town of Huntington facility can fish, kayak, and canoe if the mood strikes. For a real treat, stay for the spectacular sunset.
Heckscher State Park — East Islip
The 1,600 acres of Heckscher State Park on the south shore of Long Island are used for a number of outdoor activities. The park's shady picnic groves are especially popular. Kids can play sports in one of the large open fields, as well as enjoy four miles of paved trails. There are amazing views of Great South Bay with Fire Island in the distance, and you just might spot some whitetail deer, a variety of birds, and other wildlife. Grills and concessions are available. Three of the park pavilions are available by permit only. Dogs are allowed in certain areas.
Sunken Meadow State Park — Kings Park
Located on Long Island Sound, this park has a range of topography, including glacial bluffs, tidal flats, salt marshes, and a brackish creek. There are also large picnic areas and pavilions available for visitors to enjoy. The calm water is perfect for a swim (or kayaking and canoeing), and families can enjoy a stroll on the boardwalk. There is also a popular 27-hole golf course for those who might want to bring their clubs.
The East End
Baiting Hollow Farm Vineyard — Calverton
What's more picturesque than a picnic at an East End vineyard? Baiting Hollow offers plenty of picnic space, a chance for mom and dad to share some relaxing time, and a one-of-a-kind horse rescue facility. After the picnic, kids can interact with former racehorses and working horses whose rescues have been funded by proceeds from wine sales.
Great Lawn — Westhampton Beach
Sometimes simpler is better: See the Great Lawn of Westhampton Beach. With nearly six acres of open grass to enjoy, the Great Lawn is an ideal place to take in the views as you partake in a picnic lunch. Sprawling lawns and huge trees provide a comfortable cushion for picnickers, and trees offer ample shade.
Indian Island County Park — Riverhead
Where can you picnic with the peacocks? At Indian Island County Park, a Suffolk County facility. With more than 275 aces of land, this park is adjacent to a small farm where you can see peacocks, goats, and a host of other animals. Located within the park are picnic tables and grills. Campsites are available with trailer and tent sites. The park is located at the mouth of the Peconic River, which provides a beautiful waterfront picnicking experience.
Martha Clara Vineyard — Riverhead
Martha Clara has a well-deserved reputation as the North Fork's most family-friendly winery. It features a petting zoo, horse-and-carriage rides, and plenty of picnic space. Mom and dad can share a glass while kids enjoy vineyard walks, educational tours, and more. The Entenmann family sold the vineyard in early 2018.
RELATED: Great beach playgrounds on the East End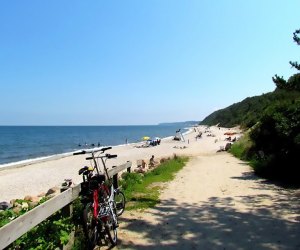 Enjoy sun, sand, and swimming after a picnic at Wildwood State Park. Photo courtesy of the Long Island Sound Study.
Wildwood State Park — Wading River
You get the best of both worlds picnicking at Wildwood State Park. With more than 600 acres of land and a bluff overlooking Long Island Sound, visitors can enjoy lunch by the water or picnic within the park. Picnic table areas are shaded from the sun, and there is a playground for children, and even showers. There is also a campsite. Fishing and hiking are worth exploring while on your adventure.
A version of this post was published in 2017. It was updated in May 2018.