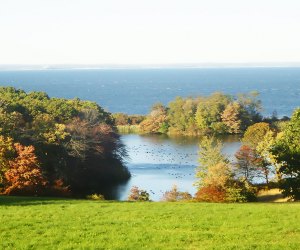 Caumsett State Park: A Jewel for Kids on Suffolk's North Shore
Parents with spirited kids know the value of time spent in nature.
Besides just being an awesome experience, nature and the outdoors are known to build immunity, lower stress, and reduce symptoms of ADHD. Caumsett State Historic Park Preserve near Huntington is a spacious waterfront parkland where tots can enjoy year-round fishing, hiking, picnicking, and more on Long Island Sound.
For more great things in and around Long Island's North Shore, check out our guides to Centerport with kids and family fun in Northport. For more outdoor fun, check out our guide to LI parks and playgrounds, including 15 state parks that are absolutely worth a visit.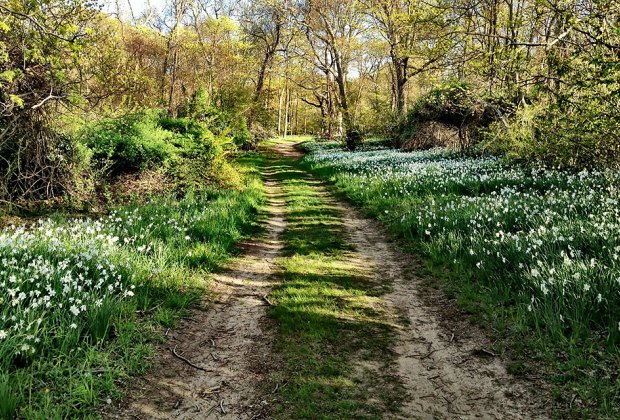 Adventurous hikers and cyclers will thrill to the park's natural trails.
What to do
Caumsett, a 1,500-acre facility, is technically in Lloyd Harbor, about eight miles north of downtown Huntington. The main loop is a perfect place for an invigorating bike ride with kids. Several family restrooms are interspersed throughout the path. More adventurous cyclers might choose to veer off to one of the dirt trails to the left or right that lead to the sapphire waterfront. Kids will be enchanted by the creatures they spot while they exercise, including chipmunks, squirrels, horses, hawks, and deer. The loop is also an ideal location for walking and hiking, but be sure to bring your bug spray.
RELATED: Day trips and weekend getaways for Long Island families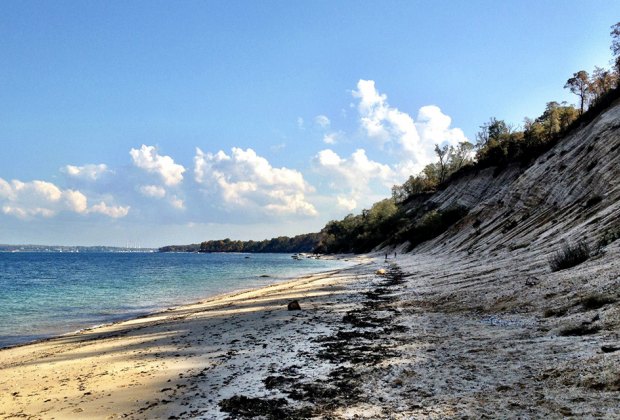 Grab a fishing pole and a permit and head to Caumsett's uncrowded beach.
Teeny fishermen and fisherwomen will revel in the opportunities at Caumsett, where an uncrowded beach offers dazzling views of Connecticut across the shimmering Sound. Plenty of good fish are available, but each little fisherman will need his or her own license, which can be obtained at outdoor suppliers like Dick's Sporting Goods. Alternatively, obtain a 24-hour pass from Caumsett State Park for $25 and cast away.
RELATED: The best of Port Jefferson with kids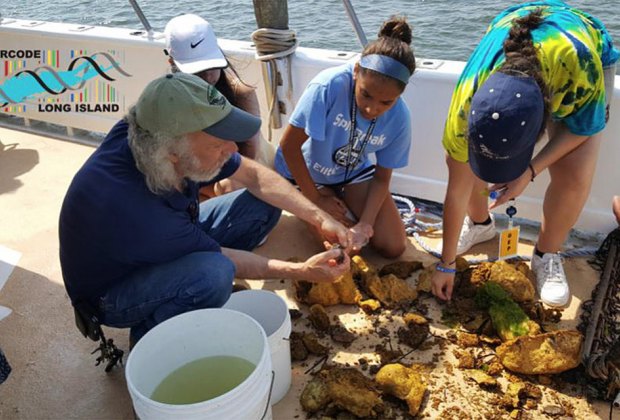 Caumsett's OceansWide summer program offers kids a hands-on marine life experience. Photo courtesy of OceansWide
The OceansWide Summer Program offers hands-on exploration of the park's acreage and 2½ miles of coastline. Courses include ROV (remotely operated underwater vehicles) and offer concentrations in designing, marine archaeology, seashore ecology, glacial geography, and more. According to Tori Mangus, Long Island programming coordinator, "all programs have STEM concepts in mind and focus on allowing students to become the explorers and encourage them to become stewards of our environment."
The Caumsett Foundation, an all-volunteer organization, presents nature walks, musical events, and hikes throughout the year. Some happenings are for grown-ups only, but others are kid-friendly. While many of these events are FREE, some have moderate fees, so check its website for additional information.
Where to eat
Since you must travel through the Huntington area to get to Caumsett, consider stopping by the Village Art Walk at the Heckscher Museum of Art or Sandbox Playspace in Huntington for a morning browse or an afternoon romp before your nature ramble. Mundays and The Golden Dolphin are great local destinations for a family-friendly lunch, or pack a basket with your favorite natural treats and munch at one of the many tables dotting the Caumsett trail. Downtown Huntington has a number of pizzerias and other family-friendly options as well a host of ice cream parlors, including local favorites Herrell's and Kilwins.
Getting there
Caumsett State Park can be reached via the Long Island Expressway or Northern State Parkway to Route 110 north. Follow 110 to Route 25A west. Follow 25A to West Neck Road and turn right. West Neck Road becomes Lloyd Harbor Road and can be followed into the park. There is an $8 fee per vehicle for the day. The Long Island Rail Road's Huntington station is about nine miles south of the park.
Unless noted, photos are courtesy of the Caumsett Foundation.