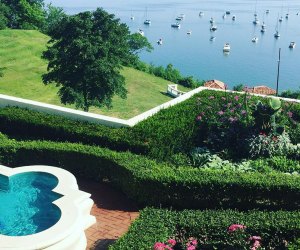 Centerport With Kids: Fun Things to Do in This Harborfront Community
If you, like many Long Islanders, are a fan of colorful drives through the region's tranquil roads, you have likely seen glimmers of blue-green beaches clapboard farm stands, and more between Huntington Village's shops and Northport's waterfront.
You might even have rambled through a community called Centerport, a mini-peninsula carving into the county and back out into Long Island Sound. While you might not have considered it as a day-trip destination, Centerport's winsome waterfront, cultural attractions, and enticing eateries make it a wonderful place to visit with your family. It is also a great stop on your way to touring Port Jefferson or even the Long Island Aquarium in Riverhead with your tiny travelers.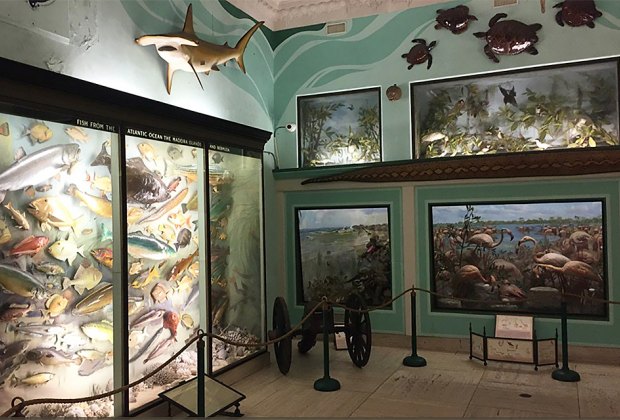 The Vanderbilt Museum's Hall of Fishes was recently renovated. Photo courtesy of the museum
What to do
A stunning Long Island gem, the Vanderbilt Museum and Planetarium sits on a summer residence commissioned by an heir to the Vanderbilt family railroad fortune in 1910. It is now a 43-acre estate with 24 rooms, and is one of the few remaining Gold Coast mansions. The planetarium features Rock 'n Light shows, sky shows, and astronomy lessons projected on a mesmerizing 60-foot dome. The museum features a Hall of Fishes and dioramas of wild animals collected by its proprietor. Summer workshops for kindergarten through third-graders offer courses in architecture, butterfly wall-hanging, and sundials. There are also classes for preschoolers accompanied by an adult. Admission begins at $8 for adults and $5 for children 12 and younger. A guided mansion tour, planetarium show, or both can be added on.
Before leaving the museum, find a spot to sit down and glimpse Centerport's stunning harbor. dotted by boats during summer months. From high above on the museum's grounds, look east to Northport and north past Eatons Neck Lighthouse to the Connecticut shore. Eatons Neck is one of only two remaining 18th-century lighthouses still operating in New York State; Montauk Point lighthouse is the other. Alas, Eatons Neck is viewable only from the water; the 126-foot tower, operated by the Coast Guard, is not open to the public.
RELATED: Great things to do in Montauk with kids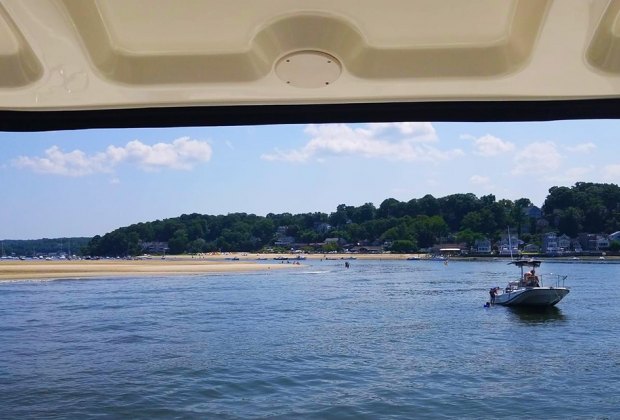 Centerport Beach Park's tranquil waters are ideal for young swimmers. Photo courtesy of the Town of Huntington
Centerport Beach Park on Little Neck Road has a swimming area that is staffed by lifeguards during the summer months, a beach volleyball court, a bocce ball court, and a kayak rack. Guests can fish, hike, or picnic in the pavilion, which is adjacent to a small playground. Bikers and amblers will delight in the trail lined with oak forest and mountain laurel trees. Town of Huntington residents can purchase seasonal beach passes for $40; nonresidents can purchase day passes for $35.
RELATED: Greenport offers all-season fun for families

Check out a lively children's production such as Shrek, above, at the nearby John W. Engeman Theater.
For music and theater lovers, the John W. Engeman Theater in Northport is a family-friendly culture hub where kids can enjoy live musicals such as Newsies, Elf, and Singin' in the Rain. The Children's Theater features performances such as Shrek, The Little Mermaid, and Frosty, and tickets are only $15 for children and adults no matter where you sit. In addition, season-ticket holders get an additional 20 percent off children's shows. At the end of each children's performance, actors form an autograph line, where kids can ask the actors to sign merchandise and take pictures. Each musical is accompanied by a live pit orchestra to interest budding instrumentalists.The Engeman is also a great place for junior birthday parties, and the cast and characters will sing to your honored guest from the stage at the end of the show.
Where to eat
For an elegant seaside lunch, visit the award-winning Mill Pond House, where parents can enjoy littleneck clams and shrimp wraps and kids can choose a fresh burger or loaded baked potato. The view of the mirror-glass Long Island Sound, elegant atmosphere, and live music get rave review from customers, as does the classy surf 'n turf menu.
For a more casual atmosphere, check out Jimmy's Pizza, a 30-year-old staple in Centerport. Kids will love specialty pizzas such as chicken bacon, barbeque, and Southwest pies, or classic pasta dishes like spaghetti and meatballs or baked ravioli. Parents will appreciate a nice variety of salads, cold wraps, and hot heroes. There are also healthy options, and you can sample delicious gluten-free pizza or whole-wheat pasta if you are hungry.
If you are looking for something different and delicious, check out Lai Lai Kitchen, a local Chinese-American favorite with quick delivery and generous portions. The Mongolian beef, mango chicken, and fried dumplings get rave reviews, and it is a great stop for a pre-theater bite or a post-museum nosh.
Delis abound in nearby Greenlawn and Northport should you desire to pack a picnic and head for the harbor.
RELATED: Visit Port Washington, a family-friendly hamlet on Nassau's North Shore

Delight in homemade gelato and more at Lic's. Photo courtesy of the shop
Sweet treats
In true old-fashioned, soda-counter style, the Northport Sweet Shop offers a kaleidoscopic assortment of candy and ice cream along with a scrumptious breakfast-and-lunch menu of flapjacks, omelettes, triple-decker sandwiches, and kids' meals. Check out soft-serve ice cream, root beer floats, and malteds, along with specialty sundaes such as peach melba and oreo cookie. There are tons of homemade chocolates to choose from, as well as seasonal specialty confections. You can view similar sweet shops across Long Island here.
With homemade gelato, vegan ice cream, and Italian ices, Lics is the perfect pick-me-up after a day of sightseeing. Try seasonal flavors like peach-and-mango gelato or caramel apple ice cream for something super-special, and don't forget the waffle cones.
Getting there
To get to Centerport, take Route 25A east through Huntington to Little Neck Road and into the community. Alternatively, take the Long Island Expressway or Northern State Parkway to Route 110 north and make a right onto East Pulaski Road and a left onto Broadway (Centerport Road) You can also take the Long Island Rail Road's Port Jefferson Branch to the Greenlawn Station and take a quick cab ride to your activity of choice.