Online Robotics Camp
Young Gates - Kids Online Personalized Classes

Artificial Intelligence with Scratch Online Camp
Young Gates - Kids Online Personalized Classes

Spark Math: Free Trial Class
Virtual
Sign up for our free newsletters.
Hall of Fishes Reopens at LI's Vanderbilt Museum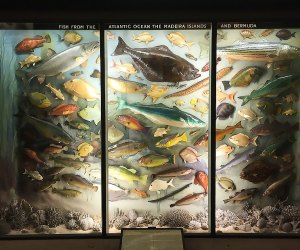 7/23/18
- By
Jaime Sumersille
The Vanderbilt Museum, a marine and natural history museum in Centerport, recently reopened its Hall of Fishes, a spectacle of restored flamingos, shore bird dioramas, and an undersea painting.
Add this museum to your summer bucket list and to your list of top educational destinations in Suffolk County. Check off more with our 50 FREE things to do with Long Island kids. Of course, our Summer Fun Guide, is a comprehensive guide to all things warm weather and family-friendly.

Thrill to the main hall at the Vanderbilt's recently restored marine museum.
The Vanderbilt Museum, a unique combination of a mansion, marine and natural history facility, planetarium, and park, reflects William K. Vanderbilt II's desire to promote appreciation of diversity, culture, and scientific knowledge through his fabulous collections. History buffs will appreciate that program themes focus on Long Island's Gold Coast era, which dates back to the early 1900s. It's a great opportunity to show kids how folks lived back then, sans iPads. In fact, this 43-acre property is one of few surviving Gold Coast estates on Long Island.
Related: Planetariums and Observatories on Long Island
You'll get lost in a sea of pink in this vivid flamingo painting at the marine museum.
Supported by a grant, the three-year project included:
conserving five taxidermied flamingos and a group of dry-mounted fish specimens
repair of three shore bird dioramas
restoration of the diorama background paintings
creation of a new undersea painting for a large-scale exhibition case
This project was no small feat. A talented taxidermy team cleaned decades of dust (sneeze!) from the specimens, touched up fins and feathers and returned them to the museum. Artists recreated a massive 8-by-10-foot painting of the ocean floor and the Caribbean shore bird dioramas. Think of a supersized shoe box school project. The wild-animal dioramas in the museum's Stoll Wing also have been restored over the past few years.
Other drop-your-jaw exhibits include a 3,000-year-old Egyptian mummy and a 32-foot whale shark, which was caught off of Fire Island in the 1930s. No, it's not Jaws.
The second floor remains closed as of July 2018 while nearly 1,500 wet specimens, recently conserved, are organized and returned to their exhibit cases.
RELATED: Great lighthouses on Long Island to visit with kids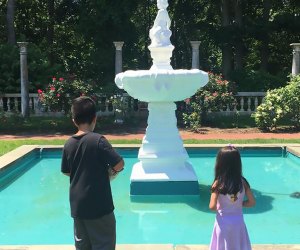 Roam the grounds and gardens after a trip to the museum. Photo by Tatiana Tsempelis
Once you're done, head outdoors to the lush grounds and gardens that overlook Northport Harbor. Pop in for a tour of Vanderbilt's Spanish Revival-style mansion, dubbed Eagle's Nest. It's another opportunity for kids to see what a privileged lifestyle looked like.
Admission and mansion tours
General museum admission is $8 for adults, $7 for students with ID and seniors (62 and older), and $5 for children 12 and younger. General admission includes estate-grounds access to the marine museum, Memorial Wing natural history and ethnographic artifact galleries, Nursery Wing, habitat room, Egyptian mummy, and Stoll Wing animal-habitat dioramas. Vanderbilt also offers year-round educational programs and workshops for children and schools.
For a mansion tour, add $6 per ticket. Guided tours of the Vanderbilt Mansion — listed on the National Register of Historic Places — are available Tuesday, Saturday, and Sunday each hour on the hour between 1 and 4 p.m.
During the day, visitors to the planetarium pay general museum admission, plus $6 each for a planetarium show. For evening planetarium shows on Friday and Saturday, visitors pay $10 for adults, and $8 for children 12 and younger. There is also FREE, year-round viewing of the night sky, weather permitting, on Fridays from 9 to 10 p.m.
The museum is located at 180 Little Neck Road, just north of Route 25A, in Centerport. It is a short cab ride from the Long Island Rail Road's Greenlawn station.
Unless noted, photos courtesy of the Vanderbilt Museum