Where to Throw a Birthday Party on Long Island for Teens and Tweens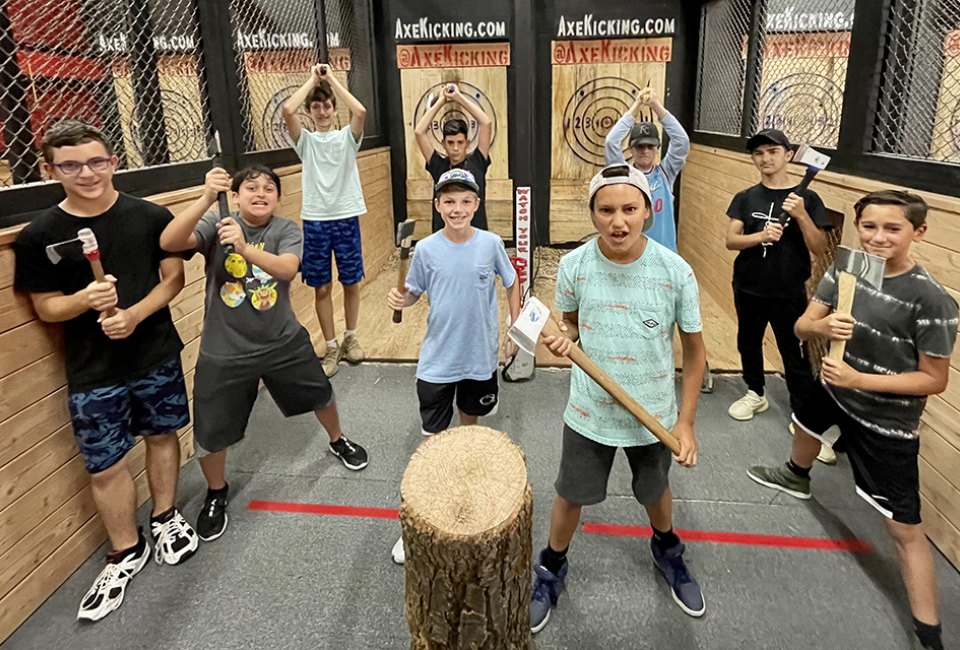 2/13/22
- By
Jaime Sumersille
Don't fret if your preteen's birthday has rolled around and you realize he or she has outgrown the bouncy house circuit. There are plenty of party options on Long Island specifically for this age group. Discerning tweens know what they like, so we've rounded up a list of awesome party spots that will impress this picky crowd.
From zip lines to fashion shows, these tween birthday bash ideas at cool Long Island spots fit the bill for that special day. Call the venues for the most up-to-date pricing information.
Got a not-so-little kid? You'll want to take a look at our guide to tween and teen fun on Long Island for exciting things to do. And for more birthday party ideas, check out our Long Island party guide.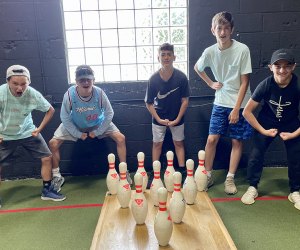 Get your game face on at Axe Kicking Entertainment. Photo by the author
Birthday Party Venues in Nassau County for Teens and Tweens
360 Jericho Turnpike
The axe experts at Axe Kicking Entertainment are eager to share their throwing techniques and prowess with guests. They'll have you hitting a bullseye in no time. This unique space also offers Football Bowling (toss a football at—you guessed it—bowling pins from 33-feet away), Stick-It Archery (channel your inner Robin Hood with these magnetic tipped arrows that have Velcro-covered discs), Plate Smashing (throw baseballs to see if you can smash 10 plates in less than 15 minutes), and Game Show (get your buzzer hands ready for this live experience with unpredictable, but family-friendly games). All experiences are private and for your party only. Families with children ages 8 and older can enjoy some or all of the activities offered; axe-throwing is for ages 10-plus only.
529 Broadway
Put your child's problem-solving skills to the test with an escape room party. Kids ages 7 and older must find the secret recipe in a candy store in the "Sweet Revenge" room or make it out of the carnival before a big storm hits in the "Carnival Conundrum." All party packages can be customized and include one or two hours in your chosen room, a private party room, two slices of pizza per guest, unlimited beverages, and more.
Prefer to host a party at home? The Lanyard Ladies travel to you. In addition to friendship bracelet and lanyard-making themes, crafty kids can master difficult patterns at one of these parties. Other crafty options include pajama and tea parties, flip-flop making, and much more.
103 Mill Road
Birthday parties for kids up to age 12 are available at this climate-controlled facility with 25,000 square feet of turf. LI Sports Complex also offers customizable birthday parties to accommodate multiple sports, including soccer, GaGa, inflatables, and more. Whatever sport your child is into, he or she seemingly can find it here.
45 New Hyde Park Road
Teens can learn basic cooking skills during a birthday party or focus on culinary creations of their own such as pizza, Mexican fare, or cupcake decorating. Two adults and a head chef assist at this one-party-at-a-time kitchen. Aprons are provided and guests get to nosh on their prepared items after prepping.
Q-ZAR / Q-Axe — Carle Place
151 Voice Road
Teens can enjoy 55-minutes of axe throwing and three games of public laser tag at this dual-attraction location. Up to eight players can be accommodated in each of their four lanes. Food, soft drink, and arcade-credit packages are available. The venues have Kosher food options and other favor and arcade add-ons available as well.
Jones Beach, Field 4
Featuring ropes, bridges, and tunnels, as well as a 700-foot zip line that runs parallel to the Atlantic Ocean, WildPlay is such a challenge to the physical abilities of your tweens and teens. The Classic Course includes three levels of adventure with zip lines and aerial games, while the Extreme Course has higher zip lines and aerial games. Guests must be at least 4 feet, 8 inches tall to attempt either. Picnic tables are available nearby to nosh on some food before or after your adventure.
RELATED: Do-It-Yourself Birthday Party Venues on Long Island

Gather your tweens and have a party at Adventure Park at Long Island.
Birthday Party Venues in Suffolk County for Teens and Tweens
75 Colonial Springs Road
Climb or sail among the trees at this outdoor park with 10 separate trails of varying challenges sure to please picky tweens and teens. It also offers evening glow parties. Kids must be at least 7 years old to visit the park. Call for party packages, but note that food is not included in any package. The park opens for the season April 1.
RELATED: Birthday Party Entertainers on LI Who Come to You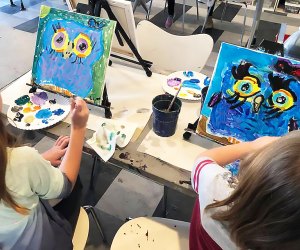 Let creativity flow at a Mini Monet tween birthday party.
64 Railroad Avenue
Get your friends together at the studio as an instructor gives everyone step-by-step guidelines for creating a masterpiece. Mini Monet's tween or teen party includes a choice of string art, dream catchers or weaving, pizza, beverages, paper goods, and a special gift for the birthday child. No experience is needed, and it is ideal for ages 9-12. Parties are good for up to 15 guests.
NY Axe — Farmingdale
11 Michael Avenue
The only space on Long Island that utilizes a digital range, NY Axe allows guests to change the throwing field. Instead of the traditional targets painted on wood, this experience can project targets and games like tic-tac-toe, Connect 4, and more onto the throwing area. There are 10 digital lanes in all, plus a private room that can accommodate up to 16 people and has four lanes. An "axpert" teaches you safety and throwing techniques. Two axe sizes are available to accommodate smaller hands. Axe-throwing is limited to guests over the age of 11. Watch a video of our visit here!
Set the stage for the ultimate selfie sesh at this hot spot. From photo props and scenes to ring lights and fun furnitures, your budding photographer will be in selfie heaven here. It offers private events and closed session rates. Otherwise if it's a small group reservations are required ahead of time.
96 Main Street
This bowling alley/arcade/restaurant East End spot offers 90-minute parties. Rental shoes are included and food and beverages are available for purchase from the adjacent All American Grill.
This post was first published in 2016. It was updated in February 2022.