Kids' Birthday Party Entertainers and Experiences on Long Island That Come to You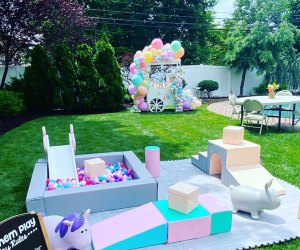 8/1/21
- By
Jaime Sumersille
One pandemic silver lining: At-home birthday party services have expanded their offerings and notched up the engagement factor for optimal birthday party fun. So, consider hosting your next soiree at home with the help of these birthday party pros.
Don't let the at-home birthday party setting fool you—you and your little one have plenty of options from which to choose. From drive-in style movie nights and mobile spas to pop-up glamping tents and backyard laser tag competitions, these at-home birthday party services give kids fabulous entertainment options in a comfortable setting.
All of the options below service all of Long Island. For more party planning help, check out our Long Island Party Guide.
Subscribe to our newsletters to get stories like this delivered directly to your inbox.
What it is: Party bus
Talk about a party made easy! With Busamove, there is no setup, cleanup, or kids running through your home. It offers several types of party buses customized to your child's age. Choose from themes like Movie Bus, Game Bus, Glamour Bus, or Activity Bus. The bus remains parked for the entire event. Busamove suggests booking your party bus 4-6 weeks in advance.
What it is: Big-screen movie rental
Bring the fun of a drive-in movie experience to your backyard with this outdoor, inflatable, 12-foot screen rental. It's full-service, so a technician even tags along with each booking, and you won't have to fuss with projectors or sound equipment. Add on popcorn or cotton candy machines for a sweet upgrade. This outdoor cinema experience is a blockbuster hit for kids and adults alike.
What it is: Magician and versatile entertainer
David FunN bills himself as Long Island's favorite children's and family entertainer. Parents can choose from three birthday options, ranging from 40 minutes to 2 hours in length. David comes ready with magic tricks (including a live rabbit) but can also do balloon animals and play his own music. He keeps children engaged and smiling the entire time and even gives out magic wands as favors. He also offers virtual events and interactive, digital parties.
RELATED: Where to Host Birthday Parties on Long Island in 2021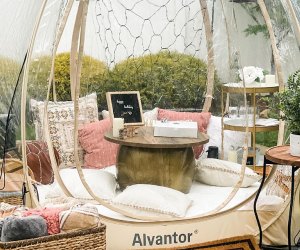 A backyard party picnic is glammed up with Posh-Nosh Picnics.
What it is: Pop-up tent party rental
The Posh-Nosh Picnics team sets up a clear bubble tent and brings the party to life inside it. Complete with pillows, seating, LED lighting, decor, and more, these pop-up tents create a warm, glamping-eqsue atmosphere right in your backyard. On a hot day, a portable AC unit can be added. You can opt to let party guests sleep under the stars with its sleepover/movie night option. Each tent accommodates four adults and four children and can be rented for a 2-hour time slot. It also sets up elaborate lawn or beach picnics, sans tent. Add-ons include cheese and meat boards or a dessert platter. A posh picnic in a park is yet another option.
What it is: Children's soft play rentals
Geared toward crawlers through age 5, these soft gym equipment rentals come with a contained area and safe equipment for kiddos to explore, from foam bridges to incline wedges. Let Them Play also rents ball pits. With customizable colors and themes, these soft setups are ideal for inside or out of your home. It also has table and chair rentals, which are set up to match your theme.
What it is: Mobile entertainment
The ultimate video game party for your child's birthday celebration, Gametruck comes to you with everything you need to make your party a success, like laser tag, bubble soccer, and more. Parties range from 1 1/2 to 3 hours and come with a game coach to keep the party popping. Parents also get a digital invite link for invitations and a VIP gift.
RELATED: 30+ Free Ways to Celebrate Your Kid's Birthday at Home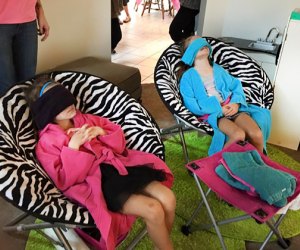 Pamper your birthday princess at Lil Divas Spa on the Go.
What it is: At-home spa, manicures, pedicures, and more
With four spa options, there's something for every little princess. The birthday girl can choose from manis, pedis, facials, a glitzy makeover, and more. Children pick a spa treatment and also make a charm bracelet to take home. And, of course, the birthday girl gets a tiara. Add-on options include making your own flip flops, creating your own lotion, and a candy buffet. Parties run 1 1/2 hours with two stylists for up to 11 kids. A third stylist is sent for the larger "Spoiled Diva" package. Note: The stylists are there to perform a specific duty and not to control the children or the flow of the party. Lil Divas says that it is up to the parents.
What it is: STEM parties
These parties are great for budding scientists ages 3-12. Mad Science brings high-energy, interactive parties lasting 45 minutes for preschoolers and 1-2 hours for older kids. Add-ons include a cotton candy machine, bubble potions, and rocket launching. Parents also can add on goody bags and lab coats for all the children. Invitations are included, and each child leaves with "make-and-take home Mad Science Slime."
What it is: Total entertainment company
Parents can customize their child's party with options such as clown packages, DJ/karaoke packages, carnival parties, magic/juggling, and more. There is even a mix-and-match package for those who can't make up their minds or want a little of everything. Most parties are planned for about 12-15 children, but parents have the option to include more. Each party comes with a coordinator to make planning easier. Parties can be held indoors or out.
RELATED: Best Virtual Party Performers and Kids Birthday Parties to Celebrate Online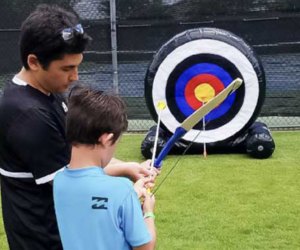 Party Animals brings a safe-tip archery set right to your backyard.
What it is: Action sports party rentals
Offering some pretty extreme party rentals, Party Animals can bring obstacle courses, water slides, dunk tanks, rock walls, and more right into your yard. For the competitive crowd, it offers a maze water fight set up, side-by-side inflatable basketball hoops, tactical laser tag, and safe archery.
This article, first published in 2017, has been updated for 2021.
Photos courtesy of the venues