Indoor Play Space Review: Once Upon a Treetop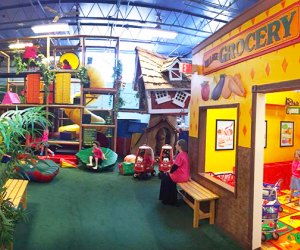 As the days grow shorter and colder, parents and children are going to be flocking to indoor play spaces that can keep them entertained, engaged, and warm. Once Upon a Treetop in Plainview, Long Island, hits all of the marks when it comes to providing a safe, educational, and fun indoor environment for babies, toddlers, and young children. A mini-universe of imaginative play options is just waiting to be explored.
Once Upon a Treetop is designed as an interactive city that features a multi-level climbing playground with a serpentine slide and tunnels, a tree house, and eight adorable and realistic-looking "stores" and "businesses" where your children can engage in make-believe play and test their skills. The front entrance to the play space opens up into a small toy store that sells mostly puzzles, arts and crafts, and toddler toys, but also does a good job of stocking a number of the cars, stuffed animals, and costumes your kids will fall in love with once they're inside the space. A long hallway leads to the main play area and along the way you'll find a baby ballet studio, colorful cafeteria where you can sit and enjoy lunch or snacks, and a room used for scheduled arts and music classes. Before you reach the main attraction, a large and well-lit room that may cause your children's mouths to drop, there's a sitting area with a snack, drink, ice-cream vending machine, and shelves to store their shoes. Good luck getting them to sit still long enough to put clean socks on their feet.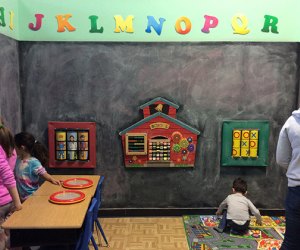 Pass inside a swinging white gate and a world of play suddenly becomes your child's oyster. The word that springs to mind when I think about this space is "thoughtful." Every detail — from the placement of trash cans to the benches located throughout where tired parents can rest — is mindfully planned out. The center of the room is lined with rows of seating that make it easy for parents to keep an eye on their children as they dart in and out of the various play spaces located on either side and separated according to theme and interest. I visited with my two-year-old son and five-year-old daughter and both were overwhelmed with joy when they caught sight of their play options: a pizza/bakery where kids can pretend to cook and serve meals, the village mechanic shop, a firehouse (complete with costumes, fire engine toys, and even boots), a Pet Shoppe where they can play veterinarian to an assortment of stuffed animals, a train room, costume shop, village grocery store, and — my personal favorite — the Dupont St. School, a brightly colored room outfitted with books, a blackboard, educational manipulatives for young learners, and a whiteboard filled with magnetic numbers and letters.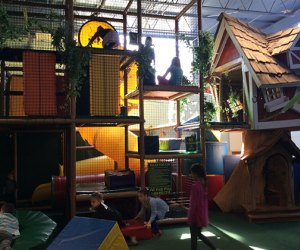 At the tail end of the room you'll find the space's main attraction: a multi-level jungle gym that allows kids to stretch their limbs, challenge themselves to climb higher, and exert some of that pent-up energy that seems so difficult to release when park weather is still months away. Most of the play equipment, which is padded and protected up high by a sturdy gate, is okay for older toddlers and up, but you may need to trail your young child in order to keep him away from the long, twisty slide, which could prove too scary for little ones.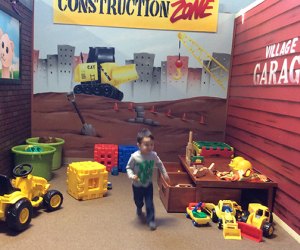 One of the best things about Once Upon a Treetop and another reason it deserves that "thoughtful" label is that they've stocked the space with an abundance of toys. There are enough Tikes, trucks, costumes, play food, shopping carts, and Legos to keep children so active and engaged that they don't have time to think about wanting another child's toy. At one point, my toddler was seconds away from trying to rip a car out of another child's hands when I pulled him away and simply gave him the same car in a different color. As a parent, it's impossible not to feel appreciative of details like these.
Another wonderful plus: despite the plethora of toys and trinkets, courteous workers are constantly roaming about and returning toys to their rightful areas. You may find a worker only too happy to engage with children at times, but don't mistake this for free childcare. Parents absolutely have to keep their eyes on their children at all times, particularly because they can get hurt by the playground and the swinging door that separates the play space from the hallway is not locked. In fact, I found it wide open more than a few times.
One sizable area by the entrance of the play space caters exclusively to crawlers and contains a mini playhouse, rocking horse, interactive school bus, and inflatable pool with toys. It may not seem like a lot at first, but there are plenty of other toys throughout the room that are safe for babies. I would keep a watchful eye as they roam about, as there are also plenty of choking hazards, as well.
Aside from vending snacks and beverages, lunch isn't available for purchase at open play sessions, though the catering menu they offer for birthday parties is outstanding and includes everything from a continental breakfast to Asian noodle salads. The space often hosts special events like Halloween parties, Easter egg hunts, and superhero days and the impressive number of classes they provide include mommy and me sessions, Baby Ballet Long Island, Soccer Shots, and even a fashion design lab for grades 1-3. Open play schedule is usually Mondays and Thursdays from 10 a.m. until 5 p.m. and Tuesdays, Wednesdays, and Fridays from 10 a.m. until 3 p.m., but be sure to check their website for calendar changes. Prices are $12 per walker and $6 per baby — and the sweetest part: adults and infants get in for free.
Top image courtesy of the venue. Unless otherwise noted, all photos by the author.