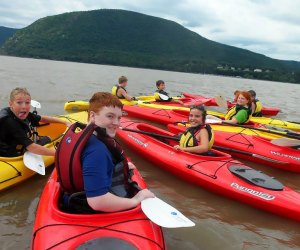 Canoe, Kayak, and Paddleboat Rentals for Westchester Families
Westchester County and the Hudson Valley boast plenty of pools and spray parks to keep kids and adults splashing their way through the sticky summer months. But for New York families seeking a more active outdoor adventure, paddling down one of the state's many natural local waterways can't be beat.
Novices can take guided tours or lessons offered by kayak companies, and children as young as 3 can help power a paddleboat with some of that energy they never seem to burn off. More adventurous paddlers can take on half-day tours of the Hudson River and its aquatic ecosystems or conquer stand-up paddleboarding.
Read on for nearby spots where you can flex those rowing arms with canoeing, kayaking, paddleboarding, rowboats, rafts, and more. And for even more water fun, check out our list of the best lakes and rivers for swimming in Westchester and the Hudson Valley.

Take a stand-up paddleboard lesson at Jersey Paddle Boards. Photo courtesy of Jersey Paddle Boards
Canoe, Kayak, or Paddleboard Rentals and Tours
Hudson River Expeditions – Cold Spring and Peekskill
This outdoor adventure outfit offers two- and four-hour tours, as well as open rentals of kayaks, canoes, and paddleboards, allowing you to explore the Hudson River, Constitution Marsh, Foundry Cove or Annsville Creek on your own or as part of a group. As with most places, there are restrictions that vary with age, and your trip may be dictated by the day's tide levels. Children must be at least 3 years old and 30 pounds to participate, and only those 13 and older can rent their own kayaks or canoes. Children younger than 10 are permitted only in Foundry Cove and Constitution Marsh, which is maintained by the National Audubon Society and is quite lovely.
Hudson River Recreation – Croton-on-Hudson
Operating primarily out of Croton Point Park in Croton-on-Hudson, Hudson River Recreation is dedicated to introducing newcomers to kayaking and stand-up paddleboarding. Working in partnership with 1% For the Planet and Leave No Trace Center For Outdoor Ethics, Hudson River Recreation promotes an appreciation of the Hudson River with a cool family-friendly vibe. Children as young as 8 are welcome to participate in most group tours; younger children may be able to participate in lessons and private group activities. Some tours and lessons also operate out of Sleepy Hollow.
Jersey Paddle Boards – Greenwood Lake
Don't let the name fool you—this rental shop is indeed located in New York, though Greenwood Lake shares an address with both states. You can explore the lake via kayak (tandem or single) or stand-up paddle board. Although there are no hard and fast age restrictions (they've had paddlers as young as 4), Jersey Paddle Boards do require that children know how to swim. After a long day on the water, head over to nearby Bellvale Creamery for some homemade ice cream and explore the rest of Warwick.
Mountain Valley Guides – Hastings-on-Hudson
Just steps from the MetroNorth station, Mountain Valley is easily accessible from both New York City and Westchester County. Once there you can paddle below the 550-foot rock face of the Palisades, watch the sunset over the cliffs or explore Peanut Falls on a guided tour with Mountain Valley Guides. This group also offers "kids only" kayak sessions during the summer for ages 9-14, as well as "family kayak" trips for those starting at age 8 from the Cornwall-on-Hudson location.
Storm King Adventure Tours – Cornwall-on-Hudson
Storm King offers nearly a dozen different kayak tours from its landing on the west bank of the Hudson, including a sunset Constellation Tour that crosses the river to Bannerman's Island and a Full Moon tour that incorporates glow sticks and headlamps into the exploration. Paddlers need to be at least 12 years old to participate. For the younger set, Storm King holds two-hour camps on Wednesdays and Fridays to teach the basics of kayaking for kids ages 9 to 15.
RELATED: Top Swimming Lakes and Rivers for Westchester Families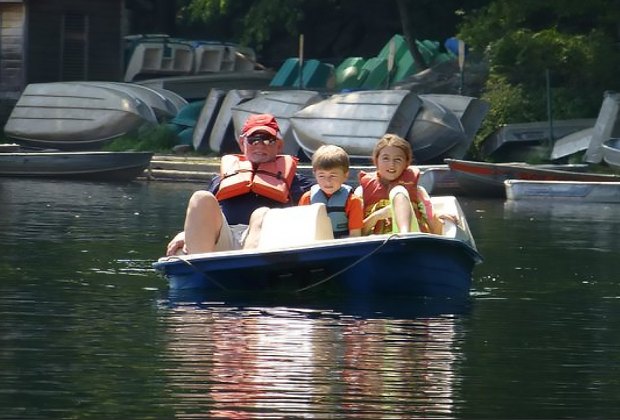 Kids can help power the paddleboat at Bear Mountain State Park. Photo courtesy of Bear Mountain State Park
Rowboats and Paddleboats
Many state and local parks in Westchester County and beyond have rowboats, paddleboats, and other small watercraft available for short-term rentals for a small, park-sustaining fee. These are usually a great way to introduce little ones to on-water sports without investing a whole lot of time and money into the experience.
Bear Mountain State Park – Bear Mountain
Paddleboats rent by the hour from June through October on Hessian Lake in Bear Mountain State Park. It's just a short trip over the Bear Mountain Bridge from Northern Westchester, and suddenly you'll be enjoying a pretty view from your very own small watercraft. Not bad.
Fahnestock State Park – Carmel
Like Bear Mountain, Fahnestock is located a short drive outside of Westchester County, but is well worth the trip. Rowboats are available for rental by the hour, but day rates and weekly/seasonal boating passes can be purchased as well. Stillwater and Canopus Lakes both provide beautiful scenery and some pretty active fishing for those who venture up to this state park. If your family tires of boating, try the swimming beach and concessions at Canopus Beach.
Franklin D. Roosevelt State Park – Yorktown Heights
Rent a rowboat or paddleboat by the half hour or day from mid-June to Labor Day and enjoy the beauty and serenity of Lake Mohansic and Crom Pond. Each boat holds four people (children included). After your water tour, lace up your sneakers and hit the trail. There are plenty of family-friendly hiking trails to choose from at this state park that's just 40 miles from NYC.
Wampus Pond – Armonk
Try the rowboat rentals at this natural pond on weekends between Memorial Day and Labor Day. Pack a lunch, so you can take an afternoon break at the picnic grounds. Boats can be rented by the hour or by the day. Wampus Pond is open to all; no Park Pass required. Return in the winter for the ice skating!
RELATED: Splash Pads and Water Playgrounds in Westchester and the Hudson Valley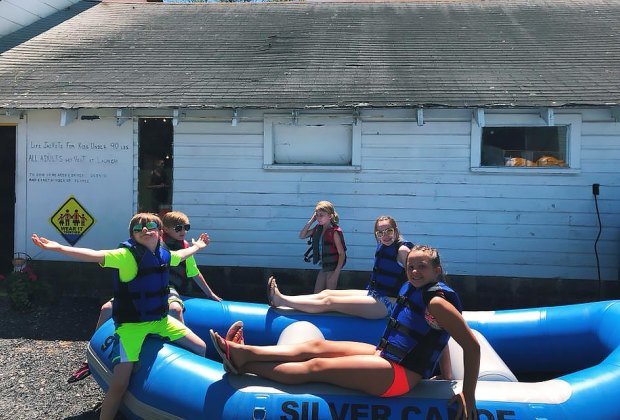 Take a four-to-five-hour rafting adventure at Silver Canoe. Photo courtesy of Silver Canoe
Rafting and Tubing
Silver Canoe – Port Jervis
Take a rafting trip down the Delaware River! Silver Canoe transports participants to Pond Eddy where they paddle back along the 10-mile route to Port Jervis. Kids as young as 3 are permitted to participate, as long as they weigh at least 30 pounds. The trip takes four to five hours—something to keep in mind if you have little rafters. Between six and eight people can fit in a raft, depending on ages and sizes. Choose to make the trip in a raft, canoe, kayak, or tube.
Town Tinker Tubing – Phoenicia
Kids 12 and older can white-water tube (yes, in an inner tube!) down the Esopus Creek. Town Tinker, which has been around for more than 30 years, will drop you off upstream, with the trip down taking around two hours. The water can be quite cold, so Town Tinker also offers wetsuit rentals (as well as helmets, which are recommended). Kayak rentals are also available, though this trip is recommended for more experienced kayakers.
Looking to launch your own car-top watercraft? Public access launch sites are available at many Westchester County parks and other points throughout the county.
For more boating information and safety tips, click here.
Originally published May 2014. Updated July 2018.