Fishing Lakes near Westchester and the Hudson Valley and More Kid-Friendly Places to Go Fishing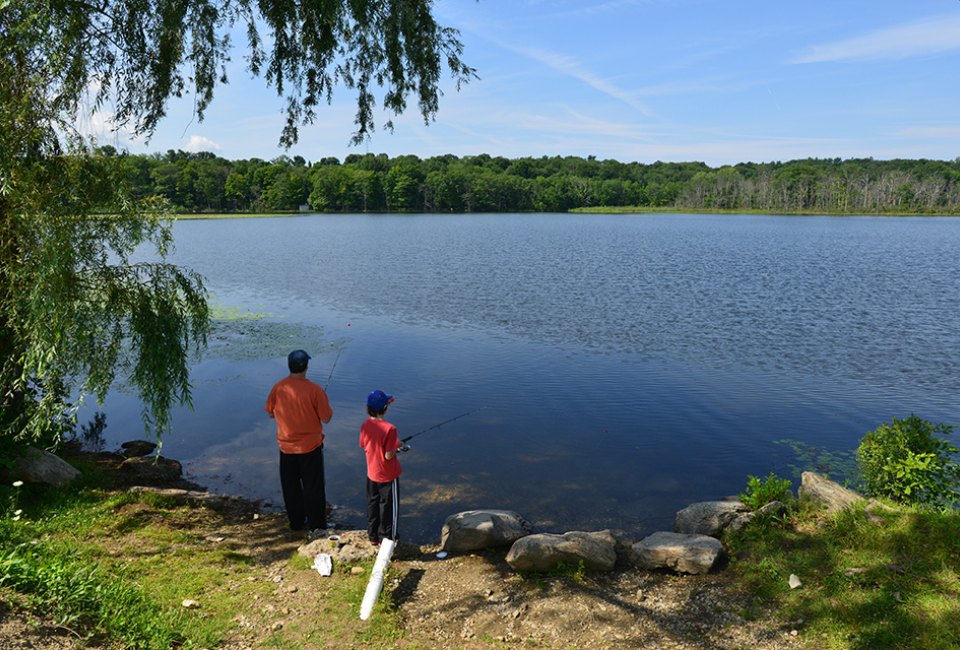 7/29/22
- By
Tom Stefanchik
Looking for the top fishing spots in the Hudson Valley? We've got you covered.
Few family-friendly activities are more relaxing than fishing, which involves spending a day basking in the sunlight and communing with nature. And the Hudson Valley is the perfect environment for fishing, with dozens of lakes, streams, ponds, and other freshwater bodies.
Naturally, if you're bringing the kids along on your fishing expedition, you'll want to make sure there are plenty of other activities nearby to help keep them occupied–especially when you hear the inevitable, "I'm bored". Read on for the top family-friendly locations for fishing in Westchester County and the Hudson Valley.
If your kids love being outside, check out our rundown on 10 destination parks for Westchester families, and find ideas for other outdoorsy adventures in our Guide to Playgrounds & Parks in Westchester.
Largemouth bass, brown bullhead catfish, pumpkinseed, trout, and bluegill are among the species you can find at this sprawling preserve, which is also ideal for such activities as nature study, birding, hiking, and photography. Fishing is permitted during bass and trout seasons, and a catch-and-release policy is strongly encouraged.
RELATED: Easy New York State Park Hikes in the Hudson Valley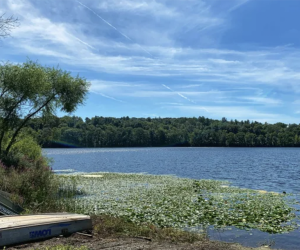 Along with fishing, Mohansic Lake has plenty of additional amenities for a day of family outdoor activities.
Located in Franklin D. Roosevelt State Park, this 108-acre lake provides anglers with the opportunity to catch a lot of fish, including largemouth bass, chain pickerel, and sunfish, that provide a lot of action when taking a kid fishing. There is a state-owned boat launch with rentals available and parking for 20 cars (permit required). Gas motors are not allowed. Additional amenities include a large swimming pool, biking trails, picnic tables and pavilions, a playground, and playing fields.
You can catch such species as largemouth and smallmouth bass, white perch, bluegill, and black crappie at this family-oriented park. Among the additional family-friendly amenities here are a swimming pool, water slide, picnic area, and basketball courts.

Lake Secor provides a quiet day on a smaller lake for a tranquil fishing experience. Photo by the author
This spot is truly a hidden gem, tucked away in a quiet residential neighborhood. While visitors flock to Lake Secor's big sister Lake Mahopac, this picturesque little spot provides great fishing for bass, perch, catfish, and other species. Fish from the dock or take a boat out onto the lake. Residents can also enjoy the lake's beach (pass required).
As the county's largest park, Ward Pound Ridge Reservation features everything you need for a perfect day of fly fishing–sparkling streams, shallow pools, and an abundance of trout. However, be advised that fishing is catch-and-release only, and only with artificial lures. And with its varied terrain and landscapes, and miles of wooded trails, the park provides a variety of activities for all seasons. Parking fees apply: $4 with a county pass, $8 without.
RELATED: 5 Metro-North Day Trips for Families in Westchester and Beyond

Grab a pole and line and fish off the shores of Lake Sebago.
Shore fishing is plentiful at Lake Sebago, located in Harriman State Park, where catching 7-inch or larger bluegill, and 12-inch or larger largemouth bass is a regular occurrence. A hand launch is located on the southeast side of the lake (no gas motors), and a Palisades Interstate Park Commission (PIPC) boat permit is required. Families can also enjoy biking, camping, and hiking, including the nearby Appalachian Trail.
Located in the sprawling, 44-acre Harbor Island Park, Mamaroneck Harbor offers a fishing dock available for public use, located in the East Basin. If you need to stock up there is also a Bait and Tackle shop located at the entrance to Harbor Island Park. Before using the dock, you must first register on the Westchester County Recreational Maritime Fish Registry, and registration is free. Harbor Island Park also offers tennis courts, playing fields, a beach, a spray park, and a large playground.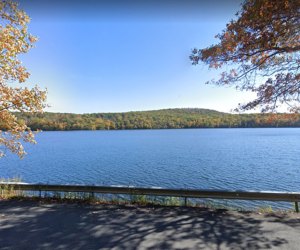 To get your catch, hop in a canoe or kayak or stop along one of the multiple fishing areas along the shore at White Pond.
Walleye, yellow perch, rock bass, brown bullhead, and sunfish are among the day's catch here. White Pond is a great location to fish from shore or on a small boat (electric motors only). Shore fishermen have multiple places to fish along the bank, and an accessible fishing pier is available. You can also go boating in a kayak or canoe, or trek along the 1.5-mile hiking trail looping around White Pond.
Fishing License Requirements
Before you grab your fishing pole and bait, be aware that there are rules and regulations as to where, when, and even how you can fish the waters of our area.
Fishing is permitted in streams and lakes under the control of the Westchester County Parks Department, except in the nature preserves and where "No Fishing" signs are displayed.
A New York State fishing license is required for individuals 16 years and older.
Licensing information can be obtained by calling the Westchester County Clerk's office at (914) 995-3088 or visiting their website.
Daily, weekly, annual, and lifetime licenses can be purchased.
Information on fishing season dates can also be obtained on this website.
New York State periodically sponsors "free fishing" days, during which no license is required.
Information on permits and requirements for fishing in reservoirs located within Westchester can be obtained by calling the New York City Department of Environmental Protection at (914) 232-1309.
Unless noted, photos courtesy of the NYS Office of Parks, Recreation, and Historic Preservation