7 Spots Westchester Kids Can Take Figure Skating Classes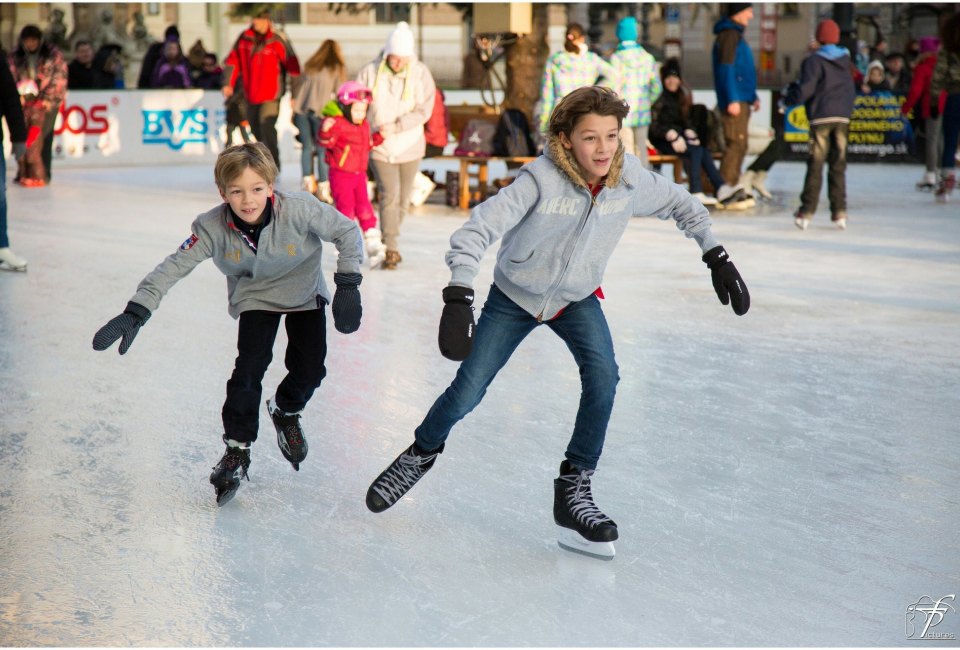 2/4/18
- By
Christi O'Donnell
As the Olympic competition heats up and outdoor temperatures struggle to creep above frigid, the cold-yet-controlled climates of Westchester County's indoor skating rinks beckon to families who've been cooped up all winter. If you're looking for ways to get your own little Nathan Chen or Bradie Tennell out there on the ice, check out these local skating classes.
Want even more winter fun? Take a look at our Winter Fun Guide.
Indoor Rinks
1. E.J. Murray Memorial Skating Center – Yonkers
348 Tuckahoe Road
Open now for close to 60 years, the Edward J Murray Skating Rink offers Ice Skating Institute figure skating classes for kids starting at age 4 (and runs them for adults, too). Sessions work on a semester schedule with the first 14-session semester starting in September and the second starting in January. Classes are 30 minutes long and private lessons are available with any member of the teaching staff. Advanced students are able to join the Yonkers Figuring Skating Club and Synchronized Skating Teams.
2. The Ice Hutch - Mount Vernon
655 Garden Avenue
The Ice Hutch is a member of the U.S. Figure Skating Basic Skills Program. This program strives to develop the skills and enjoyment of figure skaters at all levels. Children can start out in the Snowplow 1 class at age 4 and progress up through levels of basic skills classes before moving on to more advanced skating. Each program lasts 13 weeks, and families can choose between signing up for one or two classes per week. Each class lasts 30 minutes and includes skate rentals.
3. Hommocks Park Ice Rink – Larchmont
140 Hommocks Road
Hommocks Park Ice Rink is an indoor skating facility owned and operated by the town of Mamaroneck. Part of the Ice Skating Institute, this rink is focused on cultivating a love of recreational skating. Novice skaters ages 4 to 6 can start out in the tots program, while young children with some prior experience can move right into Tot 1 Advanced or Tot 2. Classes continue all the way up to the advanced level with private lessons available. Each leveled class focuses on a core set of skills and students are tested every four weeks to see if they are ready to move up. Each session is made up of five half-hour weekly classes. Prices vary depending on residency.
4. Westchester Skating Academy – Elmsford
91 Fairview Park Drive
With two skating surfaces, public skating events, skate rentals, a plethora of classes to choose from, camps for all ages and the onsite Center Ice Bar & Grill, Westchester Skating Academy has it all. Children can begin taking U.S. Figure Skating Association skating classes as young as 3 years old as part of the Parent & Me program and can continue to progress through Snow Plow Sam and Basic Skills to advanced and elite programs that focus on techniques like power jumps and ballet. Most classes follow a 9- or 10-week schedule and take place every week for 30 minutes, with advanced registration required. If you already have a child or parent in the program, or if you're a resident of Greenburgh, you'll get a 10 percent discount.
5. Evarts Rink - Katonah
260 Jay Street
Part of The Harvey School's recreation facilities, Evarts Rink offers a modest variety of figuring skating classes for children ages 4 and up. Like The Ice Hutch and Westchester Skating Academy, group classes are based on the U.S. Figure Skating Basic Skills program, allowing children ages 4 and up to test up through increasingly difficult levels. Lessons last 30 minutes and each session runs for 8 weeks, with additional time give before and after each lesson for practice. Evarts rink does not have any skate rentals available, so all participants must own or bring their own skates. Interested in private lessons? They've got that, too.
Outdoor Rinks
6. Ebersole Ice Rink - White Plains
110 Lake Street
Ebersole Ice Rink is a winter-only facility located in White Plains. Open from October through March, this outdoor rink (with a roof) has basic learn-to-skate classes, hockey classes, vacation camps, skating clinics and advanced skating programs. For detailed information, contact the rink directly at (914) 422-1348.
7. Bear Mountain Ice Rink - Bear Mountain
Bear Mountain State Park
This outdoor rink is just across the river at Bear Mountain State Park and is open from November to March. Skating lessons are offered during weekend public skate sessions for kids usually starting at age 5 and are offered by two different instructors. Skate rentals are available at the rink, but be aware that it's totally outdoors so make sure everyone's bundled up for the cold temps. You can reach instructor Michelle at (845) 521-0900 and instructor Joan, whose lessons are usually held at 10am on the weekends, at (201) 669-9994.
This originally posted in 2014 and has been updated for 2018.
Sign up for the Mommy Poppins Newsletter today!