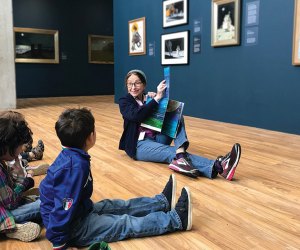 Family Day Trip to the Hudson River Museum in Yonkers
If you're looking for a first museum experience for your kids, the Hudson River Museum in Yonkers is one of the best local options. It's not huge or overwhelming, but it offers plenty to do to keep kids engaged and learning.
The largest cultural institution in Westchester County, the Hudson River Museum includes galleries, a planetarium, amphitheater, historic mansion, picturesque outdoor space, and plenty of family-friendly events and activities. My dad and I took my 5-year-old and 2.5-year-old for a visit on a recent Saturday afternoon, and it was a perfect outing.
The museum, which overlooks the Hudson River, just celebrated its 100th anniversary in 2019. Its history in the area runs deep: Founded by the Yonkers Art Association and originally called the Yonkers Museum, it "began as a collection of minerals donated by Yonkers attorney Edwin C. Mott, which were first displayed in Yonkers City Hall," according to the write-up on the museum's website (which is definitely worth a read pre-visit.) It moved to its current location in the 1920s (additional space was added later), and the name eventually was changed to the Hudson River Museum.
The Planetarium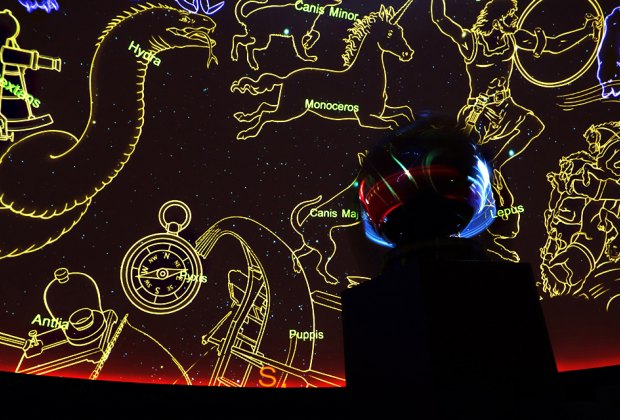 The planetarium has shows for every age and interest.
Our visit started with a planetarium show. We've taken my space-loving kindergartener here before, and he was just as hyped as ever. Shows, which change monthly, run three times a day on weekends and are geared toward specific age groups; the 12:30 show is best for little kids, according to the museum. Just note that there are usually no shows on weekdays.
We opted for a viewing of "The Girl Who Walked Upside Down" in that time slot, and it was great: My energetic toddler sat through the whole half-hour show, and when it was over, a museum staffer talked about what's visible in the sky in our area this time of year. (My 5-year-old was floored when he found out he could see Venus.)
Though the museum's exhibit A Century of Lunar Photography and Beyond, which we saw, is closing, a new one—Frances Hynes: Constellations—will be on view until January 2021 to continue the space education.
Galleries and Exhibits
RELATED: Art Studios with Drop-In Sessions for Westchester Kids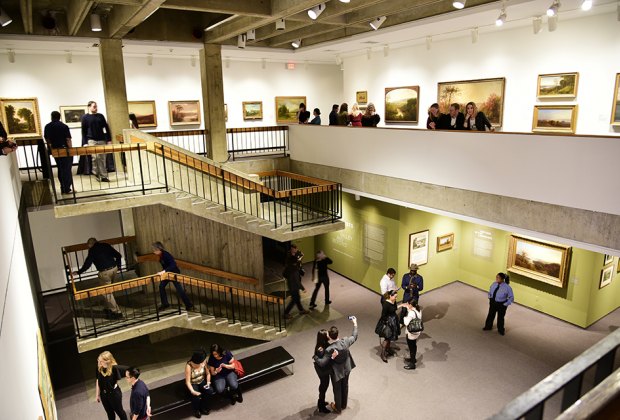 The Hudson River Museum features rotating exhibits and permanent collections.
After the show, we walked through the museum. There are both changing exhibits—you can find a full list on the website—and a permanent collection that has "nearly 18,000 objects, including paintings, sculptures, works on paper, photographs, decorative arts, costumes, textiles, graphic design, historical objects, and ephemera," according to the site. That includes pieces by the famed Hudson River School artists. Though we didn't do it on this visit, the museum also offers Family Tours.
RELATED: Museums with Cool Kids' Programming in Westchester and the Hudson Valley

Red Grooms' The Bookstore is a colorful, walk-through installation.
Also in the museum's permanent collection is Red Grooms' The Bookstore, which my kids loved. You can walk through the bright Pop-Art installation—an experience that truly made the art come to life for my kids.
Glenview Mansion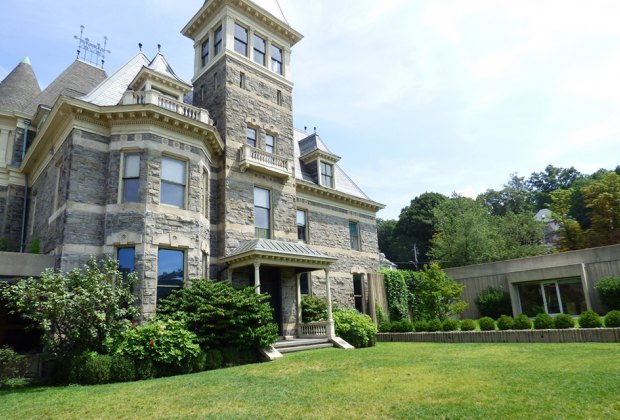 Walk through Glenview and travel back in time to 1877.
Included in admission is also a visit to the Glenview Historic Home, a late 19th–century mansion that was home to Wall Streeter John Bond Trevor and his family. Tours run twice a day on weekends and once on weekdays, and though we missed the start, we joined one in progress—and I'm glad we did, because we learned so much. (If you don't want to tour, you can just walk through the home on weekends.) The tour itself wasn't long—so it worked for the kids—and provided lots of information on the home, including the incredibly detailed Nybelwyck Hall Dollhouse.
If you need a quick break, there's some outdoor space for kids between the main museum and the home, as well as a great viewing spot of the Hudson.
Educational Spaces and Family-Friendly Events
We rounded out our visit in the Greene Education Center, which is open on the weekends for kids to do art and science projects through the Family Studio: Art and Family Studio: Science programs. On the art side, there were lots of supplies set out to create the featured project—paper, glue, crayons, markers, feathers, etc.—and the kids enjoyed both the art project and the kid-friendly music that was playing in the background! The full schedule of workshops is up on the site, so take a peek ahead of time.
RELATED: Top Indoor Play Spaces for Kids in Westchester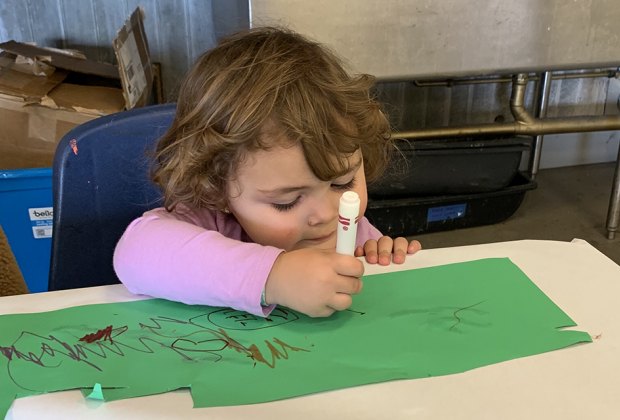 The HRM offers many child-friendly activities and exhibits. The Early Explorers Room is open 1–4pm every weekend. Photo by the author
There's plenty more for kids, too: Hudson Riverama is a "hands-on, interactive teaching gallery that focuses on the natural and environmental history, habitats, flora, and fauna, as well as geography and landscape of the Hudson River." There also are a variety of events—from storytimes to the School's Out, Stars Are In program during school breaks, which includes free planetarium shows.
They have a variety of other events as well, including paint nights, Sunday Scholars, and, in the summer, performances in the outdoor amphitheater.
Know Before You Go
Parking is free—and there was plenty on this particular Saturday afternoon. While there are some snacks and drinks available in the gift shop, there's not much else in the way of food, so it's smart to pack your own. After our visit, we headed to Fortina for pizza, which is less than a 10-minute drive from the museum—or you can opt for another kid-friendly Yonkers restaurant.
The museum is open noon to 5pm, Wednesdays through Sundays. Tickets are $8 for adults, $4 for kids, and free for kids 3 and younger. Planetarium tickets—which are separate—are $5 for adults, $3 for kids and free for kids 3 and younger. Membership is also available.
Unless noted, photos courtesy of the museum.
Hudson River Museum
511 Warburton Ave.
Yonkers , NY 10701