Rockin' Jump Ridge Hill: Where Kids can Jump and Climb the Walls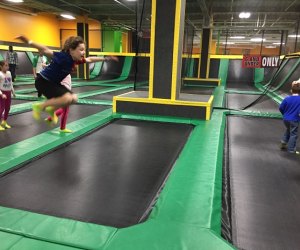 It's beginning to feel a bit more like spring, but that doesn't mean every day will be sunshine and roses (there's still March and its whole lion/lamb thing to endure). When the kids are bouncing off the walls, the best thing to do is bring them somewhere it's encouraged—like an indoor trampoline park!
We previously told you all about our visit to Mount Kisco's Rockin' Jump, and since then another Westchester outpost of this franchise opened at Ridge Hill in Yonkers, near Legoland Discovery Center. We recently hopped on over to the newer—and larger—Rockin' Jump to size it up.
Looking for more things to do when the weather is cruddy? Sign up for our newsletters and follow us on Facebook!
Don't allow the entryway to Rockin' Jump fool you; from the street level, the facility appears to be small, but only payment and waivers are handled on that level. Descend to the basement, where you'll find a smorgasboard of high-flying fun.
As with the Mount Kisco location, the Ridge Hill Rockin' Jump includes the Open Jump Arena, the Dodgeball Arena and the Slam Dunk Basketball Court, all of which are trampoline based. But because this location is larger, an added attraction is the Ninja Challenge Course, a multi-station area featuring obstacle-style challenges of various designs.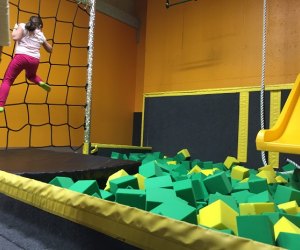 Rising to new heights in the Ninja Challenge Course.
My tweens declared the Ridge Hill Rockin' Jump their preferred location because of the added Ninja Challenge feature—they loved it. The adventure course challenged them to swing from one block to another on a rope, slide down a fireman's pole, traverse across rings, jump from a swinging trapeze into a foam pit and more.
Additionally, in lieu of Mount Kisco's Foam Arena, the Yonkers site offers the X-Beam, where participants try to keep from falling off low beams into foam pits while competitively sparring with their opponent using padded lances (losing isn't so bad; falling is fun).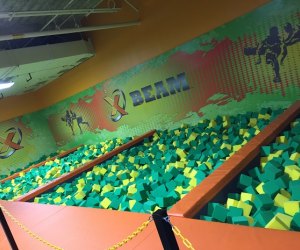 Walk the plank or fall into the sea of foam at the X-Beam station.
Other features include a modest-sized rock wall, a photo booth, a hurricane-simulating machine and shiatsu massage chairs for the adults who watch all these jumping beans. In the interest of journalistic thoroughness (ahem), I indulged in a 6-minute session for $2, my kids in full view while shooting hoops.
Given how recently this location opened, its pristine condition comes as no surprise, but because its sister location remains so well maintained years after its opening, it seems that the Rockin' Jump standard is high in this regard. Safety is also a Rockin' Jump emphasis; both facilities offer a safety video for visitors to view before entering, though in the Ridge Hill location we managed to overlook this, whereas it couldn't be missed in Mount Kisco. The Mount Kisco staff were distinctively attentive to safety compared with their Ridge Hill counterparts during my family's visits.
In addition to open play, recurring events include Rockin' Fridays (ages 11-17, featuring DJ and black-light jumping), Rockin' Saturdays (all-age evening program) and Rockin' Tots. Always call ahead to check the schedule. Birthday parties are available, as are group fundraisers.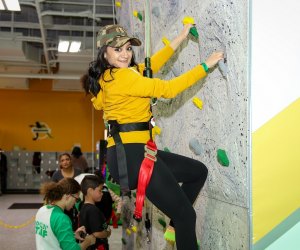 Kids can climb and jump to their hearts' content. Image courtesy of Rockin' Jump.

What to Know
While walk-ins are accommodated, reservations can be made online to secure a spot.
Upon arrival, guests sign an electronic waiver and purchase the required sticky socks (available for $3 and reusable on future visits; no alternative socks permitted).
Bathrooms are clean and include a changing table and step stools.
Lockers and coat racks are available, as are couches for more comfortable supervision.
Ninja Challenge rules of note: Must be at least 54 inches tall; must wear closed-toe shoes; long hair must be pulled back; during busy times, participants are allotted 4 minutes to complete the course.
Participants must be at least 42 inches tall and weigh at least 45 pounds to participate in the Vertical Ops (i.e., rock wall).
Food available for purchase includes pizza, salads, wraps, chips, Kind bars, fruit cups and cookies. A wide selection of drinks is sold as well to quench those thirsts.
Current rates (as of February 2017) range from $19 for 60 minutes of jump time up to $29 for up to 120 minutes. Rockin' Fridays & Rockin' Saturdays runs $22/person, and Rockin' Tots – Parent & Me Jump Time costs $18 for one parent and child ($5 each additional child).
​To augment your visit to Ridge Hill, check out our roundup of 30 things to do in Yonkers. Looking for more places to have fun while burning off energy? Consult our guide to indoor play spaces in Westchester.
All photos by the author unless otherwise indicated.