Online Robotics Camp
Young Gates - Kids Online Personalized Classes

Artificial Intelligence with Scratch Online Camp
Young Gates - Kids Online Personalized Classes

Spark Math: Free Trial Class
Virtual
Sign up for our free newsletters.
Rockin' Jump: Gravity-Defying Fun for Westchester Families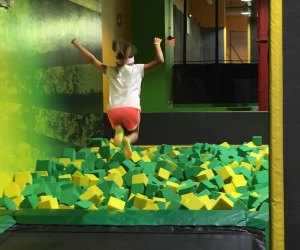 8/19/16
- By
Susan Miele
Prepare for intense jumping at Rockin' Jump, the indoor play space in Mount Kisco. The 18,000-square-foot facility (located in the same shopping plaza as Grand Prix) boasts high-action activity areas, a food zone, party facilities and more and is well suited for all ages. From ball pits to dodgeball to basketball and more, the abundance of trampolines allows for gravity-defying fun in leaps and bounds! Read on for the inside scoop.
Rockin' Jump is divided into four primary play areas:
The Open Jump Arena: a large room of adjacent trampolines (including sloped trampolines on the walls for 90-degree bouncing and sliding, plus a separate "room" for ages 6 and under)
Two Dodgeball Arenas (one for ages 11 and under, the other for 12 and up)
A Slam Dunk Zone basketball court
The Foam Arena (with a brightly colored foam ball pit)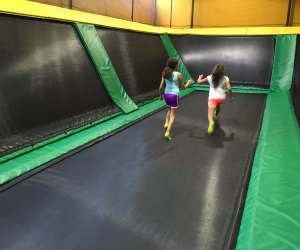 Getting ready to bounce off the walls!
All of the above have trampolines at their base. Alternatives to all that jumping are a modest-sized rock wall, a photo booth and shiatsu massage chairs ($2 will buy you six minutes or splurge on longer sessions).
Upon arrival, guests sign an electronic waiver and purchase the required sticky socks (available for $2 and reusable on future visits; no alternative socks permitted). A color-coded wristband not only indicates permission to use the facilities but specifies the time that a session is scheduled to end. An announcement is made to signal the end of each session.
Beyond the arrival area is a large, open room with a snack bar offering pizza, salads, wraps, chips, cookies and even Jamba Juice smoothies, along with ample seating (two Mini Melts vending machines are also available).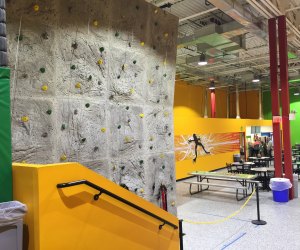 If your kids get sick of jumping, there's also a rock wall and snack area.
Use of Rockin' Jump is pay-as-you-go; there's no membership or subscription option available, though the purchase of a gift card allows for a volume discount. Most visitors spend about an hour, which is plenty, given the high-voltage exercise that comes with the territory. My 11- and 9-year-old emerged both thirsty and breathless pretty quickly. Given that, the abundant beverage selection—everything from Welch's grape juice to Yoo-Hoo and Gatorade—came as little surprise. There are also two water fountains plus the option of bringing your own drinks. Food and drinks aren't allowed in the play area.
The facility is well maintained, and safety is highly emphasized. A continuous-loop safety video plays near the entrance. The "Jump Patrol"—trained staff members attentively watching over each play area—monitor behavior to prevent injury and are required to remain in motion while on duty to avoid languishing and losing alertness. At any sign of injury, they sound the four-whistle alert, and the response team arrives on the scene with ice packs and an incident report.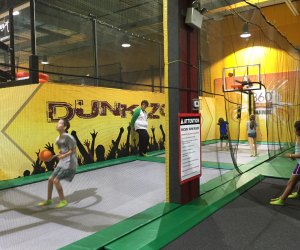 Trampolines compensate for height in the Slam Dunk Zone.
Once a month, the facility hosts a special-needs session. There are also regularly scheduled special sessions, such as Rockin' Fridays (ages 11-17, featuring DJ and blacklight jumping), Rockin' Saturdays (all-age evening program), Rockin' Wednesdays (all ages, all day) and Rockin' Tots. Always call ahead to check the schedule.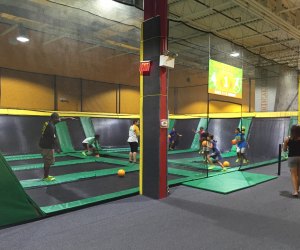 There are two different trampoline dodgeball areas.
What to Know
While walk-ins are accommodated, reservations can be made online to secure a spot. Summers are generally slower, but colder weather brings bigger crowds.
Current rates (as of August 2016) range from $10 for 30 minutes of jump time up to $26 for up to 120 minutes. Information about party packages can be found here.
Bathrooms are clean and include a changing table and step stools.
Lockers and coat racks are available, as are couches for more comfortable supervision.
Another, larger Rockin' Jump is scheduled to open in Yonkers this fall.
​Looking for more fun in Mount Kisco? Check out our roundup of places to play and learn and places to dine.
All photos by the author.