Places to Play in Mount Kisco: Where Westchester Kids Can Play and Learn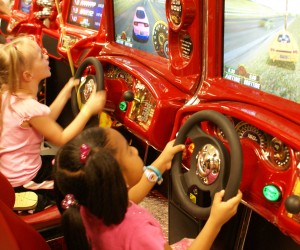 So far this month, Mommy Poppins has shined a spotlight on Mount Kisco, taking a look at what to do and where to eat with kids in this bustling town. Now, as we wrap up our month-long coverage of Mount Kisco, we're turning our attention to some of the best places to play in the area. From swings and slides to race cars and Rover, there is an amazingly diverse variety of indoor and outdoor activities and play spaces to choose from in this town covering just a smidge over 3 square miles. Read on for our top picks for playing, learning and having fun in with kids in Mount Kisco.
Grand Prix New York
333 N Bedford Road
From toddler-only bouncy castles and glitter tattoos to bowling leagues and high speed go-cart racing, Grand Prix is Mt. Kisco's one stop entertainment center. For a detailed profile of this family-friendly haven,
take a look at our in-depth coverage
.
Leonard Park
104 E Main Street
Leonard Park is Mt. Kisco's recreation complex. Boasting two sets of play equipment (one geared towards ages 2-5 and another ages 5-12), 3 seasonal swimming pools, a rentable stone teahouse perched beside Wallace Pond, tennis and basketball courts, a baseball/softball diamond, walking trails, a picnic area and a multipurpose rec building, this park truly seems to have it all. Residents enjoy many special programs throughout the year and a variety of camps when school is out.
Kidville
145 Kisco Avenue
Kidville opened in Mt. Kisco in the fall of 2013 and has quickly become one of the town's hotspots for families with young children. The facility offers camp programs, arts and crafts, sports, music, dance, movement, "caregiver" and me classes, general enrichment programs, and a preschool-alternative called Kidville University. Though there are several membership levels; simply enrolling a child in a program entitles families to a Silver Membership- which includes play time during Kidville's daily "open playspace" hours.
Bellizzi "B" Club
153 E Main Street
We mentioned Bellizzi Restaurant in our post on the best family-friendly eateries in Mount Kisco, though it's worth mentioning here because of Bellizzi's "B" Club. B Club is an "after hours" (read: after 9pm) club for middle school students. Tweens and teens must be signed up for B Club in person by their parents or guardians. The restaurant hosts B Club parties throughout the year. Most events simply involve the presence of music or a DJ, video games, glow-in-the-dark jewelry and pizza. The restaurant strives to create a fun and safe atmosphere in a place that parents trust and where local kids have grown up feeling comfortable.
Jodi's Gym
25 Hubbels Drive
Starting with the tiniest of tumblers and stretching all the way up to advanced teens, Jodi's Gym has group and private gymnastics, tumbling and movement instruction for just about everyone. There are options for boys and girls to take classes together (6 months-preschool) or in single gender groups (K-3) and, like many kid-gyms, Jodi's Gym hosts open-play hours throughout the week. Parent-and-me classes here are very popular with young families while the specially organized free drop-off activities for ages 3 and up are great for families with older children. During the summer months, Jodi's Gym also offers Jodi's Gym Camp for ages 3-7.
Mt Kisco Public Library
100 E Main Street
As most families in Westchester know, the local public library is much more than just a place to go and get books. Mt. Kisco Public Library is no different. Throughout the week there are a variety of storytimes and special events taking place in the Children's Room. Every Monday the library offers Here We Are Together storytimes for all ages (with guardian). On Tuesdays and Wednesdays children ages 18 months to 5 years old gather for Family Storytime, while Fridays bring Music and Movement for ages 2-5. There is additional children's programing on afternoons and weekends. One of the most popular programs is Read To Rover. Every week at 4:30 on Thursday, children who can read are invited to come in and read aloud to a therapy dog!
Westmoreland Sanctuary
260 Chestnut Ridge Road
Tucked away in the middle of Westchester County, Mt. Kisco's Westmoreland Sanctuary is a nonprofit environmental preservation organization that maintains miles of trails and a nature museum while hosting a variety of school, small group, private and public programs for children and adults. Though the programs Westmoreland offers are engaging and wonderful for families, just a simple walk on the sanctuary's trails offers children—and their parents—a chance to get their hands dirty, explore among the rocks, look for signs of seasonal change and learn some of nature's secrets.