Texas' Largest Indoor Playground Opens in Houston and It Lives Up to the Hype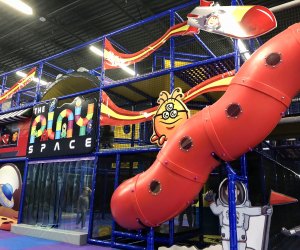 When we got wind of that the largest indoor playground in Texas was opening just south of Houston in Webster, we knew a visit needed to be at the top of our to-do list for the new year. The Play Space is part playground, part imaginative play area, part arcade, and exactly everything we love about our favorite local indoor play spaces all rolled into one 16,000-square-foot space. Located in the middle of a shopping center, the exterior is completely unassuming, but as soon as you step inside, you're in for Texas-sized fun!
Friendly faces greet patrons at the door to guide parents through the electronic kiosk check-in and stamp each child and their adult with numbered blacklight hand stamps. The stamps are checked again on the way out to ensure that no child leaves with the wrong person. Immediately after passing through the gated entrance, kids can enter the main play area designed for kids of all ages and their parents to enjoy. A row of plush, leather lounge chairs with cup holders and plenty of arm room line the wall facing the main play area. These chairs offer parents a place to relax and enjoy the free WiFi (along with a glass of wine or a craft beer) while watching their kids run amok.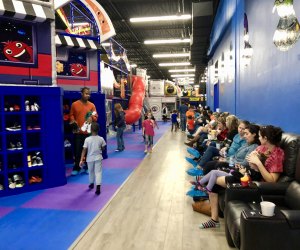 Parenting luxury at its finest: Comfortable chairs and a fun place for kids to play.
Side by side racing slides with room for four kids to slide at one time anchor the interior of the largest play area. Other slide options include several large corkscrew slides and a long red slide that our four-year-old deemed the "squiggle slide" because of its shape. Several nerf-style ball shooters kept our boys entertained for a very long time inside this area. The tunnels and obstacles inside the main play area are large enough for parents to join in on the fun. Everything is space-themed, boasting bright colors and plenty of areas for bouncing, rolling, crawling, and sliding for hours.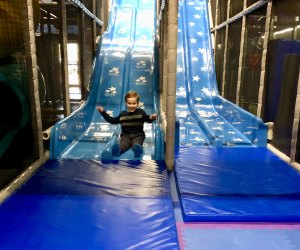 Racing down the slides inside the main play area and landing on large, soft mats.
For the toddlers that love to climb and slide, a smaller play set with a perfectly-sized slide and low climbing area is located toward the back of the facility. Toddlers can also enjoy the imaginative play town between the large play area and the toddler playscape that is filled with miniature versions of actual places like a hospital, ice cream truck, and grocery store. While the area might skew toward toddler age, we found that our six-year-old and four-year-old really enjoyed playing with the foam building blocks and imaginative play accessories within the miniature town where they could pretend to be a veterinarian or a chef.
For the littlest visitors, a baby area is gated with an attendant at the entrance to make sure that big kids do not go inside. This safety feature helps parents of little ones let their babies explore soft obstacles and age-appropriate toys in a fully padded area without worrying about getting trampled.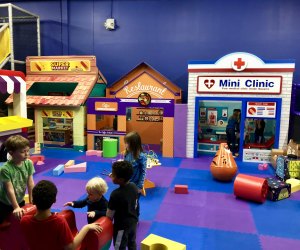 A miniature city boasts kid-sized versions of storefronts to inspire creative play.
A bonus play area for bigger kids scales the area above several arcade games, riding games, and booths in the very back of the facility. Because its adjacent to the baby area, this is the perfect spot for parents with kids of multiple ages to set up camp.
The arcade games all use game cards that can be pre-loaded with cash at a kiosk in the main arcade area. Many of the games give tickets for playing that are loaded to the game card and then scanned at the arcade desk and redeemed for prizes. Unlike some local arcades, the cash to tickets to prizes ratio is actually pretty great. We loaded $5 to each of our boys' cards and they played arcade games for about half an hour. Then, their accumulated tickets were redeemed for sunglasses, candy, stickers, and bouncy balls. I was able to sneak in a few games myself and it was definitely worth it!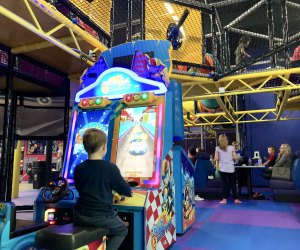 Playing arcade games offered a welcomed respite from climbing and crawling in the play areas.
As if multiple play areas and arcade games were not enough, the large, open cafe area in the center of everything is absolutely wonderful. Flanked by 82 inch TVs showing kids movies, shows, and sports, the tables and chairs are plentiful. Even on a busy weekend, there were plenty of places to sit. The cafe menu boasts reasonably priced snacks like soft pretzels, yogurt pouches, and hummus, as well as more substantial meal options like cheeseburgers and chicken tender baskets. Kids drinks are served in plastic cups with lids that you can take home with you and come with unlimited refills at the Coca Cola Freestyle machine.
One standout menu item that deserves some attention is the selection of craft beer and wine by the glass for adults. Either one goes great in the cup holder of one of the comfy lounge chairs mentioned earlier.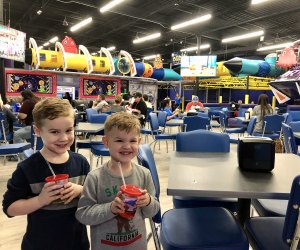 Enjoy a drink, have a snack, and catch a flick while taking a play break.
While some indoor playgrounds have germ-concerned parents running for the hills, health and safety are a top priority at The Play Space. A medical grade sanitation solution is used to sanitize everything and parents must either remove their shoes or wear shoe covers in the facility. A hand washing station is located right outside of the restroom area (in addition to sinks inside the restroom) and hand sanitizer can be found at the front desk, food counter, and arcade counter. At our most recent visit, we noticed that the staff was spot cleaning chairs, arcade games, and shoe holders just about every time someone would vacate a spot.
Overall, The Play Space surpassed every single one of my expectations. While bigger isn't necessarily always better, in this case, the biggest indoor playground in Texas is the best one I've personally experienced and I'm certain we will make this our regular spot from now on.
Tips
Waivers can be completed online to skip the line. Once a child has been registered, the waiver is good for one year.
Grip socks are required for all children. Bring your own from home or purchase a pair at the front desk for $2.50.
No outside food or drink is allowed.
Private party rooms are available and packages can be customized. To book a party, visit The Play Space's website.
All photos by the author.