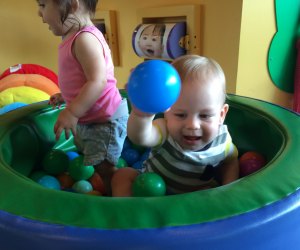 Best Indoor Play Spaces for Babies & Toddlers Around Houston
All moms of toddlers can probably agree that their mini humans are full of an overwhelming amount of extra energy. It's incredible to me (and, quite frankly, exhausting) to see just how fast my own toddler can run circles around the house no matter what time of a day it is. For this reason, we have a running list of favorite outdoor parks, playgrounds and splash pads to head to when his energy levels are at an all-time high and we need to get out of the house. But on those days when the weather isn't cooperating or we just need a change of scenery, Houston is home to great indoor play spaces that serve the same purpose. As an added bonus, many of these places also have areas for babies to "play" and learn, which is the perfect combination for my almost 3-year-old and almost 3-month-old.
Tot*Spot: Children's Museum of Houston - Downtown Houston
1500 Binz St., Houston
You'll find that Children's Museum of Houston's Tot*Spot is a hub of interaction for babies and toddlers alike, where the exhibit focus is on learning through creative play and engaging in stimulating physical activity. This area of the Children's Museum is reserved for ages birth through 35 months. As an added bonus, you can attend a Mommy Mingle session here to meet other Houston area moms while enjoying coffee and donuts.
Main Street Indoor Park: First Methodist Houston Downtown - Downtown Houston
1320 Main St., Houston
Main Street is a mini "town" built inside First Methodist Houston Downtown where toddlers can come and play on indoor playground equipment. It is designed for children ages 5 and under. Adult supervision is required and socks must be worn at all times. Admission is FREE.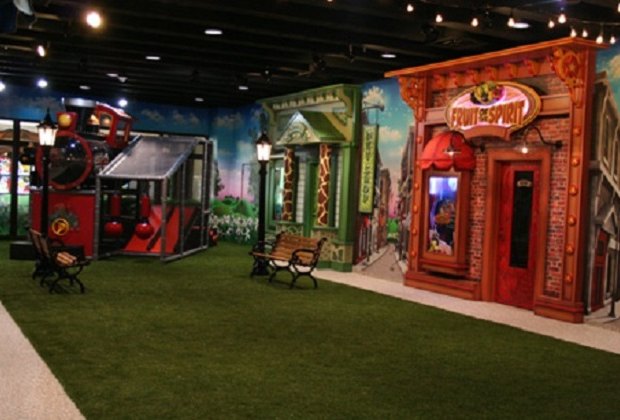 Photo courtesy of First Methodist Houston-Downtown
Tot*Spot: Fort Bend Children's Discovery Center - Sugar Land
198 Kempner St., Sugar Land
Exploration through engaging all five senses is a hallmark of Tot*Spot at Fort Bend Children's Discovery Center, and babies and toddlers alike will learn and play through sensory activities. Like its downtown counterpart at Children's Museum of Houston, Tot*Spot is reserved for ages birth through 35 months.
MajestKids Playland - Sugar Land
14031 Southwest Freeway, Ste. 620, Sugar Land
Entertainment is only one facet of MajestKids Playland; motor skill and social skill development are also high priorities that the play area focuses on helping cultivate and improve in young children. The play area is for children up to 47-inches-tall. Adult supervision is required at all times, and all kids must wear socks.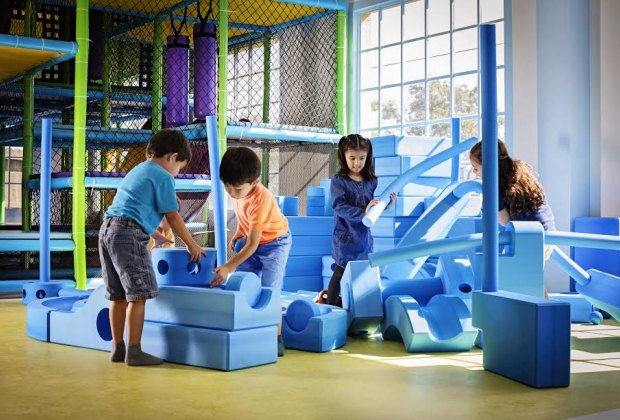 Photo courtesy of nancyEphotography/MajestKids Playland
Playscape at Sugar Creek Baptist Church - Sugar Land
13333 Southwest Freeway, Sugar Land
Climbing, running, sliding down slides and swinging across the "alligator" pit are the name of the game at Sugar Creek Baptist Church's Playscape. The play area is for children in 5th grade and younger. Socks are required. Admission is FREE.
Related: Reasons Why You Will Love Mom And Baby Yoga Classes
Kidville - The Woodlands
4747 Research Forest Drive, The Woodlands
Throughout the week Kidville takes one of its gyms and converts it into an indoor playground for kids to run and climb with friends. They'll enjoy monkey bars, balance beams, a rock climbing wall and more. Entry fees get you in and out privileges for the entire day you're attending.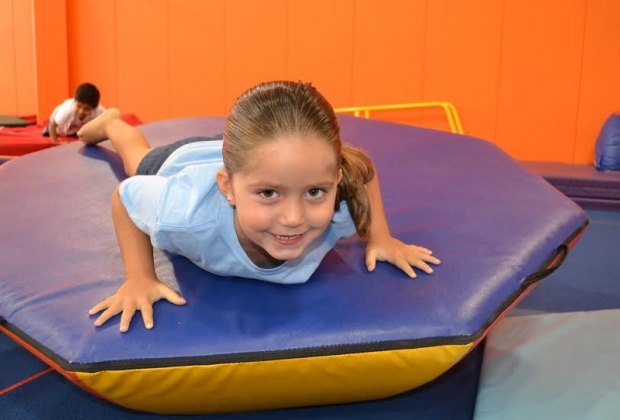 Photo courtesy of Kidville
Giggles & Fun - Katy
20117 Park Row, Katy
Giggles & Fun is focused on active, imaginative play and offers open play during the week for children ages 6 and under. There is a dedicated play space for babies and toddlers not yet walking filled with interactive toys, as well as a large open space filled with different activities and play equipment for those who are of walking and running age. Both parents and children are required to remove their shoes and wear socks for the duration of their visit.
Jumpstreet Katy - Katy
5000 Katy Mills Circle, Suite 743, Katy
Jumpstreet is sectioned off for different age groups, with a special "Earthquake" area specifically for kids 7 years of age and under. In the Earthquake area, toddlers can enjoy a safe jumping environment and are able to choose from an enclosed trampoline area, an Alligator Slide, and a Construction Zone bounce house. Socks are required.

Photo courtesy of Jumpstreet Katy
Frolic's Castle & Puffy's Playground - West Houston
303 Memorial City, Houston
Frolic's Castle is the largest indoor play area in a shopping center and offers a place for kids to get out some energy during a visit to Memorial City. The playground has several interactive features, slides and a castle, as well as an area, especially for toddlers. The toddler area - Puffy's Playground - is a soft play area for children under 32 inches tall. Toddlers must be accompanied by an adult. Admission is FREE.
Houston Party Playland - Webster
1121 W. Nasa Parkway, Webster
Babies enjoy two separate areas at Houston Party Playland that cater to crawlers and new walkers, while toddlers head over to Tot Town, which is full of imaginative play areas and structures. There's even a Bear Factory, where the kids can build their own stuffed animals for $12.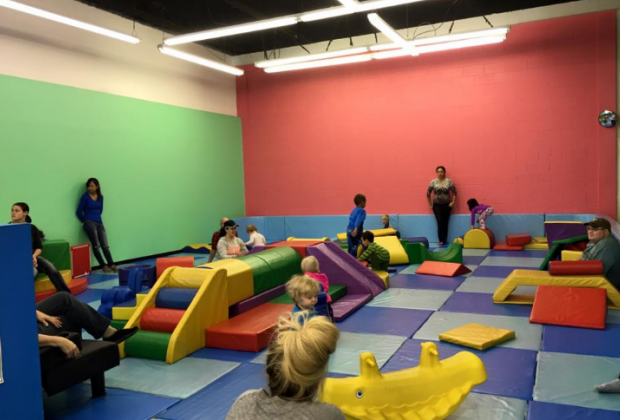 Photo courtesy of Houston Party Playland
Monkey Joes - Various Locations
Multiple locations around Houston. Find one closest to you here.
What to expect: Toddlers and babies can enjoy the Mini Monkey Zone at Monkey Joes, an area specially designed for kids 3 and under. The play area is equipped with softer equipment, seating for parents and caregivers, and age-appropriate toys and games. Socks are required.
Kid 'n Play - Pearland
9515 Broadway St., Pearland
We love Kid 'n Play for its variety of features for toddlers and preschoolers. There is a "make believe" area full of props, costumes, and more toys to keep kids' imaginations busy. The climbing area is decently sized without being overwhelming, but younger toddlers may have a harder time navigating through its obstacles.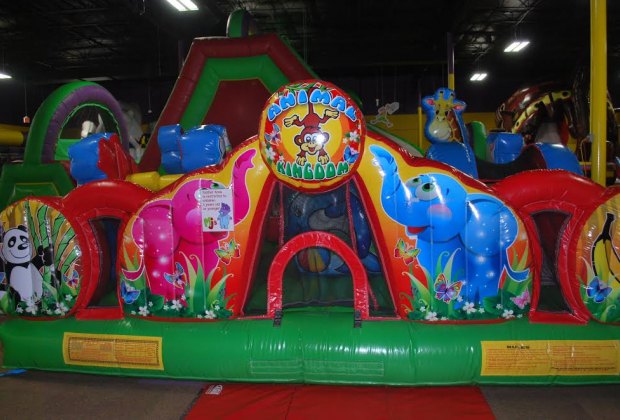 Photo courtesy of Monkey Joes
Top image by Carrie Taylor at the Children's Museum of Houston