Best Indoor Play Spaces for Babies & Toddlers Around Houston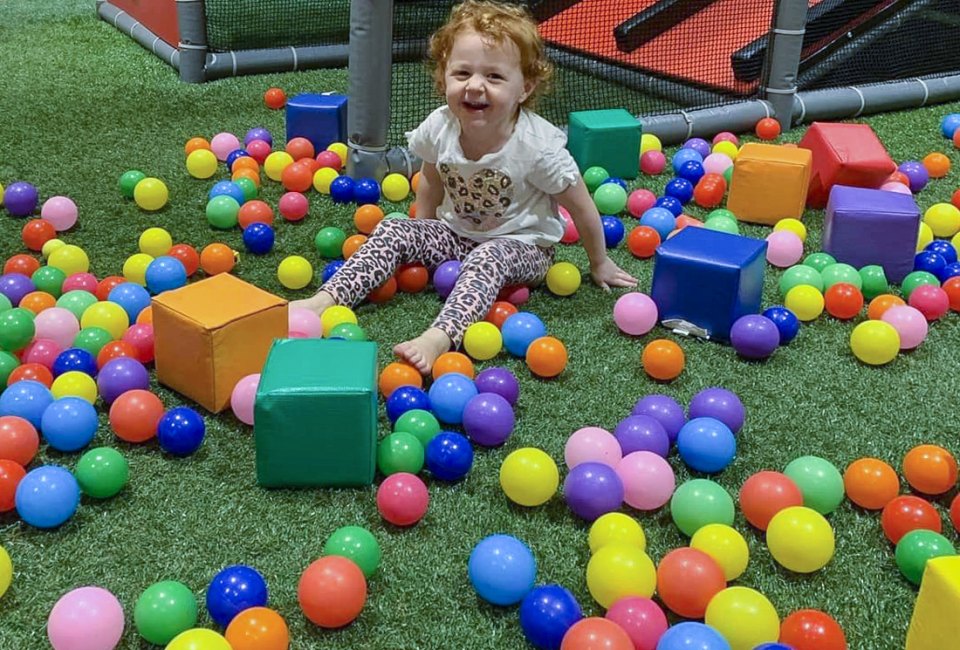 7/11/21
- By
Rachael Cherry
My toddler runs circles around the house all day long. For this reason, we have a list of favorite outdoor parks, playgrounds, and splash pads to head to when his energy levels are at an all-time high and we need a change of scenery. But during the long Houston summer, on rainy days, or when we just feel like playing somewhere new, Houston's many great indoor play spaces serve the same purpose. As an added bonus, many of these places also have areas for babies and toddlers to play and learn, which is the perfect combination for any parent with children who fall into multiple age ranges.
Main Street is a mini "town" built inside First Methodist Houston Downtown where toddlers can come and play on indoor playground equipment. It is designed for children ages 5 and under. Adult supervision is required and socks must be worn at all times. Admission is FREE, however capacity is limited to 30 people on a first-come, first-served basis for now.

Photo courtesy of Play Street Museum
Ignite your toddler's imagination at Play Street Museum, where open and pretend play are the name of the game. Toddlers are encouraged to engage in self-directed play at different stations set up throughout the play space, which include grocery shopping, playing house, building with wooden blocks, digging into sensory bins, and more. Play Street Museum believes this type of pretend play enhances social skills, problem-solving skills, and imaginative skills, all while having fun. You can find Play Street Museum locations around Houston here.
The Kiddie Corner at Fun 'N Play allows your littlest ones to play freely without trying to navigate their way around the big kids. The area is filled with soft toys, a ball pit, plenty of space to crawl and build, and lots of pint-sized slides, tunnels, and seesaws, all in a protective ring that keeps them safe.
Entertainment is only one facet of MajestKids Playland; the play area focuses on cultivating motor and social skill development in young children. The play area is for children up to 47-inches-tall. Adult supervision is required at all times, and all kids must wear socks.
Mini slides, tunnels, floor toys, and a special balloon room make the toddler area at Kidtastic Park a slam dunk for the smaller set of children. This play space prides itself on being extremely clean and safe, and has monitors around the area so you always know where your kids are playing. This allows parents to stay in the toddler area with their littles while keeping an eye on the big kids while they play in the larger area.
Every inch of the toddler space at The Play Space (aptly referred to as "The Tot Space") is designed with children 4 and under in mind. There are four different imagination stations and a mini playground to encourage and facilitate pretend play in tots and prepare them for their eventual admittance to The Play Space for bigger kids. For smaller kids who are 18 months and younger, there is also The Baby Space, an enclosed, monitored play area designed for children learning to crawl, walk, and climb.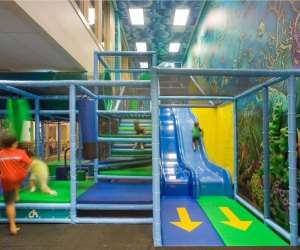 Photo courtesy of Sugar Creek Baptist Church.
Climbing, running, sliding down slides, crawling across foam animals, and swinging across the "alligator" pit are the name of the game at both the Sugar Land and Richmond locations of Sugar Creek Baptist Church. The play area is for children in 5th grade and younger. Socks are required. Admission is FREE.
Related: Reasons Why You Will Love Mom And Baby Yoga Classes
Giggles & Fun is focused on active, imaginative play and offers open play during the week for children ages 12 and under. There is a dedicated play space filled with interactive toys for babies and small toddlers who are not yet walking. Kids who can walk and run will enjoy the large, open space filled with different activities and play equipment. Both parents and children are required to remove their shoes and wear socks for the duration of their visit. Giggles and Fun has locations in both Katy and Houston.
Frolic's Castle is the largest indoor play area in a shopping center and offers a place for kids to get out some energy during a visit to Memorial City. The playground has several interactive features, slides, and a castle, as well as an area especially for toddlers. The toddler area - Puffy's Playground - is a soft play area for children under 32 inches tall. Toddlers must be accompanied by an adult. Admission is FREE.
It's all about the kids at Kanga's! Toddlers love the special section reserved just for them to play, and the designated area keeps them safe and engaged in active play. In addition to the toddler area, there is also a free merry-go-round and dress-up and make-believe areas that are perfect for little ones. Parents are able to relax while kids play, but are welcome to jump in and play, too. Kanga's has locations in The Woodlands, Cypress, and Katy.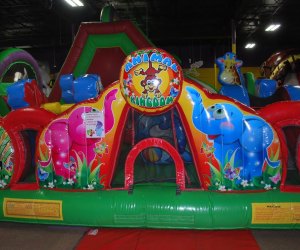 Photo courtesy of Monkey Joes
Toddlers and babies can enjoy the Mini Monkey Zone at Monkey Joes, an area specially designed for kids 3 and under. The play area is equipped with softer equipment, seating for parents and caregivers, and age-appropriate toys and games. Socks are required. There are multiple Monkey Joe's locations around Houston; find the one closest to you here.
Kids Empire holds to the belief that active play makes for healthy, happy kids—and that goes for toddlers, too! Toddlers can safely play and expand their imaginations in the Tot Space at Kids Empire, which is filled with soft play structures and slides, pint-sized trampolines, ball pits, a dance floor, bicycles, and other fun, age-appropriate toys. Socks are mandatory and your admission ticket gets you all day access to the Empire with re-entry.
Pint-sized play at Hooray includes a small wooden structure that is perfect for little hands and feet to climb up, crawl through, and slide down, plus soft animal seesaws and padded play structures. Parents can also see the entirety of the playground, so you can keep an eye on the bigger kids easily from the designated toddler area. Online reservations are not required, but are highly recommended, and the most up-to-date open play times can be found here.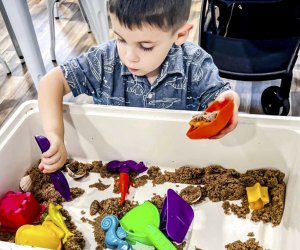 Photo courtesy of Frogs, Snails, and Fairy Tales
Step into a fairy tale town and get ready for some imaginative play at Frogs, Snails, and Fairy Tales. You'll find a pretend play section with a jester tent, cafe, town market, play house, pet shop, courtyard, and a castle just waiting for little kids to create their own fairy tales. Plus, there's a STEAM section full of interactive activities, puzzles, building sites, and more. All structures and activities are geared at children ages 1 and older. Socks are required.
Post originally published January 18, 2019.
Click Here to Sign Up!
i