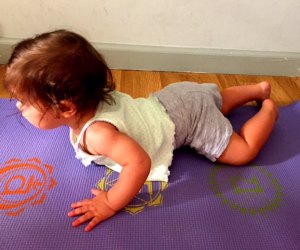 Reasons Why You Will Love Mommy and Baby Yoga Classes
As a yoga teacher, I love that Houston has tons of yoga studios and varieties of yoga to choose from. From hot yoga, live music, partner yoga or practicing in a brewery - if there is a way to practice yoga, you can find it in Houston! Yoga offers a multitude of benefits, from increasing strength and flexibility to decreasing stress and tension. I credit yoga with decreasing my anxiety, improving my posture and helping me to become more mindful in my daily life.
When I was pregnant, prenatal yoga helped me to embrace my changing body while allowing my busy mind to quiet down. Once my baby arrived, I was no longer sure how to incorporate yoga into my life. I felt intimidated by the idea of attending a traditional yoga class as my body was still recovering. I also had to contend with the new challenge of finding somewhere for my baby to be. Fortunately, Houston's yoga community did not disappoint, and I found two great mommy and baby yoga classes that offer two very different approaches.
Mom and Baby Yoga and Fitness at Motherhood Center
3701 W. Alabama St., Ste. 230
713-963-8880
Mom and Baby Yoga and Fitness at Motherhood Center is offered twice a week in a tranquil environment. This class focuses on rebuilding strength and increasing flexibility with exercises that are tailored to a woman's postpartum physical needs. Throughout the class, mom is encouraged to interact with her new baby by holding her little one as she holds warrior poses, by carefully moving baby's limbs into baby yoga poses, and by softly massaging baby. Moms are encouraged to take care of their babies by nursing, cuddling, or changing diapers as needed. This class is a lovely way for a new mom to reconnect with her own body, to connect with her baby, and to meet other parents. This class is for all fitness levels, and no yoga experience is necessary. Classes are walk-in and cost $20 or less with a multi-class pass. Bring a towel, water bottle, and mat, or rent a mat there. Classes are 10:30-11:15 a.m. Tuesdays and Thursdays.

Baby Yoga at the Library
Heights Neighborhood Library
1302 Heights Blvd.
832-393-1810
Kendall Neighborhood Library
609 N. Eldridge
832-393-1880
With all the benefits of yoga for adults, what mom wouldn't want to pass on those benefits to her baby? Baby yoga at the library is the way to do that through the enthusiastic instruction of teacher Waverly Evans. Evans demonstrates the poses on a teddy bear, and parents and caregivers are able to gently maneuver babies into a wide range of baby yoga poses, such as baby down dog, baby bridge, and flying baby. Baby yoga class, which is geared toward pre-crawlers, also incorporates songs, cuddles, baby massage, and sweet affirmations. Benefits of baby yoga include stimulation of nervous and digestive systems, increased muscle coordination, and relaxation for both mom and baby. Attending this class provides the opportunity to learn new ways to engage and play with your baby at home as well as a chance to meet other parents in a playful, friendly environment. Baby yoga class is FREE, and no yoga experience or mats are needed, Participants should bring a small blanket to use as a mat for baby. The Heights class meets 2-2:30 p.m. Thursdays, and the Kendall class meets 2:45-3:15 p.m. Fridays.