Best Pumpkin Patches Near Houston for Fall Fun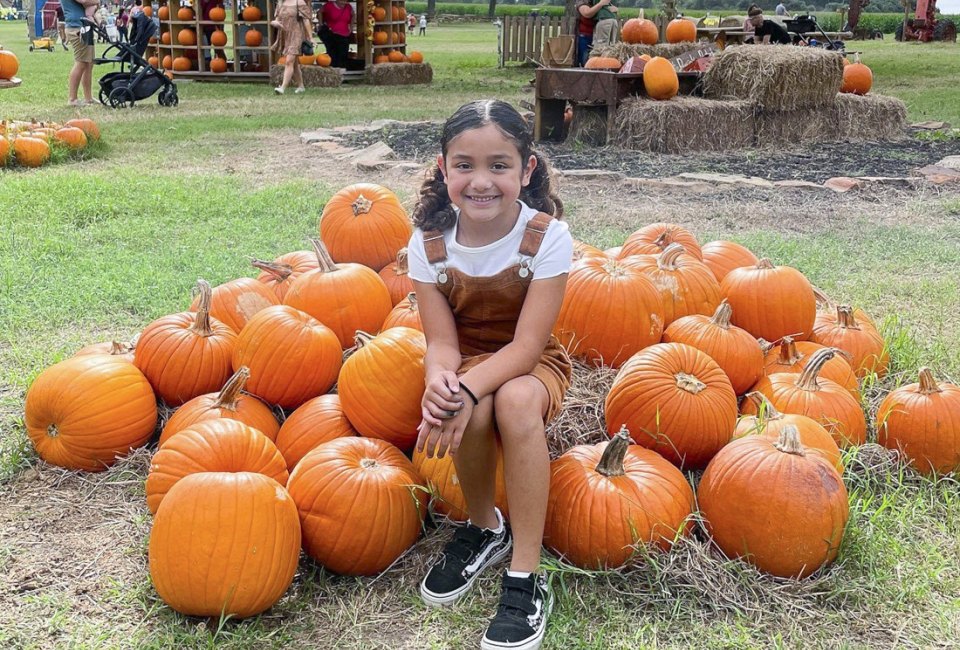 9/17/23
- By
Rachael Cherry
With temps finally under 100 degrees, it's time to gather up the kids and head out to one of the many pumpkin patches near Houston for one of our favorite fall activities for kids.
We've rounded up several different pumpkin patches in Houston, as well as our favorite nearby farms for a day trip. These area u-pick spots really get all decked out for fall with corn mazes, evening pumpkin strolls, hayrides, petting zoos, and, of course, plenty of pumpkin patch photo-ops.
Find the best places to trick or treat and more Houston Halloween activities in our Houston Halloween Guide.
Open Sept. 23-Nov. 19, 2023. Weekends from 9am to 4pm
Looking for great pumpkin patch photo opportunities, pumpkins galore, and fall activities that will keep the kids (and adults!) entertained all day long? Look no further than Blessington Farms. There's no shortage of activities at the farm, which range from an enormous pumpkin patch to hayrides to everything in between. Explore the walk-thru aviary where you can feed birds, then head to the Gem Mining experience and Fossil Dig for even more fun.
Open Sept. 17-Oct. 30, 2023 from 10am to 6pm daily
In addition to all the regular activities you can enjoy year-round at Old MacDonald's Farm — train rides, pony rides, a petting zoo, and playgrounds — fall brings an added bonus that makes taking a trip out to Humble extra special: the farm's pumpkin patch! Make sure to bring your camera; there are plenty of fall-inspired photo opportunities you can snap of the kids. This Houston-area pumpkin patch is filled with small and medium sized pumpkins for the "picking." Children get a free pumpkin when they visit!
RELATED: Petting Zoos Near Houston Where Kids Can See Farm Animals

Pumpkin patches southeast of Houston. Photo courtesy of Froberg's Farm
Open Sept. 23-Nov. 5, 2023. Weekends from 9am to 7:45pm and weekdays (limited activities) from 9am to 5:30pm
There isn't just a pumpkin patch at Froberg's Farm, there's an entire fall experience. Head out to the field to pick flowers and take pictures. Then, make your way back to the Country Store, where you'll find even more attractions and some good old-fashioned pumpkin patching. As if that wasn't enough fun for one day, maybe give the corn maze a try, too! You'll also find Plastic Duck Races, the giant Jumping Pillow, the Bee Coaster barrel ride, the Berry Fun Land playground, and more kid-friendly activities. Prices for activities and pumpkins vary.
Open Sept. 30-Nov. 5, 2023. Weekends from 10am to 6:30pm
The annual Fall Festival at P-6 promises Texas-sized fall family fun with what is touted as one of the best pumpkin patches in the Houston area, a corn maze that will leave you scratching your head as you navigate through it, and lots of other kid-friendly activities. Choose a pumpkin or head to the flower patch to pick your own lovely blooms.

So many pumpkins to choose from! Photo courtesy of Dewberry Farm Pumpkin Patch.
Open Sept. 16-Nov. 12, 2023. Oct. Fridays from 5pm to 11pm, Oct. Sundays (with the exception of the 1st) from 10am to 10pm, and remaining weekends from 10am to 6pm. Opening day is 1pm to 6pm
The kids are sure to find the perfect pumpkin for decorating at Dewberry Farm, where they can choose from (and paint!) tons of pumpkins. A trek over to the patch will kick off the pumpkin patch fun, but be sure to head over to the 8-acre cornfield maze for some good, old-fashioned exploring, or check out the more than 500 lighted pumpkins on display at the annual Pumpkin Hollar.
Open Sept. 30-Oct.29 2023. Fridays from 4pm to 7pm and weekends from 10am to 7pm
Weekends in October transform Old Time Christmas Tree Farm into a pumpkin patch ripe for the picking. Fall at the farm doesn't just include pumpkins, though; you'll also want to take a ride on the train and hayride, visit the petting zoo, jump into the bounce house, run through the inflatable corn maze, and take advantage of all the other fall-inspired family fun. The pumpkin patch is open Fridays, Saturdays, and Sundays throughout the month of October so you can get your Jack-O-Lantern Pumpkins, Pie Pumpkins, Mini Pumpkins, and more.

Visit 7 Acre Wood Pumpkin Patch near Houston, photo courtesy of Robin Hersey.
Open Oct. 28, 2023 from 10am to 3pm
Day trip from Houston to the 7 Acre Wood farm and family fun park for all the fall activities on October 28, when they'll be providing a plethora of pumpkins for kids to pick from at their patch. Along with 40 vendors, hayrides, face painting, and pony rides will round out a full day of family activities. Admission is free to this fun fall fest.
Open Sept. 24, 2023 - Oct. 31, 2023
From tiny pumpkins that will fit in the palm of your hand to massive gourds, Asbury United Methodist Church in Pasadena features an array of pumpkins for purchase. Asbury sells pumpkins to raise funds for community projects in the city and around the world. Photo areas are scattered throughout the patch where you can take photos with fall decor like scarecrows and hay bales. FREE admission; pumpkin prices vary.
Open through October 2023. Sundays from 12:30pm to dusk, Wednesdays-Fridays from 3pm to dusk, and Saturdays from 10am to dusk
Come pick out the perfect pumpkin from Horizon Baptist Church's special pumpkin patch. There are pumpkins aplenty, and the hardest part will be picking exactly which one is THE one to take home! While you're there, take family photos in front of different backdrops.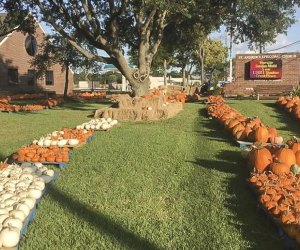 St. Andrew's boasts one of our favorite pumpkin patches near Houston. Photo courtesy of St. Andrews Episcopal Church
Open late Sept.-Oct. 31, 2023 from 10am to 8pm daily
St. Andrew's Pumpkin Patch is consistently named one of the top pumpkin patches near Houston. Thousands of pumpkins are ripe for the picking, there are a ton of great photo-ops, and there are fall activities galore for the family to enjoy. Admission to the patch is free; pumpkin prices vary.
Open Oct. 14 & 15, 2023 from 11am to 4pm
The annual Pumpkin Patch Fall Festival will take place on October 14 and 15, 2023. Pick out a pumpkin and enjoy fun festival games, a bouncy house, crafts, scrumptious foods from food trucks, family photo ops, and more! Although there is no admission into the grounds, there are charges for each separate activity. Enjoy the season under the canopy of trees and foliage at the Nature Discovery Center!
Open through October 2023. Fridays from 10am to 3pm, Saturdays from 10am to 5pm, and Sundays from 12pm to 5pm
Pumpkins for picking are just the whipped cream on the pie when you visit Oil Ranch during October. This 50-plus-acre working ranch features hayrides, a dairy barn that lets you try your hand at milking a cow, putt putt golf, a fishing lake, train rides, a petting zoo, and so much more. Embrace the Texas fall out in the fresh air at Oil Ranch.