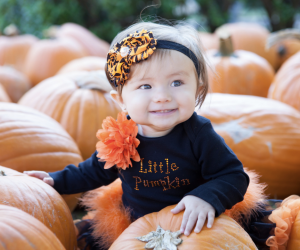 Where to Find Pumpkin Patches Around Houston
With Halloween right around the corner and fall finally in the air, it's time to gather up the kids and head out to do some pumpkin picking. We've rounded up several different locations throughout the city hosting pumpkin patches and fall festivals throughout the month of October, so no matter where you are in Houston, you're sure to find a pumpkin patch nearby.
Blessington Farms Pumpkin Patch & Fall Festival - Simonton
510 Chisolm Trail, Simonton
Looking for great pumpkin patch photo opportunities, pumpkins galore to choose from, and fall activities that will keep the kids (and adults!) entertained all day long? Look no further than Blessington Farms. There's no shortage of activities at the farm, which range from an enormous pumpkin patch to hay rides to a brand new Rope Maze, and everything in between. General admission to Blessington Farms is $18.48 and includes all activities except fishing. Children 18 months and under are free. The pumpkin patch and fall festival are open every Friday, Saturday and Sunday from 10 a.m. to 5 p.m. Sept. 21-Nov.9.
​Old MacDonald's Pumpkin Patch - Humble
3203 FM 1960 East, Humble
In addition to all the regular activities you can enjoy year-round at Old MacDonald's Farm - train rides, multiple petting zoos, playgrounds galore, etc. - the month of October brings an added bonus that makes taking a trip out there extra special: the farm's pumpkin patch! Make sure to bring your camera; there are plenty of fall-inspired photo opportunities you can snap at this patch. The Pumpkin Patch is open Oct. 1-Oct. 31. Admission is $12 plus tax per person and includes all activities offered at the farm. Children 18 months and under are free.
Related: Ultimate Halloween Guide for Houston Families
Froberg's Farm Pumpkin Patch - Alvin
3601 W. Highway 6, Alvin
There isn't just a pumpkin patch at Froberg's Farm, there's an entire fall experience. Hop aboard the Hay Ride for a trip out to pick flowers, take pictures, and play in the Tunnel of Fun, then jump back on the hayride for a ride back to the Country Store, where you'll find even more attractions and some good old-fashioned pumpkin picking. As if that wasn't enough fun for one day, you'll also want to try your hand at navigating through the corn maze while you're there. The Fall Festival and Pumpkin Patch run from Sept. 28-Nov. 3. Prices for activities and pumpkins vary.
P-6 Farms Pumpkin Fest - Montgomery
9963 Poole's Road, Montgomery
Pumpkin Fest at P-6 promises Texas-sized Fall Family Fun, with what is touted as one of the best pumpkin patches in the city, a corn maze that will leave you scratching your head as you navigate through it, and Field of Screams, an after dark scare fest that includes a haunted corn maze and petrifying pallet maze. Pumpkin Fest is open Saturdays and Sundays from Sept. 28-Nov. 9. Pumpkin Fest tickets are $12.95 online and $18.95 at the gate.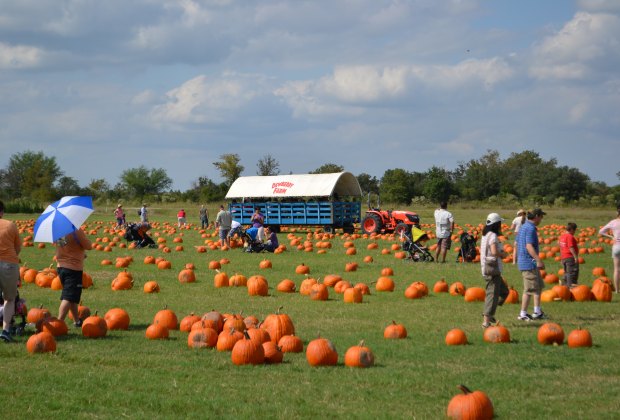 Browse eight acres of pumpkin picking fun at the farm. Photo courtesy of Dewberry Farm.
Dewberry Farms Pumpkin Patch - Brookshire
7705 FM 362, Brookshire
The kids are sure to find the perfect pumpkin for decorating at Dewberry Farm, where they can choose from 8-acres of pumpkins. A wagon ride over to the patch will kick off the pumpkin picking fun, and after you can head on over to the 8-acre corn maze for some good, old-fashioned exploring or check out more than 500 lighted pumpkins on display at Punkin Hollar. General admission to Dewberry Farm is $31.82 per person ages 3+ and includes all of the main attractions offered. The Farm is open on weekends only from Sept. 28-Nov. 10. Hours are from 10 a.m. to 6 p.m. on Saturdays and 11 a.m. to 6 p.m. on Sundays, with special extended hours on select nights in October for a fireworks display.
Related: Fall Fun Guide for Houston Families: Festivals, Hayrides, Pumpkins, and More
Oil Ranch Pumpkin Patch - Hockley
23501 Macedonia Road, Hockley
The Oil Ranch is known for having a long-standing fall tradition of putting on an amazing pumpkin patch and Scarecrow Festival, and this year is no exception. Kids are able to choose from thousands of pumpkins at the patch and every child with a paid admission can take home a free pumpkin. Don't plan on leaving right away, though; the kids are sure to want to stick around after to check out the scarecrows, hayrides, and other fall activities. Tickets to the Oil Ranch are $15.95 per person on weekdays and $19.95 per person on weekends. Kids under age 2 are FREE. The Fall Festival opens Oct. 1st and continues every day in October with the exception of Oct. 19.
7-Acre Wood Pumpkin Patch - Conroe
4401 N. Frazier St., Conroe
Seven-Acre Wood is bringing fall to the park throughout the month of October by providing a plethora of pumpkins for kids to pick from at their patch. Hay rides, paintball, barrel train rides, and pony rides will round out a full day of family fun. The pumpkin patch is open Oct. 1-31. Admission to the park is $6.50 per person. Children 18 months and under are FREE. Costs vary by activity, and pumpkins are priced based on their size. FREE admission for all on October 26.
Holy Cross Episcopal Church Pumpkin Patch - Sugar Land
5653 W. Riverpark Drive, Sugar Land
Starting Oct. 11, Holy Cross Episcopal Church is hosting their annual pumpkin patch, dubbed "the biggest pumpkin patch in Fort Bend County," every Friday, Saturday, and Sunday. Fridays are solely for pumpkin picking, but Saturdays and Sundays at the patch also feature live entertainment, a photo booth, lots of food, and plenty of fun activities for kids of all ages. The pumpkin patch is open Oct. 11-27. Admission to the patch is FREE. Pumpkin prices vary.
Old Time Christmas Tree Farm Pumpkin Patch - Spring
7632 Spring Cypress Road, Spring
Weekends in October transform Old Time Christmas Tree Farm into a Pumpkin Patch ripe for the picking! Fall at the Farm doesn't just include pumpkins, though; you'll also want to take a ride on the train and hayride, visit the petting zoo, jump into the bounce house, run through the inflatable corn maze and take advantage of all the other fall-inspired family fun. The pumpkin patch is open Fridays, Saturdays and Sundays throughout the month of October. Entry is $7 for ages 2 and up. Tickets for attractions and pumpkins are extra.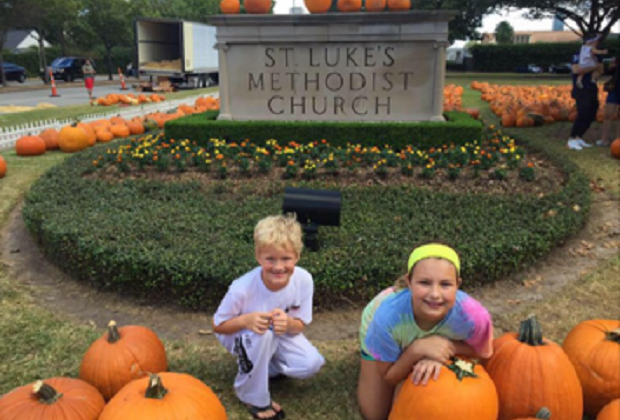 Posing with pumpkins at the Pure Sound Pumpkin Patch/Photo courtesy of St. Luke's United Methodist Church.
Pure Sound Pumpkin Patch - River Oaks
3471 Westheimer Road, Houston
If you're looking to purchase pumpkins and give back to the community at the same time, you'll want to check out the Pure Pumpkin Patch at St. Luke's United Methodist Church. Thousands of pumpkins will be available for picking throughout the week, with a new shipment of pumpkins arriving every Saturday to refresh the patch. A portion of the proceeds go to the Pure Sound Travel Fund and scholarships. Pumpkins are available each day starting Oct. 7 until they run out. Prices are based on the size of the pumpkin.
Clear Lake United Methodist Church Pumpkin Patch - Clear Lake
16335 El Camino Real, Houston
The month of October means pumpkins are coming to Clear Lake United Methodist Church, as well as lots of other fun fall activities. Not only will you have a plethora of pumpkins to choose from, but some of the best pumpkins in the area can be found at this local spot. Proceeds from pumpkin sales benefit both the church and other community programs. The patch is open daily starting October 12-31. Entry is FREE. The patch will be open Monday-Saturday 9:30 a.m. to 7:30 p.m. and Sundays 12:30 p.m. to 7:30 p.m.
Zoo Boo Pumpkin Patch - Inner Loop
6200 Hermann Park Drive, Houston
What better way to take advantage of pumpkin patch festivities than by heading out to Zoo Boo at The Houston Zoo? Dress your kids up in their Halloween costumes and take them over to the Fiesta Mart Pumpkin Patch to pick out a pumpkin for decorating. After, be sure to take advantage of all the other fun activities going on at the Zoo Boo! Zoo Boo begins Oct. 11 and runs weekends in October; admission is included with your regular zoo ticket price.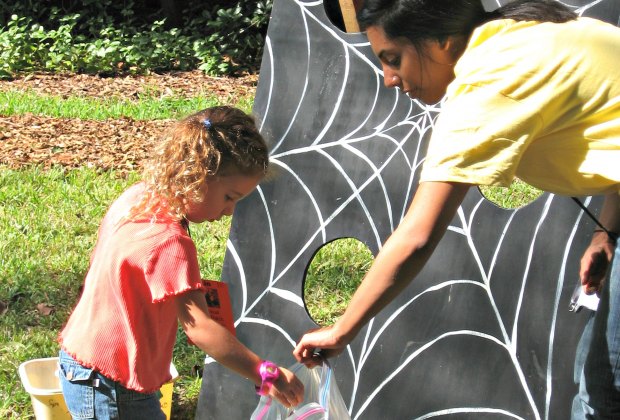 Photo courtesy of Nature Discovery Center.
Nature Discovery Center Pumpkin Patch & Fall Festival - Bellaire
7112 Newcastle, Houston
For a fun-filled day that epitomizes fall, you'll want to take the kids to the Nature Discovery Center Pumpkin Patch and Fall Festival. At the pumpkin patch, kids are able to select pumpkins that come in all shapes and sizes. The Fall Festival features several fall-inspired festivities, such as wagon rides, crafts, face painting, games, and much more. Pumpkin prices are based on the size of the pumpkin. The 2019 Fall Festival is Oct. 19 and 20, admission is FREE.
Cypress United Methodist Pumpkin Patch - Cypress
13403 Cypress N. Houston Road, Cypress
Throughout October, you can take pictures and buy pumpkins from Cypress UMC's annual pumpkin patch. There are various photo stages around the patch with different themes for the perfect photo, and you can buy almost any size of pumpkin - from small ones for tiny toddler hands to full-grown perfect for carving. All proceeds from pumpkin sales benefit the church's youth missions and outreach. The pumpkin patch is open daily Oct. 4- Nov. 1.
Asbury United Methodist Church Pumpkin Patch - Pasadena
5354 Space Center, Pasadena
From tiny pumpkins that will fit in the palm of your hand, to massive gourds to decorate with, Asbury United Methodist Church in Pasadena features an array of pumpkins for purchase. Photo areas are scattered throughout the patch where you can take photos with fall decor like scarecrows and hay bales. Admission to the pumpkin patch is free and pumpkin costs vary based on size.
Top photo courtesy of Shary Peck (by Tiffany Daniel Photography)
This post originally published in September 2016.