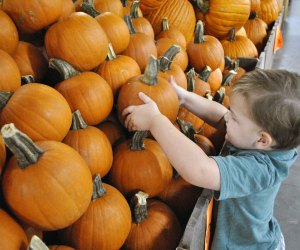 Fall Festivities for the Whole Family at Froberg's Farm
Situated on the outskirts of Southeast Houston in Alvin, Froberg's Farm is home to locally grown produce, homemade baked goods, and good old-fashioned fun! Known primarily for springtime strawberry picking, Froberg's is also home to one of the area's best fall festivals. Each weekend from October to early November, families can participate in Froberg's fall activities including a corn maze, hayrides, flower picking, plenty of traditional festival games, and a few brand new favorites. And in 2017, they added even more fall fun.
Entering the picturesque produce market at Froberg's Farm, fall decor greets each guest, followed by the delicious smells of smokehouse foods and bakery treats. On our recent trip to the fall festival's opening weekend, we made sure to fuel up with some homemade fruit pies and decorated pumpkin cookies before heading "out back" to the fun and games. Inside the market, pumpkins of all shapes and sizes are available for purchase. They even have a few one-of-a-kind varieties, like light-colored tiger pumpkins. Our three-year-old loved marveling at the mountains of pumpkins and assorted gourds as we waited to purchase silver coins to use as game tokens at the festival.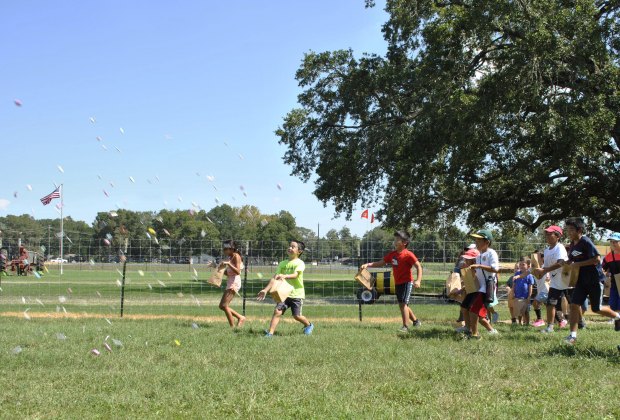 A "candy cannon" launches candy into a field for kids to gather.
Once outside, we were immediately invited to the launching of a candy cannon that blasted a variety of taffy and other sweets high into the air, landing in a field for a group of kids to scoop up and into brown paper bags. Like a cross between a pinata game and an Easter egg hunt, this candy frenzy is a complete blast! Our next stop was to trade in a few of our tokens for a cute face painting for our youngest. There were a number of animals and fall designs to choose from, as well as an option for glitter tattoos to complete the festive look. The older kids were able to go to the nearby planting station and plant their very own strawberry plants in a container to take home. It was great having several activities so close together, giving kids of all ages an activity to enjoy near each other.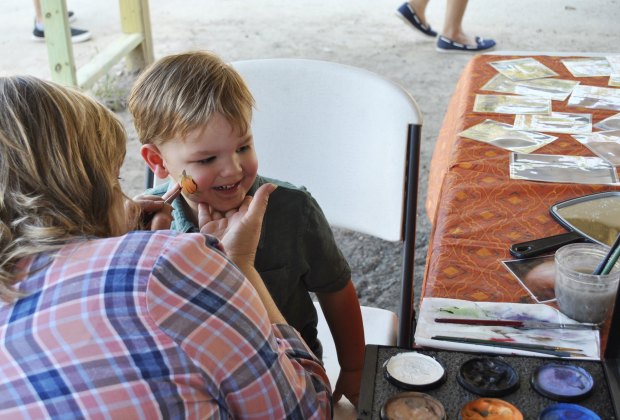 The face painting artists were all talented.
New to the festival this year are several star attractions including the bee coaster, friendly fire game, and corn cannon. On the bee coaster, kids of all ages can ride in individual bucket seats painted to look like bees being pulled by a tractor. It's slow moving, but has a bumpy, jostling feel that will make even the adults giggle. Friendly fire is basically a giant nerf ball game and is an exciting way to keep older kids entertained while the little ones play the midway games. My favorite pick of the new attractions is the corn cannon. Each turn gives the participant three chances to blast an ear of corn out of a giant tube chute gun toward wooden targets. Little ones will definitely need assistance with this one, but it is great fun for everyone!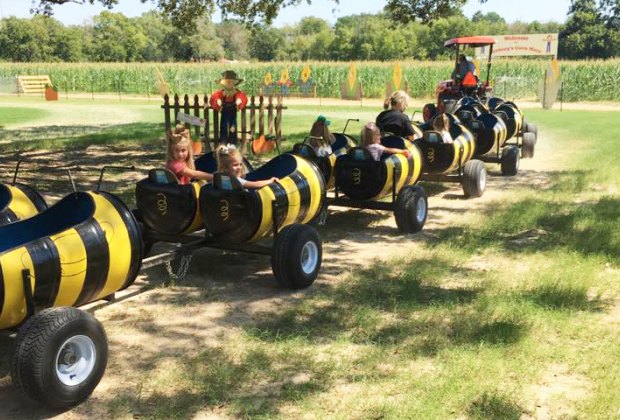 The bumbling bee coaster rides past the corn maze. Photo courtesy Courtney Cauthen.
Froberg's Farm has put their own spin on traditional midway games and set up booths for bean bag toss, duck races, basket toss, and pony hops. Each game is set up with a fall theme and gives ample opportunity for every player to enjoy their turn. Every participant gets a prize, so even the youngest players get to feel like a winner. Enthusiastic volunteers (many who are teens!) were there to cheer on game players and really complete the carnival-like experience.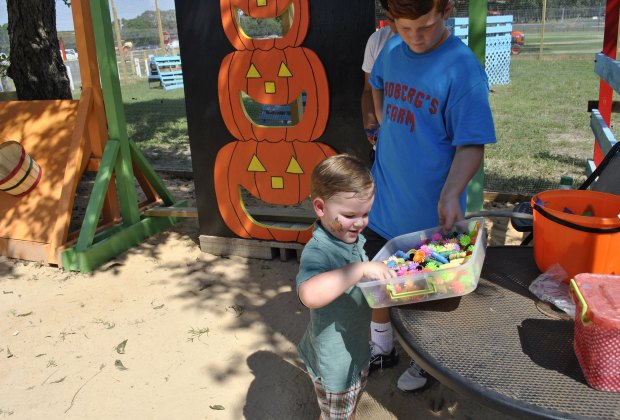 Prizes for all at Froberg's Fall Festival!
The crown jewel of this festival has to be the corn maze. Families can trek through rows and rows of tall corn stalks working their way through various pathways. Our older kids loved leading the way to guide us all through the maze. Another huge highlight of the festival is taking the hayride out through Froberg's farm land to the flower patch to pick flowers. Each budding florist gets a pair of safety shears and a cup to gather their flowers in. Both the corn maze and the hayrides are available for the first time this year as night time activities.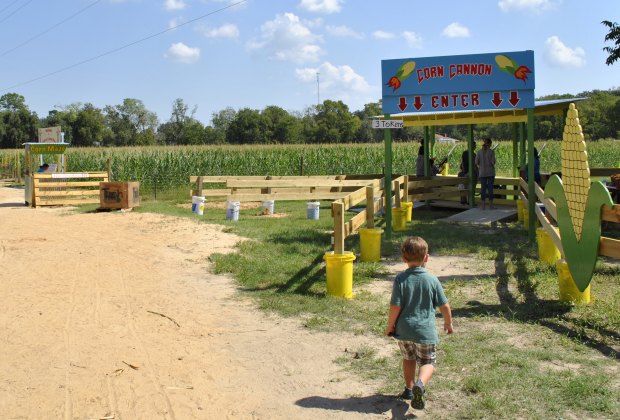 With corn fields all around, the corn cannon and corn maze are must-do activities.
While we've been to Froberg's Fall Festival in years past, the addition of several new games and activities made our visit this year more exciting than ever before, and we can't wait to go back with more of our friends and family! The festival runs each Saturday and Sunday through November 5th, weather permitting, from 9 a.m.- 5 p.m. The lighted corn maze and hayride will take place on Friday and Saturday evenings from 6- 10 p.m. with the last tickets being sold at 8:30 p.m. Admission information is available on the Froberg's Farm website.
Unless otherwise noted, photos by Ashley Jones.