Petting Zoos near Houston Where Kids Can See Farm Animals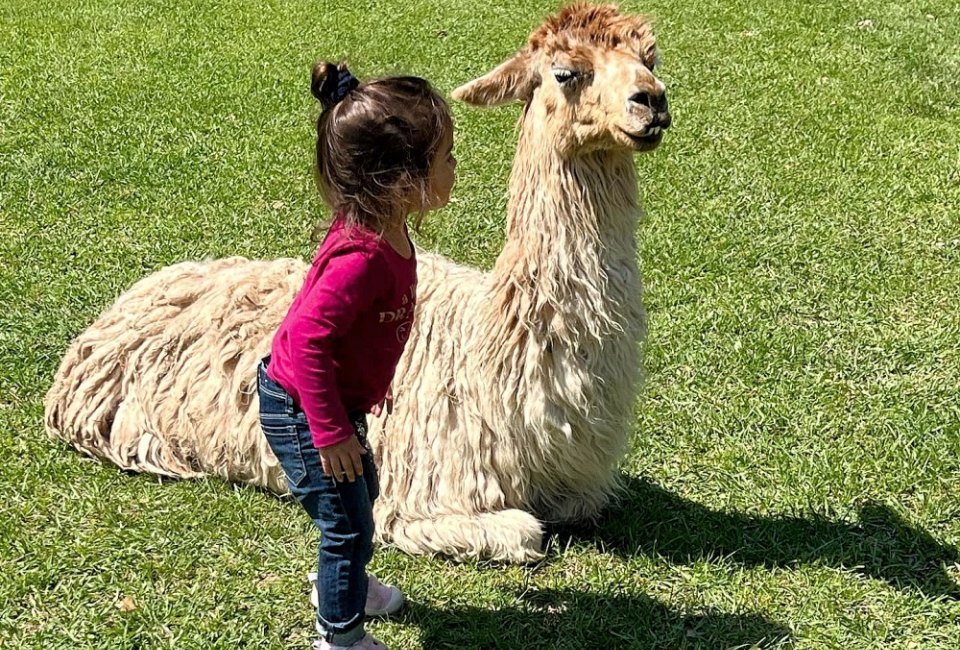 4/14/21
- By
Rachael Cherry
Getting outdoors with kids is always fun, but when you add in animals it takes the fun factor to the next level. Any trip to a zoo or safari park is sure to be met with glee, but nothing ups the ante better than actually getting to hug the animals at a petting zoo. From typical barnyard animals like sheep and goats to more exotic ones like wallabies and lemurs, we've rounded up 10 petting zoos that deliver a unique animal experience.
As a bonus, many of these are at our favorite area farms, so you can get ready to spend the day interacting with animals and getting in some serious playtime! Be sure to bring some extra cash; there are several that allow you to buy food so that you can hand-feed the animals. For even more outdoor fun, be sure to check our Farms & Pick Your Own Guide and our Zoos and Gardens Guide.
Petting Zoos in Houston
Get ready to visit one of the most diverse petting zoos in and around Houston when you go to Bayou Wildlife Zoo. This unique zoo experience includes a tram ride across 80 acres that animals from around the world call home, a stop at the Big Red Barnyard, which has a general store, giraffes, and the zoo's pet water buffalo Annie, and a visit to Addie Lou's Barnyard, the zoo's petting zoo. At Addie Lou's you'll find a wallaby, pygmy goats, lemurs, and more exotic wildlife and rare animals.
Nestled amidst the traditional animal exhibits at the Houston Zoo is the John P. McGovern's Children's Zoo. This interactive exhibit features a Nubian goat petting zoo, where children can pet and brush the goats, a realistic bat cave for exploring, the Houston Texans Enrichment Zone, which always has fun shows, games, and activities, a playground for burning off some extra energy, and more. Entrance is included in a general zoo admission ticket.
Old MacDonald's Farm does justice to the old farmyard nursery rhyme and is packed to the brim with animal experiences for your kids. The farm boasts 12 different farm animal petting stalls that are home to goats, bunnies, donkeys, and more. Visitors can purchase bags of feed for the animals and bring their own bread to feed the ducks. General admission grants access to everything on the farm, including pony and train rides.
Related: 5 Ways To Get the Most out of the Houston Zoo with Kids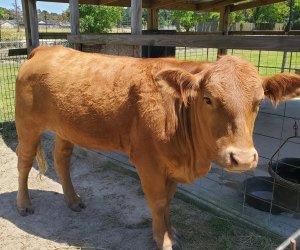 Photo courtesy of Old MacDonald's Farm
With more than 100 animals that span over 25 different species, the animal encounters at TGR Exotic Wildlife are some of the best around. The venue offers several different tour options, with favorites being the Open to the Public Tour, which is the basic and most popular tour, the Sloth Encounter Deluxe, where you can pet and feed the sloths, the Toddler Tour, and the Ultimate Reptile Encounter.
Aitken's Farm and Ranch is home to Countless Blessings Petting Zoo, which has an American Quarter Horse, a Tennessee Walking Horse, two American Shetland Ponies, a Miniature Horse, a few beef cows, two Texas Longhorns, various breeds of chickens, ducks, a gander, peacocks, sheep, goats, a Kune Kune pig, and a Great Pyrenes Anatolian Shepherd dog. Homeschool groups, scout groups, and daycare field trips are welcome to come visit the animals by appointment. Kids can learn about the animals on the farm while getting to pet and feed them. Additionally, the farm usually tries to have some of the critters in a pen by the store on Saturdays (weather permitting). You can check the Facebook page to see what animals will be available on Saturdays before heading to the store.
The petting zoo at 7 Acre Wood is home to donkeys, llamas, chickens, goats, deer, ponies, a cow, ducks, and soon to be new kids (baby goats), making it one of the favorite attractions at the farm. However, the fun doesn't stop there; the farm also has a playground, mini-golf, a Western Play Town, a rope slide, horseshoes, and more. The farm is open 7 days a week, and general admission grants access to most activities.
It's a full animal experience at the Oil Ranch in Hockley. The petting zoo is full of friendly farmyard animals; there is a cow milking station where visitors can hand milk Daisy the dairy cow, and families can take a hayride out to hand feed the cattle. And that doesn't cover all the other activities the farm has to offer. Kids can also take train and pony rides, wind their way through the Stockyard Maze, and more. Oil Ranch is open every Saturday in March and April, Friday through Sunday in November, and Saturdays and Sundays in December.
Another farm favorite stop complete with a petting zoo is P-6 Farms. Come pet the goats, then stay for the day to play, with activities like a roller coaster, pig races, apple blaster, slides, and more. Seasonally, visitors can also find flower fields, Easter egg hunts, and a pumpkin patch and corn maze. P-6 Farms is open seasonally during the spring, summer, and fall. Be sure to check the website for the most up-to-date hours of operation.
Related: Why Kids Love Houston's Cockrell Butterfly Center
Photo courtesy of Dewberry Farm
Acres of playgrounds and attractions is what Dewberry Farm is known for, and one of those attractions is the petting zoo. Be sure to visit Goatel 6 to see the goats living in style! Dewberry Farm is open for Springfest in May, which features 4 acres of sunflowers, then again in the fall for the annual Fall Festival and pumpkin patch, and in the winter for Christmas trees and lights. General admission includes access to most activities (like the petting zoo), though some activities cost extra.
Blessington Farms is known for seasonal berry picking and the plethora of kid-friendly activities at Farm Funland, and one of the favored attractions is definitely the petting zoo. At the Aviary Adventure kids can interact with and feed Quaker Parrots. Over at Animal Encounter there are two areas: a hands-on petting zoo with goats, lambs, chickens, and barnyard dogs and an observation area where kids can get up close with the camels, miniature donkeys and livestock. Farm Funland is open on Saturdays and Sundays in the spring, summer, and fall.
Click Here to Sign Up!
i