Visiting the TGR Exotics Wildlife Park: Unique Animal Encounters and Tours, from Sloths to Kangaroos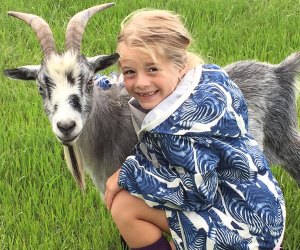 Zoos are a big deal for us. Whether it's a big name zoo like the Houston Zoo or a local area petting zoo, there is something about getting to see unique and exotic animals up close that sparks joy and ignites imagination in my kids, which is why TGR Exotics Wildlife Park turned out to be such a great find for us.
Located down an inconspicuous side road in Spring, the wildlife park could be easily missed if not for the large animal silhouettes and colorful "Go Wild" sign adorning the fence. We recently visited for a home school day tour and left with big smiles, a wealth of animal facts, and all the tips and tricks for visiting the park.
What Is TGR Exotics Wildlife Park?
What started out with a single pet pot-bellied pig has morphed over the years into an entire wildlife park for owners Troy and Gwen Scott—and boy are we glad they decided to keep expanding their animal collection. Gwen was on hand during our tour, lending a personal touch that gave me a greater appreciation for the venture she and her husband embarked on so many years ago. Her passion for the animals was evident as she talked about their adventure in opening the park, and it's that enthusiasm and friendliness that will bring us back again.
TGR Exotics Wildlife Park is home to more than 100 different exotic animals spanning 25 species. The animals are mostly kept in cages around the park, though a handful are allowed to roam freely. This isn't just your average zoo experience of walking around and looking at animals in cages, though.
What Tours Are Offered at the Wildlife Park?
A trip to TGR Exotics begins with picking a specific tour to attend.
There are 12 different tours to choose from, ranging from the Basic Public Tours and Toddler Tours to animal encounters like the Sloth Encounter Deluxe, Spider Monkey Tour, or Reptile Encounter. On any given day there are a few to choose from on the park's calendar. Prices range from $10 per person on the cheapest tours to $150 for the most exclusive animal encounters. The tour we took, the Home School Tour, is one of the most affordable options.
Each tour has a specific focus, allowing guests to tailor their trip to their personal animal interests. Tours are limited to small groups, giving an intimate experience and allowing for social distancing. Each tour is led by a knowledgeable tour guide who offers interesting facts and tidbits about the animals. For example, did you know that sloths and anteaters are close relatives, or that black bears really like marshmallows and peanut butter, especially paired together? I sure didn't!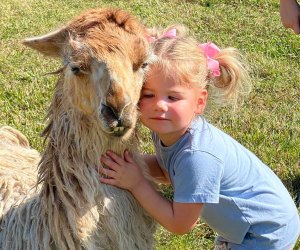 Our tour allowed us to see most of the park's animals, which include wolves, black bears, giant tortoises (that are out in the open and very tolerant of petting!), sloths, red kangaroos, otters, a variety of monkeys, and more. Our tour guide was very patient with all of the kids and was both funny and informative in his anecdotes; he really took our tour from just a visit to a wildlife experience. He was constantly asking the kids questions and testing their animal knowledge, and I appreciated how interactive he was throughout our time there.
As part of our tour, a snake and a gecko were brought out for the kids to touch and hold. The handlers were equally as patient and engaging as our tour guide, and all of the kids loved getting a little interactive reptile encounter. The last little detour we took included a look at the red kangaroos and albino wallaby, plus a chance to pet the tiniest full-grown deer I have ever seen. The kids (ok, and the adults) went crazy over how cute that little deer was, and the mix of both looking at animals and interacting with them made the trip a truly unique experience.

The giant tortoise is very friendly. Photo by the author
Other programs at TGR
In addition to the many public tours offered daily, the Wildlife Park also offers packages for birthday parties as well as weekend Scout Badge programs. Home school groups and regular school groups are readily accommodated with educational programs, and for big kids interested in learning what it's like to be a zookeeper, there are the Junior Keeper Camps. Volunteering and internship opportunities are also available to bigger kids.
Zoo on the Go is a way to bring animals to your event offsite. And watch the park's calendar for Kids' Night Out, when kids can enjoy some parent-free time with the animals, while parents enjoy some kid-free time without animals.
TGR Exotics: Know Before You Go
All visits to the Wildlife Park must be booked in advance, joining one of the tours or experiences available on the calendar for that day.
When you attend your tour, be sure to wear closed-toe shoes (or even rain boots if it has been raining recently—it gets muddy!), and light clothing. It gets hot walking around outside the whole time and, being on acreage, there are ants and bugs and animal droppings around the premises.
While water is both permitted and encouraged, snacks are a definite no because of the free-roaming animals who might just be as interested in your snack as you are and—have no pretenses about trying to take it from you!
All in all, we had a great time at TGR Exotics and can't wait to go back to try some of the other tours. Friendly owners, engaging tour guides, and lots of animals that were out and about and ready to say hi made this a slam dunk zoo trip that we definitely recommend.

Photo by the author
Photos courtesy of TGR Exotics Wildlife Park unless otherwise noted