Berry Picking at Blessington Farms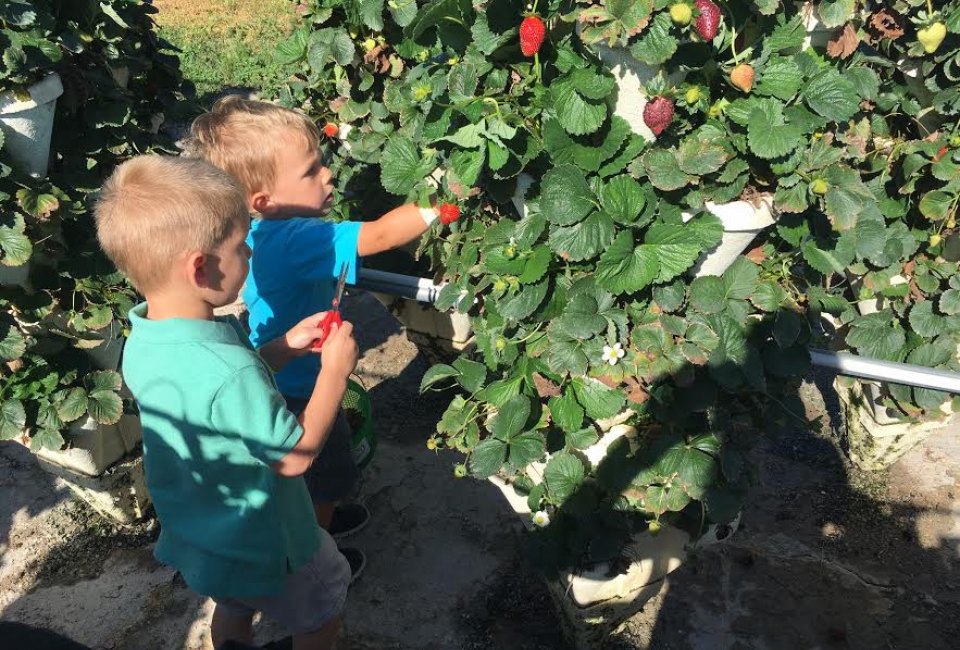 5/8/17
- By
Rachael Cherry
It's berry season in Texas, and Blessington Farms is officially open for picking. Berry picking has been high on our spring activity priority list, and we took full advantage the first Friday morning we had available. We lucked out with clear blue skies, cool temperatures and an empty farm, which - I'm sure every parent can agree - is pretty much the ideal situation when you show up to pick berries with two 3-year-old boys.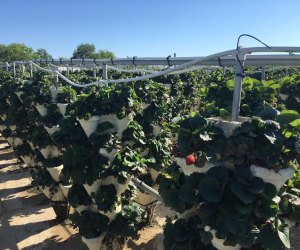 Blessington Farms is separated into two different sections: Farm Funland and U-Pick Berries. Farm Funland has a $15 admission fee and is where the majority of the activities are located. It's basically a child's paradise with large slides, a petting zoo, sand dunes for digging and playing, and much, much more. U-Pick Berries is free to enter, and pickers are required to purchase a reusable berry bucket. Berries are charged by the pound and prices vary based on the type of berry being picked.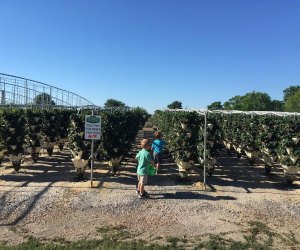 Berries are picked on a first-come/first serve basis and it's not unusual for them to get picked over early, so we arrived right when they opened and headed straight over to U-Pick Berries to grab our buckets and get a quick overview of how to pick the berries (pickers are supplied a blunt pair of scissors to cut off the strawberries and instructed to leave about an inch of vine on the berry). From there, we headed straight to the strawberries, showed the boys how to pick them and they were off! Seeing how excited they were about picking and how much fun they were having snipping the strawberries and tossing them into the buckets was an awesome experience in itself (though maybe they were so excited because they were actually allowed to use scissors...).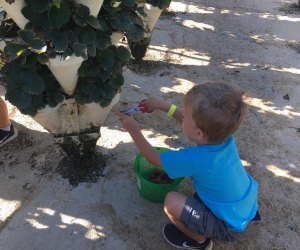 Truth be told, I figured we'd fill up maybe half the bucket before heading over to Farm Funland, but the boys ran up and down the rows of strawberries snipping and tossing until their buckets were filled to the brim. Once it was all said and done, both boys ended up with right around 4 pounds of deliciously red and ripe strawberries apiece, and from there we then headed over to Farm Funland for some playtime to round out the day.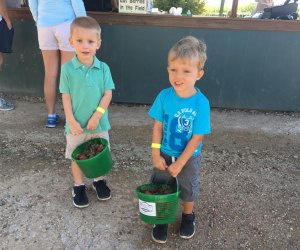 So what do you need to know when you head to Blessington for U-Pick Berries?
Call ahead of time to find out when they're open and what's available. While Blessington opens during the week for field trips on occasion, they are traditionally open to the general public Thursday, Friday and Saturday for berry picking. Calling beforehand ensures you have the most up-to-date information regarding picking availability and hours of operation.
Check the weather. We had storms earlier in the week, so I checked the weather for Friday like a maniac in the days leading up to our visit to make sure sunshine and clear skies were still in the forecast. We lucked out with an accurate forecast and beautiful weather, which made the whole experience that much better.
Arrive early. We got there right when Blessington Farms opened and both Farm Funland and U-Pick Berries were empty. Parking was a breeze and we were the first people out picking. The timing was perfect because our boys were ready to leave just after lunchtime, which is when it started to get more crowded.
Wear close-toed shoes. The aforementioned storms meant the ground was still a little muddy when we came to pick, but even without the mud close-toed shoes are the best option due to the dirt and gravel terrain throughout the rows of berries.
Pick first, then play. As previously mentioned, it's not uncommon for the berries to get picked out early because they're on a first-come/first-serve basis. We spent about an hour berry-picking, then headed over to Farm Funland so the boys could play and get out some energy, which worked out perfectly. For extra hot days, consider bringing a cooler to keep the berries in post-picking while the kids play.
Plan on staying for Farm Funland. There is no way we would have been able to just show up and pick berries and not play at Farm Funland. Our boys were VERY aware that Farm Funland and all of its attractions were adjacent to the berry section, and they were counting on being able to play after their buckets were full.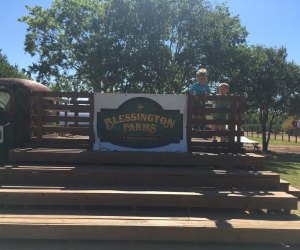 In addition to strawberries, Blessington Farm also does u-pick blueberries and blackberries when in season, and once fall comes around has a pumpkin patch that is unparalleled. If and when you find yourself in need of a fun family activity that is different from the norm, this is definitely the route to take. We really couldn't have asked for a better berry picking experience, and we're definitely planning on making a repeat trip soon.
All photos by Rachael Cherry
Places featured in this article:
Enter to Win!