Festive and Delicious Birthday Cakes for Atlanta Kids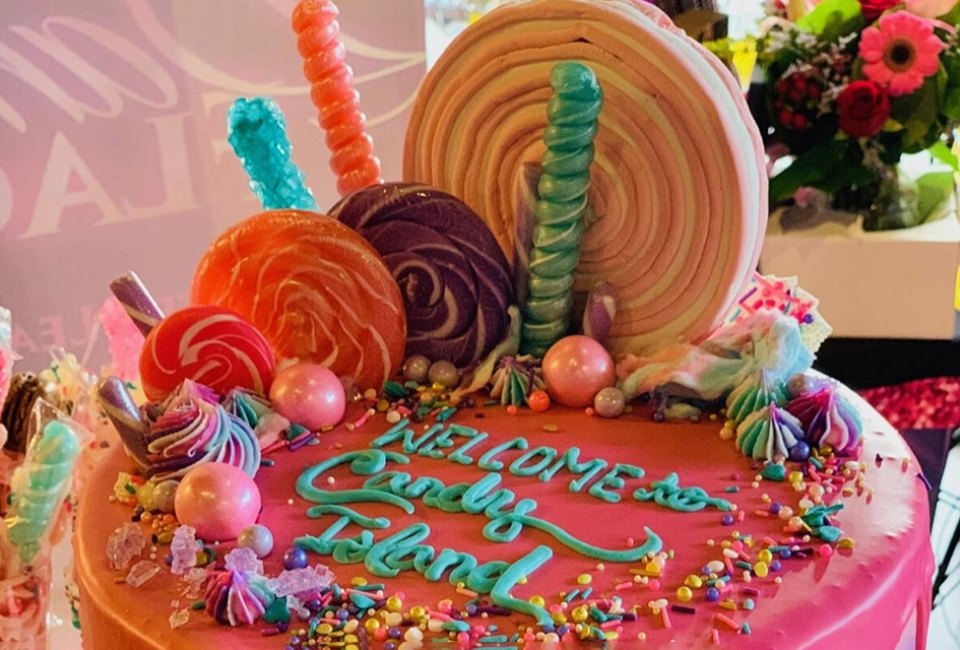 2/13/22
- By
Rebecca Ruffin Leffler
After you've selected a birthday party location, booked an entertainer, and sent out invitations for your child's birthday party, it's time for the yummy part – picking out a birthday cake! No longer limited to round and rectangular shapes, today's birthday cakes can be tiered like wedding cakes or sculpted into baseball bats, cars, purses, and more.
Look to our list to take the guesswork out of your sugary search. We've got everything covered, from a traditional sheet cakes to a custom birthday cake, throughout metro Atlanta. If you don't want to slice into a beautifully decorated cake, consider cupcakes, cake pops, or cookies that many of these bakeries also prepare.
For more birthday party inspiration, check out our complete Birthday Party Guide. Also, be sure to sign up for our newsletters to get information about fun events in Atlanta delivered straight to your inbox!
Best Birthday Cakes for Atlanta Kids - Intown
Cake Hag offers custom-made cakes using natural, local, and organic ingredients. Prices for the 8-inch layer cake begin at $45, with options like a chocolate cake filled with chocolate-cinnamon mousse and topped with chocolate buttercream, or the butter almond blueberry cake, prepared with organic blueberries and brown sugar buttercream. Cake Hag also prepares gluten-free cakes.
A trip to Paris inspired sisters Glynnis and Katha Waters to train at Le Cordon Bleu and open their own bakery. This small-batch bakery sells cinnamon rolls, cookies, cupcakes, and cakes using local ingredients. Choose from over 30 cake and cupcake flavors, including Mexican chocolate and candy bar (which tastes like a Snickers bar), and fruit-based options. Custom orders require 48-hours notice.

Georgetown Cupcake offers a new take on birthday cake.
Georgetown Cupcake gained nationwide fame on TLC's reality show "DC Cupcakes" in 2008. Featuring over 100 cupcake flavors, such as chocolate marshmallow fudge, cherry cheesecake, and salted caramel chocolate chip, the bakery lists the calendar of rotating flavors on its website. You can also purchase vegan and gluten-free cupcakes.
Using high-quality ingredients, Lenox Cupcakes has two locations that sell cupcakes, birthday cake, cake pops, and cake truffles —all without preservatives or trans fats. Vegan and gluten-free options are available. Bonus? Book a cupcake birthday party at Lenox, where each participant decorates a chef's hat, apron, and four cupcakes to take home.

Confection Perfection Cakes create sugary magic for any birthday party.
Best Birthday Cakes for Atlanta Kids – Marietta and Smyrna
Winner of "Cake Wars" on the Cooking Channel, Confection Perfection founder Jennifer Punch uses her own recipes developed from her chemistry background. Popular birthday cakes include a tiered unicorn cake, a Porsche racing car cake, and a golf ball cake. Choose from over 30 flavors. Gluten-free, vegan, eggless, and dairy-free flavors are available.
McEntyre's Bakery was founded in the 1940s and creates delicious cakes, cookies, and pastries, as well as sandwiches. Traditional yellow, quarter-sheet cakes start at $24.99; patrons can add layers, decorations, and change flavors for an additional charge. Can't decide on a flavor? Try the 8-inch round "Mix it Up" cake with a different flavor (German chocolate, red velvet, carrot, and strawberry) in each quadrant.
Sugar Benders offers plenty of choices for custom cakes and cupcakes. What's more, you can book a cupcake decorating party for kids ages 4 and up or a cake decorating party for kids ages 8 and up at their location.

Add joy to the party with a birthday cake from Baker's Man Inc.
Best Birthday Cakes for Atlanta Kids – Alpharetta and Roswell
Pastry chef Mark Brickman specializes in sculpted cakes —no design or theme is too challenging as he's made 3D cakes in the shape of the Scooby-Doo Mystery Machine and Thomas the Tank Engine. Choose a two-layer cake from 12 standard cake flavors and 17 fillings, topped with either ganache or buttercream. You can also order cupcakes and cookies to match your birthday party theme.
You're sure to find something to please the birthday child at It's a Sweet Life Bakery. The bakery offers a large selection of cake pops, cupcakes, sugar cookies, and specialty cakes. Gluten-free cakes come in chocolate, vanilla bean, or almond.
Opened in 1930, Rhodes Family Bakery features its well-known petit fours (bite-sized individual cakes) and cheese straws. Cakes come in five flavors: carrot, chocolate, red velvet, pound, and coconut. Additional filling and icing choices available. Although the original in-town location closed in 2021, the Roswell location remains open with the founder's family members at the helm.

The Baking Grounds create epic birthday cakes, like this unicorn creation.
Best Birthday Cakes for Atlanta Kids - Northeast Suburbs
Shellane Brown opened Apple Butter Bakery in her hometown of Stone Mountain with her mother and sister. While custom cakes book up fast and require a three-week lead time, the bakery offers a three-day turnaround for their two-layer classic cake and three-layer celebration cake. Both include a choice of flavors, icing, sprinkles, and a message. Gluten-free and vegan options are also available.
Owner Lorne McCaslin and his wife Malinda, also a baker, began a small wedding cake business out of their house in 2004; later, they expanded into cookies, pies, and pastries while adding a restaurant. Today, The Baking Grounds is a preferred vendor for Lanier Islands. Place orders for a birthday cake 7-10 days ahead of time and plan to grab a cup of coffee, breakfast, or lunch before you pick it up.
While most companies downsized during the pandemic, Blue Rooster Bakeshop and Eatery opened a second location in Monroe. Featuring custom buttercream cakes and pies, the restaurant also serves breakfast and deli sandwiches. Choose from 25 cake flavors, including seasonal selections of chocolate pumpkin spice and white chocolate peppermint cake.
Not only does Pasty Addict make beautiful custom cakes and cupcakes, but cakesicles as well. Larger than a cake pop, these tasty desserts-on-a-stick come in seven flavors. If your child doesn't want birthday cake, try the dessert shooters. Served in individual plastic cups, popular shooter choices include key lime, cheesecake, and banana pudding.

Henri's Bakery and Deli is always a reliable source of delectable treats. Photo by the author
Best Birthday Cakes for Atlanta Kids - Multiple Locations
Now headquartered in Atlanta, CamiCakes offers gourmet cupcakes and mini cupcakes in 24 flavors. One popular flavor is the Elvis, a chocolate cupcake topped with banana and peanut butter frosting. Besides cupcakes, customers can order layer cakes in most of the same flavors. Also, try a scoop of handcrafted, organic ice cream served in a red velvet waffle cone.
An iconic Atlanta institution, Henri's opened its doors in 1929 and now has four locations. The classic birthday cake, in vanilla or chocolate with a rich buttercream frosting, is always a hit. Other specialties include Italian cream, cookies and cream, and black forest cake, which are available with a 48-hour notice and include a personalized inscription. Order a fully custom-made cake to stick with a specific birthday theme.
If you want a round birthday cake without custom decorations, check out Piece of Cake's three-layer cakes. The top seller remains the red velvet with cream cheese frosting, but other offerings include strawberry with strawberry cream cheese frosting and German chocolate with pecan and coconut frosting. Cupcakes, cookies, and brownies are also available.
The go-to spot for delicious, gluten-free baked goods, offers three-layer cakes and cupcakes in chocolate, vanilla, and red velvet (all items are soy-free and baked fresh daily). Dairy-free options come in chocolate and vanilla. Sally's also offers gluten-free, take-and-bake pizzas and more options.

The creations at Sweet Hut almost seem to pretty to eat. Photo by the author
Since opening the first store on Buford Highway a decade ago, Sweet Hut Bakery and Café offers Asian-influenced baked goods. Expand your culinary palette with matcha (green tea), mango mousse, or Malaysian pandan cake. If you want to go more traditional, try the tiramisu, mocha walnut, red velvet, or black forest cake.
The half-sheet cake that Costco discontinued during the early months of the pandemic is back in stores! Themes include roses, butterflies, balloons, and sports and must be ordered one day in advance. Feeding 48 people, this budget-friendly birthday cake is usually priced under $25.
Offering 10 flavors and over 25 different birthday designs, Nothing Bundt Cakes is sure to please the birthday child with a bundt cake drizzled with petal-shaped frosting. Flavors include chocolate chip, lemon, and red velvet. If you want individual servings, order bundlets or the smaller, bite-size bundtinis by the dozen.

Publix supermarkets create delicious birthday cakes for all ages. Photo by the author
Publix has used the same delicious buttercream icing recipe since 1957. With a 24-hour lead time to place an order, choices for decorated sheet cakes and pull-apart cupcakes abound with Peppa the Pig, Batman, Winnie the Pooh, and many other themes. If your child doesn't like cake, you can purchase a decorated cookie cake instead.
Smallcakes Cupcakery and Creamery has more than 200 locations nationally. Featuring over a dozen signature flavors including hot fudge sundae and cookies-n-cream, individual stores rotate specialty flavors as well. Check the location nearest you for custom orders. Additionally, Smallcakes sells hand-churned ice cream to go with your cake order.
Unless noted, photos courtesy of the markets/bakeries