Best Coffee Shops in Atlanta to Bring Your Kids When You Need Caffeine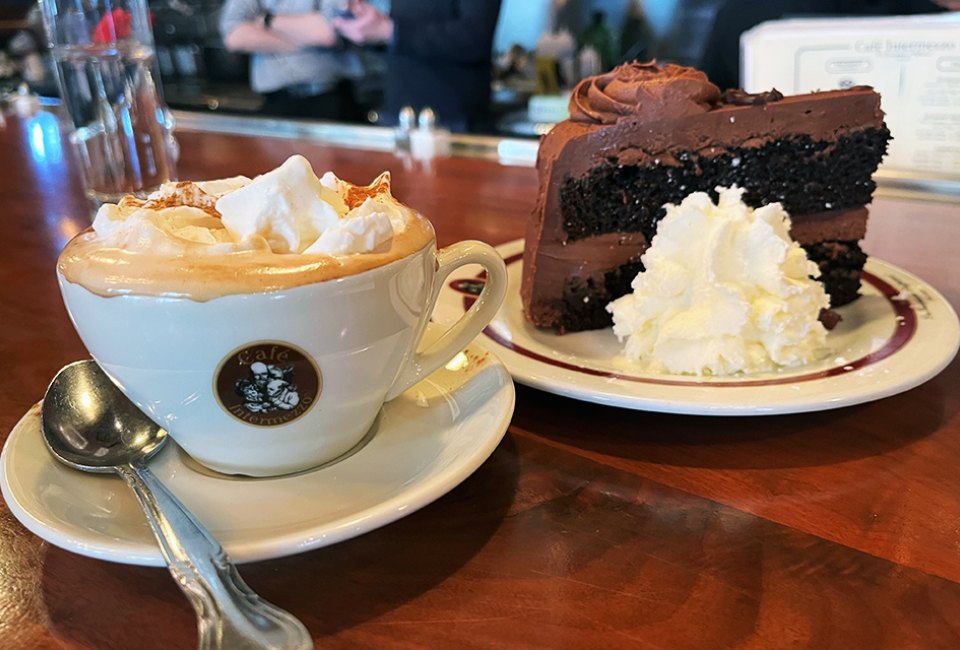 1/15/23
- By
Rebecca Ruffin Leffler
The best coffee shops in Atlanta provide life for overtired, under-energized parents. Let's be real —parenting is exhausting work, and sometimes caregivers need a caffeine fix to get through the day. Whether it's from sleepless nights with baby or days schlepping kids all over the city, you deserve a caffeine pick-me-up. But what to do with the kiddos while you're enjoying a steamy mug? We've got you covered!
Don't rely solely on drive-through spots for coffee when you have the kids in tow. Here's our curated list of the best coffee shops near Atlanta that are kid friendly, ranging from locations with fun, cozy rooms to cavernous spaces and expansive outdoor areas.
For more dining inspiration, check out our Kid-Friendly Restaurants in Atlanta Guide, including Healthy Atlanta Restaurants for Kids and Fun and Delicious Food Halls. Also, since winter in Atlanta is chock full of activities, be sure to subscribe to our FREE Mommy Poppins newsletters.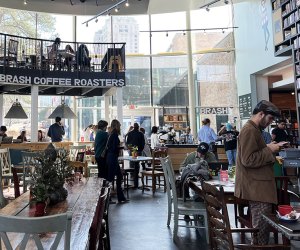 BRASH Coffee's Buckhead location is at the Atlanta History Center and offers a great space for kids to learn and relax.
Best Coffee Shops in Atlanta to Bring Kids
Families and kids can easily spend an entire afternoon at the Atlanta History Center in Buckhead. For a much-needed caffeine break, walk up to the counter at BRASH Coffee, which shares space with Souper Jenny at the front of the museum. The two-story, light-filled space offers plentiful seating and high chairs. Open to the public, you don't have to be a museum visitor to come here! Also, check out BRASH Coffee's other locations at Westside Provisions or the larger location in Midtown.
2. Café Intermezzo – Alpharetta, Midtown, and Dunwoody
Enjoy a European-style café experience at this popular Atlanta spot. Serving brunch, lunch, and dinner, Café Intermezzo features an extensive list of coffee, tea, and alcoholic beverages. Kids love ordering hot chocolate (five different choices!) and the huge assortment of delectable sweets. The dessert offerings are so extensive, servers give "tours" of the cakes, cheesecakes, and tortes behind the glass cases.
To escape the hustle-bustle of Atlanta without leaving the city, head to Chattahoochee Coffee Company's Riverside location. Sip coffee beverages, hot chocolate, and smoothies, and nibble on light pastries. If the treehouse-like interior feels too quiet, take the kids outside to the multiple seating areas scattered along the river. This location offers 30 minutes of free parking but is only open to the public on weekdays. However, you may visit Chattahoochee Coffee Company's Westside location or the Smyrna location seven days a week. The company donates 10 percent of annual revenue to non-profit charities.
For over 20 years, this small-batch microroaster has served coffee, hot chocolate, tea, smoothies, and pastries in the former train depot on the Marietta Square. A couple of high chairs are available in the two-room seating area flanked by local artwork. Kids may want to snag a spot in the small alcove painted with Van Gogh's "Starry Night" or sit outside on the dog-friendly, brick patio behind the shop.
For waffle options galore, visit Crazy Love Coffee House near historic Roswell...the Turtle Waffle, with chocolate, caramel, and pecans, is awesome! Find an extensive coffee, breakfast, and lunch menu (with kids' options) in addition to a retail shop with books, stationery, and even baby items. With indoor and outdoor seating, this local shop also serves Jeni's Splendid Ice Cream, cookies, and croissants.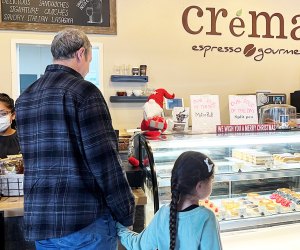 There's no shortage of tasty items kids will love at Crema Espresso Gourmet.
Look no further than Crema Espresso Gourmet for a visit with kids, especially after a visit to the Dunwoody Nature Center. In addition to coffee, smoothies, hot chocolate, and Italian soda, this coffee shop offers hot breakfast. Lunch items include a selection of quiches, soups, and salads, as well as a kids' menu. The inside dining area is child-friendly with available high chairs, as well as an outdoor area with brightly-painted picnic tables.

Dancing Goats Coffee at Ponce City Market offers lots of space for kids to spread out.
Parents love the convenience of Dancing Goats' flagship location to Ponce City Market and the Atlanta BeltLine, as well as the expansive, screened patio perfect for kids. Roasting its own ethically sourced coffee (formerly Batdorf and Bronson), the coffee bar sells coffee, tea, Italian soda, hot chocolate, and pastries. Park in the dedicated lot for thirty minutes of complimentary parking. Additionally, the Buckhead, Decatur, and Midtown locations all feature indoor seating and dog-friendly patios.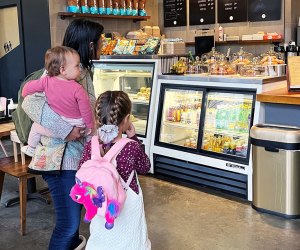 Families can enjoy Drip Coffee Shop together, with offerings like fruit smoothies, pastries, and more treats.
Not too far from Zoo Atlanta, Drip Coffee Bar resides in the 28-acre walkable Glenwood Park neighborhood. With both indoor and outdoor seating, the shop serves coffee, hot chocolate, and smoothies in addition to breakfast and lunch sandwiches. If your kids need to stretch their legs, take them to the green space across the street or walk over a block to the soon-to-be-completed Southside Trail of the Atlanta BeltLine.
After visiting Stone Mountain Park, head to Gilly Brew Bar for a cuppa made from local small-batch roaster Firelight Coffee. Try the seasonal elixirs–coffee or tea concoctions with added herbs and syrups– which co-founder Daniel Brown credits with fighting off his childhood asthma. Located in the Historic Mayor's House, customers can sit in one of the cozy rooms or the sunroom upstairs. On a pretty day, kids will want to swing on the outdoor hammock chairs.
If you find yourself in the eclectic East Atlanta Village, be sure to stop at Joe's. This neighborhood staple sells coffee beverages made from socially responsible Intelligentsia Coffee and baked goods from local vendors. Hip music and vibrant artwork on the walls (and ceiling!) make this a fun spot for kids and parents to hang out. Outdoor seating provides an alternative for wiggly kids.
Stop by Land of a Thousand Hills after visiting the Chattahoochee Nature Center or hiking along the Roswell Riverwalk. Quaintly located on top of a grassy hill dotted with picnic tables, the Roswell shop offers plentiful seating inside and out. While you get your caffeine jolt from the Rwandan-sourced coffee, kids can enjoy hot chocolate milk, apple cider, and lemonade while playing board games located in the front. Other locations exist in Midtown, Downtown, and Old Fourth Ward.
Kennesaw's newest coffee shop opened in the historic district. Stop here after hiking Kennesaw Mountain or visiting the Southern Museum of Civil War and Locomotive History. After getting your cup of java and a bakery item, settle in by the fireplace or upstairs. In warm weather, let the kids order a Hot Chocolate Freeze or smoothie and watch them play corn hole and bocci ball in the large, dog-friendly outdoor area, complete with Adirondack chairs, benches, picnic tables, and a fire pit.
Located just a few miles west of Battery Atlanta, Rev Coffee roasts its own beans at this former garage. In addition to coffee, tea, and smoothies, Rev offers a full menu of sandwiches and pastries. On Tuesdays, all tea (hot or iced) is priced half-off after 3pm. The music is loud enough in this large space that nobody will look down on you for bringing children. You can also sit at the outdoor tables. Take an Instagram-worthy pic of your kids in front of the painted mural on the side of the building.
A trip to Ponce City Market is always a home run with Skyline Park. If you need caffeine after all that activity, head to Spiller Park Coffee. Named after Atlanta's first baseball field, this coffee shop (within the foo hall) pays homage to baseball with quotes by Hank Aaron and Yogi Berra. If you're hungry, order the Avocado Toast that put Spiller Park on the map. Spiller Park Coffee operates two additional locations with outdoor seating at Toco Hills and Westside.
Explore downtown Alpharetta and stop by Valor Coffee, offering ethically-sourced coffee and scrumptious treats. Favorite caffeine beverages include the Lavender Vanilla Latte and Nitro Oat Lav Latte. All syrups are made in-house and are vegan. With plenty of indoor and outdoor seating, you'll want to sit for a spell. The coffee shop's fun-loving staff and disco balI will make customers of all ages feel comfortable!
Kids will feel right at home inside this coffee shop offering board games and a mini library. In addition to serving locally roasted Dancing Goats coffee, Waller's makes its own delicious scones, biscuits, muffins, and sandwiches. The highlight is Waller's Outer Space —a one-acre area outside the coffee shop with plenty of shady sitting areas, hammock, an outdoor stage for music events, and a fire pit.
All photos by the author