Extreme Sports and More Thrilling Activities for Kids in Atlanta: Go-Karts, Axe Throwing, and More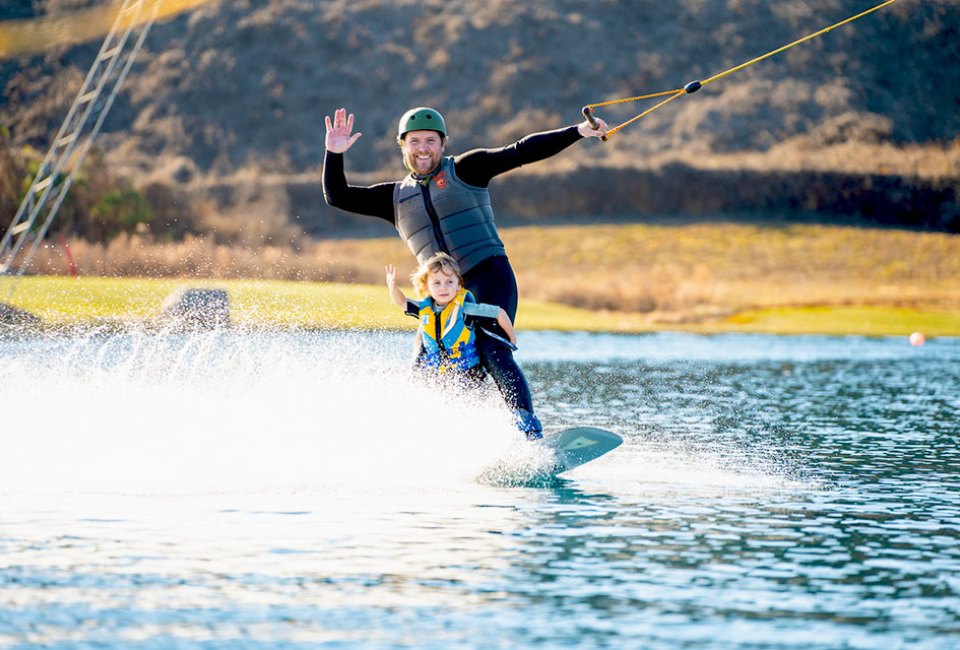 8/11/23
- By
Rebecca Ruffin Leffler
Extreme kids crave extreme sports! If you find your kids getting bored during typical family outings, maybe it's time to up the ante. Atlanta is full of extreme sports for kids; age-appropriate activities guaranteed to satisfy all the thrill seekers in your family. Let kids test their limits with our list of extreme sports and activities in Atlanta—go-karts, axe throwing, rock climbing, indoor skydiving, wakeboarding, and more!
For more fun activities in Atlanta, check out 100 Best Things to Do in Atlanta with Kids Before They Grow Up. And stay in the know about upcoming activities when you sign up for our free Mommy Poppins newsletters delivered straight to your inbox!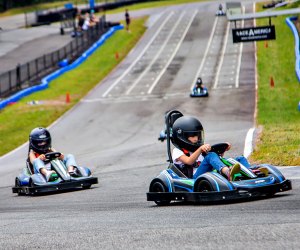 Enjoy the thrill of the chase at Atlanta Motorsports Park (AMP). Photo courtesy of AMP
Extreme Sports and Activities for Kids in Atlanta: On the Ground
Go-Karts
Atlanta Motorsports Park (AMP): The ultimate outdoor go-kart experience for kids and teens. Kids 12 and up can drive gas-powered karts up to 55 mph, while kids ages 5-11 can drive junior electric karts up to 15 mph on a separate track. Enroll in the all-day Kart Racing School (ages 12 and up) or the two-hour Junior Discovery Experience (ages 5-11). AMP hosts a monthly race series for kids 5 and up who own their own kart.
K1 Speed Atlanta: If you'd rather not worry about the weather, kids 48 inches and taller can try indoor karting. For an added challenge, the facility features glo-karting with LED lights every Friday from 5pm-midnight.
Andretti Indoor Karting: For kids 36 inches or taller, also offers two-story laser tag and a 7D experience.
Race Cars
If older teens (who have a valid driver's license) have a need for speed, book the NASCAR Racing Experience for an epic ride-along with a professional driver at Atlanta Motor Speedway. For an extra splurge, sign up for a timed racing session without an instructor.
Skateboard
Perfect for beginners, as well as expert skateboarders, the 27,000-square-foot Brook Run Skatepark provides tons of thrills with skate bowls, ledges, stairs, and rails. You can also book lessons, summer camp, or even a birthday party with Dunwoody Skateboarding, located inside the park. Also worth mentioning is Historic Fourth Ward Skate Park, also free and lighted at night, on the Atlanta BeltLine.
RELATED: Make a Beeline to the Atlanta Beltline with Kids
Segway
Cruise around popular Atlanta tourist spots on a Segway. ATL-Cruzers offers a 2.5-hour Segway tour of Midtown or Eastside Atlanta for people ages 14 and up.
Mountain Bike
Get the adrenaline pumping on a mountain bike trail with jumps and other tricks. Novices can sign up for the Introduction to Mountain Biking course offered by REI, which includes gear. After spending the first half of the five-hour class learning the basics, you'll hit the trails at Blankets Creek in Canton. Kids ages 14-17 must participate with a registered adult.
Trampoline
Jump out energy off at one of these great trampoline parks in Atlanta, especially great for younger kids. Many trampoline parks include dodgeball and obstacle courses, while Xtreme Hopp in Johns Creek also offers paintball and more!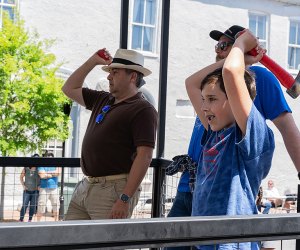 Experience the thrill of throwing an axe at a wooden target (not younger siblings!) at American Axes.
Axe Throwing
Gaining popularity in recent years, axe throwing is a fun way to relieve stress AND develop core muscle strength. Reserve a lane for up to six people at one of three Atlanta locations of American Axes. A coach demonstrates basic techniques and supervises the entire visit. Kids between 12-17 must have an accompanying parent or guardian.
Ninja Warrior & Parkour
Run, leap, and roll around obstacles at awesome Ninja warrior gyms and parkour courses in Atlanta. Originating in France, parkour is a fast-growing sport providing mental stimulation as well as physical stamina – a win-win for kids seeking a challenge. Note: Many gymnastics facilities now offer ninja classes and courses.
RELATED: Ninja Warrior Gyms and Parkour for Atlanta Kids and Teens
Paintball
Nothing gets the adrenaline pumping more than a game of tag with obstacles, bunkers, and paintball guns. Paintball Atlanta offers six refereed outdoor courses and equipment rental for kids ages 10 and up. Let kids choose either regular paintball or low-impact (AKA less painful) options.
Extreme Escape Room
Taking the fun of an escape room to a whole new level, Beat the Bomb requires physical agility and quick-thinking skills in a one-hour mission experience. Wearing hazmat suits, your group dodges obstacles, recreates light and sound patterns, and cracks codes – all in an effort to beat the impending explosion of the paint bomb.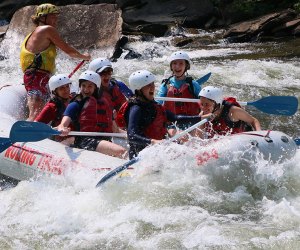 Challenge yourself to a whitewater rafting trip with Rolling Thunder River Company. Photo courtesy of the company
Extreme Sports and Activities for Kids in Atlanta: In the Water
Whitewater Raft
Whitewater rafting on Class III and IV rapids of the Ocoee River, made famous during the 1996 Olympics, provides a feeling of excitement for kids ages 12 and up. Rolling Thunder River Company near Blue Ridge provides half-day and full-day tours of the Ocoee with a certified guide. For families with younger kids/beginners, look at Whitewater Express in Columbus. The two-hour trip on the Chattahoochee River covers calmer Class I and II rapids.
Wakeboard and Waterski
You don't have to purchase a boat if your kids love wakeboarding, knee boarding, and water skiing. Head to Terminus Wakepark where kids ages 5 and up can experience cable sports on two lakes: one for beginners and one for experts. Tamer kids who love the water can play at the aqua park: an inflatable playground with obstacles, trampolines, slides, and more.
RELATED: Dive Into Atlanta Indoor Pools and Water Parks
Tubing
Kids love tubing down the Chattahoochee River that runs right through Atlanta. At Nantahala Outdoor Center (NOC), families can rent tubes for anyone age 5 and up for the 3-mile water journey from Powers Island to Paces Mill Park. Equipment, including life jackets required to be worn by those 13 and under, and a shuttle ride are included in the price. You can also rent kayaks for kids 8 and up and stand-up paddle boards (SUP) for kids 11 and up at NOC's Roswell Outpost.
During the summer months, cool off and feel the adrenaline surge before splashing into the water awesome Atlanta water parks.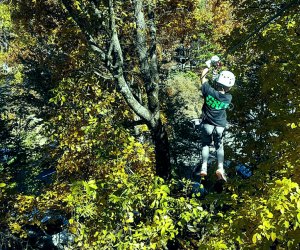 Fly through the air at Screaming Eagle Adventures in Amicalola Falls State Park. Photo courtesy of the park
Extreme Sports and Activities for Kids in Atlanta: In the Air
Zip from tree to tree like Tarzan at one of these challenging Atlanta zipline spots. No matter the weather, our list encompasses indoor spots and ropes courses as well. Many of these venues offer additional thrilling activities such as laser tag and go-karting.
Biplane Rides
Ride in an open-air cockpit over downtown Atlanta, Lake Lanier, or Stone Mountain with biplane rides over Atlanta. Trips for up to two passengers depart from Peachtree-Dekalb Airport and children ages 2 and older must have their own seat.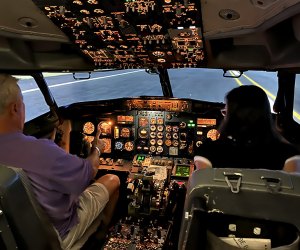 Take to the virtual skies in a Delta flight simulation at the Delta Flight Museum. Photo by the author
Flight Simulator
If your teen dreams of taking to the skies, book a 60-minute flight simulator session at the Delta Flight Museum. Used to train actual pilots for years, this retired Boeing 737 flight simulator allows up to four people to take off and land at airports all around the globe. Even with a trained Delta pilot assisting in the cockpit, you may find the hardest part is taxiing the jet to the runway!
Indoor Skydiving
Experience the thrill of skydiving at iFly Indoor Skydiving. Participants ages 3 and up will attend a brief training session, don a flight suit, and fly inside a column of air with an instructor. If your kids take a shine to it, enroll them in flight school or book a birthday party.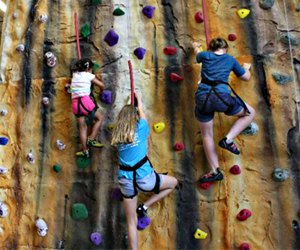 Take part in a class or free climb at Stone Summit Atlanta. Photo courtesy of Stone Summit
Indoor Rock Climbing
Climb to new heights and gain confidence at Stone Summit Climbing. With multiple locations around Atlanta, kids as young as age 4 can experience this new Olympic sport. The facilities offers classes, summer camps, climbing clubs, and birthday parties. Kids 12 and older can try bouldering, a form of free climbing without ropes or harnesses.
RELATED: 14 Best Indoor Playground Spaces for Kids in Atlanta
Roller Coaster Racing
Try out the new KID FLASH Cosmic Coaster at Six Flags Over Georgia. Complete with immersive LED lighting, the single-rail coaster (the first ever!) features two trains on separate tracks racing to the finish line. If that's not enough, the 290-acre park offers thrill rides for kids of all ages, food, and shows.
Click Here to Sign Up!
i