Ninja Warrior Gyms and Parkour for Atlanta Kids and Teens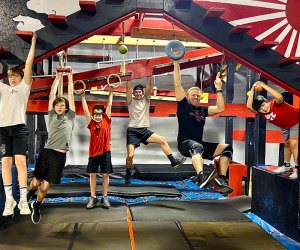 2/17/23
- By
Rachel Foster
These Atlanta ninja warrior gyms and parkour classes are the perfect activities to help kids and tweens build strength, improve coordination, and unleash oodles of energy. The best part is that your budding athlete—with skills anywhere from beginner to advanced—is too busy smiling to realize they're building the kind of confidence that lasts a lifetime!
We've found the best family-friendly programs in the Atlanta area that will get everyone moving with ninja-like agility and parkour prowess. These destinations offer classes, open play, obstacle courses, camps, and special events. And anyone from toddlers to parents (and even grandparents) can take part.
You can find more fun stuff to do for active families in our Guide to Indoor Playgrounds and Play Spaces in Atlanta.
Subscribe to our newsletters and be the first to know about family-friendly activities in the Atlanta area.
Top Ninja Warrior Gyms and Parkour Fun for Kids in Atlanta
Enjoy classes, open gym sessions, skill clinics, parties, and competitions. Participants range in age from 5-99. Ninjakour has replicated many of the obstacles seen on the popular television show, American Ninja Warriors. Skilled instructors share tips to help athletes of any fitness level sharpen their skills in no time. New students can book a free trial class.
Experience the perfect mix of martial arts, parkour, imagination, strength-building, and problem-solving. Ninja classes are available for ages 3-8. Other activities include gymnastics, open play, kids' night out, camps, birthday parties, and story time. Trained coaches and lesson plans get everyone moving, laughing, and wanting more!
RELATED: Zipping Across the Best Atlanta Ziplines and Ropes Courses
Atlanta Parkour instructors teach athletes, ranging in age from 7-60, how to improve parkour skills while getting fit. This program uses parkour as a tool to encourage focus, respect, and decision-making. Class options are available for fundamental, intermediate, and advanced students. Atlanta Parkour offers a family class that will get your entire tribe moving!
This family entertainment center features a trampoline court, parkour elements, and a massive ninja warrior obstacle course. General admission tickets give you access to all of the attractions, including foam pits, balance beams, climbing walls, slides, and zip lines.

Kids can climb, jump, and fly into action at Ninja Fit.
Ninja Fit programs build strength, speed, and agility while encouraging family fun. Activities include daily open play, classes for ages 2 and up, obstacle course racing, group outings, parent exercise memberships, homeschool opportunities, and parties. Plus, Ninja Fit is open for drop-off camp during spring break (minimum camp age is 4).

Scale the treetops of Stone Mountain Park atop SkyHike, a fun ropes course open during the warmer months.
Stone Mountain Park has one of the nation's largest adventure courses! Participants choose between beginner courses or more daunting challenges. Wooden bridges, rope balance obstacles, and climbing nets create a unique outdoor experience. Hikers must be a minimum of 44 inches tall, and children under the age of 16 require adult supervision.
Take your little Spiderman-in-the-making to The Peach Pit for ninja courses for ages 3-9. The Ninja Warrior classes are organized by three age groups: mini (ages 3-5) as well as beginner and intermediate levels. Other popular classes include gymnastics, tumbling, cheer, dance, and aerial skills.
Head to Suwanee for leaping, free-running, tumbling, and lots of fun at Leap Parkour Gym. One of the cool highlights of this Atlanta parkour gym is that the facility changes the environment every six months, so students are constantly challenged. In addition to classes, Leap Parkour offers camps and birthday parties.
Photos courtesy of gyms and venues