Sacramento with Kids: 50 Surprising and Fun Things To Do in Sacramento, California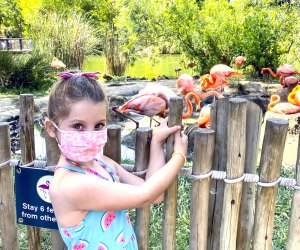 This once sleepy capital city has been revitalized over the last few years, and there are many family-friendly activities and things to do in Sacramento. If it's been a while since your last visit, it's definitely time to make another trip! The state capital is often overlooked as the halfway point between the Bay Area and Lake Tahoe. While Sacramento is certainly a great midway point for younger travelers to stretch their legs, it has enough attractions and activities to be a final destination all on its own. Whether you seek to taste your way through the epicenter of Farm-to-Fork living at a delicious restaurant, beat the heat in a museum or local swimming hole, or explore the many miles of trails in the foothills, you are guaranteed to find something for everyone in the family.
For more California adventures, check out our California Family Travel Guide. It's packed with family fun from 25 Epic California Family Road Trip Adventures to 100 Things To Do With Kids in California Before They Grow Up—and so much more.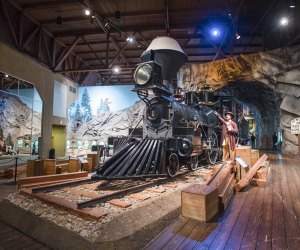 Learn about the transportation that built this city. Photo courtesy of the California State Railroad Museum
Best Museums in Sacramento for Families
It's no surprise that a city with as much history as Sacramento has so many great museums to choose from.
The Capitol building is open to the public and is full of history. The grounds are a state park, so be sure to save time to explore outside as well.
An ode to the transportation that built the city! Perfect for children, with plenty of history to interest older kids and adults, too.
Sutter's Fort is the first European settlement in the Central Valley, and the indigenous home of the Nisenan people. Take a self-guided tour to learn more about the site's complicated history, as well as its link to the Gold Rush.
RELATED: Fun Things To Do in Santa Cruz With Kids

There are plenty of kid-friendly programs at the Crocker Art Museum. Photo courtesy of the museum
Explore the collections and exhibits with teens, or check out the kid-friendly offerings, including a program designed specifically for neurodiverse children.
This relatively new museum is the place for hands-on science exploration and guaranteed fun for all ages. Perfect for a rainy day, or a hot summer afternoon.
If you've got a car lover in the family, visiting the California Automobile Museum is a necessity.
Discover more about flight and space exploration. You can even try out a professional flight simulator!
Need a place just for the little ones? This is the spot for early walkers, toddlers, and preschoolers.
RELATED: Epic California Road Trip Ideas

Enjoy art and nature at the UC Davis Arboretum. Photo courtesy of the author
Best Things To Do in Sacramento with Kids Outdoors
From rivers to foothills, Sacramento has much to offer those looking to get their families outside.
Just south of Sacramento you'll find the UC Davis Arboretum. This 100-acre public garden is a fun mix of riparian creek reserve, native species garden, and public art.
The hatchery raises Chinook salmon and steelhead, and if you visit from mid-July to late October you can see the fish jump the ladder to spawn.
When you're done at the hatchery, explore a portion of the American River Parkway Trail. It stretches along the American River from Folsom to Sacramento, making it a popular spot for cyclists.
Located on the State Capitol grounds, this rose garden boasts over 140 varieties of roses, making it the perfect picture spot.
This 100-acre property is home to a visitor center, 30 resident non-releasable animals, riparian and oak woodlands, and access to the river.
Sacramento is often called the River City, and it's easy to see why. Explore the flora and fauna of the Cosumnes River from land or on the water.
The Sacramento Valley is the most important wintering habitat for waterfowl along the Pacific Flyway, and the Yolo Bypass is the best place to observe them.
RELATED: Best California Family Vacation Ideas Kids Love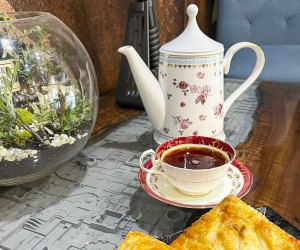 Feel like you've been transported to the shire! Photo courtesy of There and Back Cafe
Top Attractions in Sacramento Where Families Can Beat the Heat
Sacramento is no stranger to triple-digit heat in the summer months. Here are the best places to keep cool!
Order a Shire-cuterie Board and play your favorite board game at this Lord of the Rings-inspired cafe.
Find a beach spot along the river, rent a kayak, or take a water sport lesson.
The perfect place to cool off in the summer, whether you're on the shore or in a boat! Coming to Sacramento in the winter? There are miles of trails surrounding the lake, and a super bloom of lupines in the spring.
This new complex offers a beach entry splash pool with a play structure, a 25-yard recreational pool, and a 50-meter competition pool with diving boards.
If you are looking for something on land, Busy Kids (with locations in Folsom and Roseville) is a kid-friendly coffee shop with an interactive play town designed to emulate a real city.
This family-owned bookstore and cafe in Elk Grove offers a diverse selection of books and community events such as story time, mindfulness workshops, and a Teen Council to help teens develop leadership skills.
With over twelve different water slides, a lazy river, and a wave pool (not to mention the arcade, laser tag, and go-karts), there is no shortage of entertainment for all ages here.
RELATED: Visiting Yosemite National Park With Kids

Find the street art with Wide Open Walls. Photo courtesy of ​Visit Sacramento
Best Arts & Theater in Sacramento for Kids
Sacramento is home to a thriving art community, including both visual and performing arts.
What began as a mural festival in 2016 has quickly grown into beautiful street art throughout Downtown Sacramento. Make a list of your favorites on the website and spend an afternoon walking through the city to find them all!
This unique art studio is designed specifically for children and allows them to take part in the art process. Hint: wear clothes you don't mind getting messy!
The home to Broadway Sacramento, concerts, comedy shows, and more. Ideal for older children to teens.
If you've got younger kids, but still want to expose them to live theater, Roseville Theatre Arts Academy has children's productions. If you're local, have your little one join the company and star in a production!
If you've ever driven through Sacramento on I-80, you've probably wondered, "What's that big red thing?" Walk along the Miners Ravine trail to the sculpture park to find out!
RELATED: Top San Francisco Restaurants Where Kids Can Play While Parents Eat

Catch a game of up-and-comers or rehabbing MLB stars at a Sacramento River Cats game. Photo courtesy of mlb.com
Root for the Home Team: Sacramento Sports for Families
If you are a sports family, Sacramento has a lot to offer!
The San Francisco Giants Triple-A affiliate team, the River Cats, call Sacramento home. With a play area in center field, fireworks on Friday nights, and Sunday Funday where kids can run the bases, it's the perfect (inexpensive) family outing.
Catch a Kings basketball game (or a concert!) right in the heart of the city.
It might be the newest team to the area, but the city has taken to the Sac Republic quickly! Join in the excitement and catch a game.

Zip lines and aerial adventures await at Quarry Park. Photo courtesy of Quarry Park
Things To Do in Sacramento if You Want an Adrenaline Rush
Do you have older kids who are looking for something a little more adventurous? These high-energy activities are perfect!
Zip line through a 160-year-old granite quarry in Rocklin! There is a play area for younger kids, but the zip line, rappelling, rock climbing, and aerial adventures have specific weight and age requirements—so please check before you head out.
Home to 10,000 square feet of indoor boulder climbing terrain! There is also a climbing area for younger thrill seekers too.
These pedal-powered vehicles ride directly on the train tracks, giving you a whole new view of Sacramento.
Your family has 60 minutes to work through different missions including a haunted train and a vault.
Looking for something you've never done before? How about axe throwing? Smart Axe has several locations in the Greater Sacramento area and welcomes kids 12 and up.

Take a step back in time at the Old Sacramento Waterfront. Photo courtesy of @oldsac, Instagram
Favorite Sacramento Attractions in the Heart of the City
Sacramento may not be the biggest city in California, but with lots of skyscrapers and plenty of hustle and bustle, you will definitely still get a metropolitan feel.
This national historic landmark gives you a peek into what life was like when Sacramento was founded. Horse-drawn carriages, boardwalk sidewalks, and cobblestone streets transport you back to the Gold Rush days.
This is also known as the M Street Bridge. No matter what you call it, it's hard to pass up a walk across this gilded drawbridge!
This year-round farmers market spans several blocks in the city's Midtown neighborhood.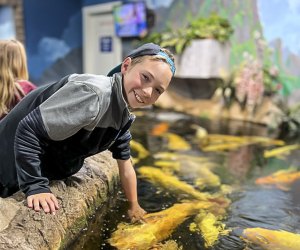 Sea Quest is an awesome aquarium with amazing animal interactions. Photo courtesy of Sea Quest
Best Things To Do in Sacramento with Animal-Loving Kids
This is a unique place to explore aquatic life.
This zoo is on the smaller side, which makes it great for younger children. Don't forget to save time to ride the train and carousel.
This quaint zoo is home to rescued animals that cannot be released back into the wild. If you're visiting in December, try and snag tickets for the Wild Nights and Holiday Lights program.

This restaurant has a view (and fabulous food). Photo courtesy of the Rio City Cafe
Farm to Fork Capital: Farms and Restaurants in Sacramento for Kids
Agriculture has long been a part of Sacramento's identity. Taste the bounty of the region with these fun excursions!
Taste and see why Sacramento has the nickname "Farm-to-Fork Capital" at this farm-to-fork certified restaurant with a view.
The beer might be for the 21+ crowd, but the fire pits, food trucks, live music, movie nights, and open meadow are for everyone in the family.
Pick your own seasonal crops and learn more about how the produce we eat is grown and harvested at this family-owned farm.
Kids can tour the working farm and feed the goats while the adults sample the beer made on site. Pack a lunch, or get the food truck schedule and make a day of it!
Apple Hill isn't just for fall anymore! While that still may be the best time of year to go and enjoy all the apple treats and pumpkin patches, it also offers Christmas tree farms in the winter, blueberries in the summer, several wineries and breweries year-round, and much more!
Book a tour of this family-owned land and cattle ranch.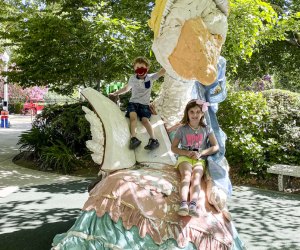 Fairytale Town is a favorite for local families. Photo courtesy of the author
Nostalgic Activities in Sacramento
This fully fenced, heavily shaded playground has been a Sacramento favorite for young families for over 60 years. For a nominal admission fee, your little ones can walk the Crooked Mile, explore King Arthur's Castle, and even see a few storybook animals.
Funderland is perfect for the 48" and under crowd and is celebrating its 76th birthday!
This budget-friendly activity is a fun new way for kids to watch a movie, and perhaps invoke a bit of nostalgia for parents.