Safari West: Glamping in the Sonoma Serengeti
10/20/23
- By
Nicole Findlay
Safari West is known as the "Sonoma Serengeti." Home to nearly 1,000 wild animals, the gorgeous 400-acre preserve is so stunning that families won't want to leave. A three-hour African-style safari is the highlight at Safari West to see zebras, giraffes, rhinos, gazelles, and more before dining on-site and sleeping in a private luxury tent. Simply put, Safari West has everything a family needs for a unique glamping experience.
Families will love the large tents, comfortable beds, and private bathrooms that make glamping much fancier and more convenient than camping. Safari West is well worth the short drive from San Francisco for an unforgettable adventure in the middle of wine country.
For more things to do with kids in wine country, check out the best kid-friendly wineries in Napa and Sonoma, discover the best day trips from San Francisco, and pack up the car and get ideas for more one-of-a-kind experiences in our Weekend Getaway Guide and Day Trips for San Francisco.
Getting to Safari West

Go on a safari in the middle of wine country.
Safari West is a short drive from San Francisco, only 75 miles away. Although the distance is short at only about an hour's drive, it can be longer due to traffic. Safari West is located at Franz Valley Road.
Glamping Beats Camping
Spending time with loved ones in the great outdoors is always a great time. Where else can families stargaze, tell stories around the campfire, roast s'mores, cuddle to keep warm in tents, and learn to widdle wood? Camping with kids, though, comes with its own set of challenges. Parents often take the brunt of setting up, cooking, and cleaning up. Nights can get chilly, and tents don't come with toilets.
Glamping, on the other hand, comes with minimal preparation, especially at Safari West. Families don't lose the wonder of slowing down and spending time with family outside. There's still adventure, exploring nature, admiring wildlife, and unplugging from phones, Wi-Fi, and work. There are ample opportunities for books, games, and fun family chats. With a nice bed, cozy sheets, a ceiling fan in summer, a space heater in winter, and a private bathroom (including a shower!), glamping is like camping—only easier.
Glamping Adventures in Northern California's Wine Country
RELATED: Best Kid-Friendly Wineries in Napa, Sonoma, and the San Francisco Bay Area

Glamp amongst the animals.
The large and luxurious canvas tents at Safari West are imported from Botswana. The canvas is not soundproof, so expect to hear unique animal sounds (like cranes, ostriches, and noisy lemurs) while falling asleep. Little ones will love trying to guess what they hear!
Tents sit on stilts and blend seamlessly into the landscape. Each tent includes a private deck with an umbrella, wooden table, and chairs. There's also a private bathroom with a shower, beautiful beds, nightstands, and electrical outlets. The interior décor is full of colorful artwork, masks, and sculptures. Most furniture gets built from salvaged wood on the property. For example, Safari West creatively used nearby fallen logs to make doors, tables, and headboards.
One thing to note is that you cannot drive up to your tent. Safari West staff will take you and your luggage to your glamping accommodations.
What Makes Glamping at Safari West so Special?
RELATED: Things To Do in Lake Tahoe with Kids

A rural setting has tents on stilts.
Education and conservation are fundamental to the mission at Safari West. They hope every person will leave a little wiser and more passionate about wildlife, and after seeing their beautiful animals, friendly tour guides, and lovely scenery — this proves inevitable. Staying the night at Safari West is quite different from camping or staying in a typical hotel. The conditions are close to a natural habitat in Africa, and kids' faces light up when they spot their favorite species or hear noises from on-site animals.
The Safari
RELATED: Oakland with Kids: Best Things To Do in Oakland, CA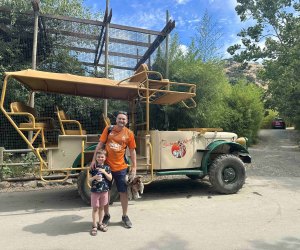 A three-hour safari is the highlight of the whole Safari West experience.
If there is one activity to do during your visit, it's the African safari. The guided tour is approximately three hours long. It includes roughly two hours of driving in an open-air vehicle covering several hundred acres and one hour of walking around the base of the property.
During the driving portion, families can expect to see zebras, giraffes, gazelles, rhinos, ostriches, and lots more, depending on which animals make an appearance. During the walking portion of the tour, expect to spot monkeys, cheetahs, the smallest fox in the world, colorful bird aviaries, hyenas, and much more!
Families will learn about the animals, the origins of Safari West, and general global conservation concepts while on the tour. One fun option for kids and parents alike, is sitting on the vehicles' top level. There's room for four people, and the views are spectacular. Like accommodations and dining, reservations are required for a safari.
Note: Children must be at least four years old to go on the safari tour. The height requirement to sit on the upper level of the open-air vehicle is 45 inches. Children under 15 years old must be accompanied by an adult.
Dining at Safari West
RELATED: Best Day Trips from San Francisco with Kids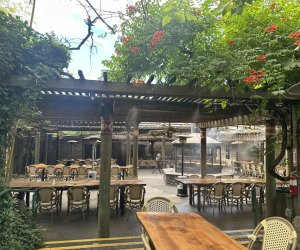 Enjoy a classic African style Braai meal.
Breakfast, lunch, and dinner are available at Safari West. Breakfast is complimentary for those staying the night. It's served continental style from 7am to 10am in the Savannah Café. Expect pastries, toast, cereals, fresh fruit, eggs, and oatmeal.
Lunch and dinner are reservation-only and reminiscent of a classic African style Braai. A Braai focuses on outdoor grilling, heaps of good food, and community coming together. While menus change, a sample dinner menu often includes fresh fruit, barbeque chicken and ribs, salad, mac and cheese, and dessert. Cocktails, beer, and wine from South Africa and Sonoma County are also available. Prices for lunch and dinner vary. Children under four eat free.
To refuel between meals, head to Delilah's Snack Bar. It's the perfect place to grab a snack and go, and there is plenty of outdoor seating for families to snack and watch wildlife. The snack bar offers a wide variety of options that include crackers, cheese and salami, ice cream bars, fruit, chips, cold and hot drinks, and much more.
RELATED: Yosemite: A Kid-Friendly Getaway to California's Favorite National Park

Giraffes and other animals create a memorable Safari West experience.
Tips to Know Before You Go
Leave your porch light on before heading down to dinner or when exploring the property in the evening. Safari West is dark, and families might need a little help finding their way back to their tents
The gardens and grounds are beautiful, but be sure to stay on the paths and do not touch creatures or plants. Poison Oak is nearby, and rattlesnakes (among other snakes) have been spotted.
Kids will want to save their pennies to purchase goods in the souvenir shop. It's large and has everything from toys and books to authentic African art, jewelry, games, gemstones, and much more.
Phone and Internet Access: AT&T has coverage at Safari West. Wi-Fi is available in the Savannah Café, Front Desk, and the Antelope Alley Tent Cabins.
Lunch and dinner are not included with overnight stays. Meal reservations must be made 48 hours before arrival.
Pets are not allowed at Safari West.
The standard occupancy for tents is up to four adults.
If staying the night at Safari West, check-in time is 3pm, and check-out time is 11am.
All photos taken by the author, Nicole Findlay
Places featured in this article:
Sign up for the Mommy Poppins Newsletter today!