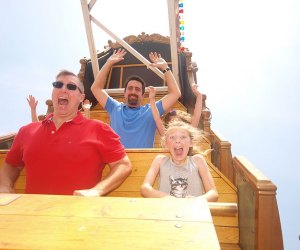 Connecticut Reopening a Slew of Family Attractions As Phase 2 Begins
Connecticut is getting ready to open a slew of family entertainment venues for Phase 2 of Reopen Connecticut. In addition to beaches, parks, campgrounds, and summer camps, there is big news about amusement parks, pools, movie theaters, and other indoor recreation preparing to welcome guests again. The Governor has announced that many of these venues can reopen in time for Father's Day weekend. Connecticut businesses are still deciding when and how to open, but there are several safety measures you can expect across the board, including face coverings, limited capacity, and enforced social distance guidelines. Many venues are anticipating advance registration requirements or reservations as well as contactless payment.
Read on for the latest reopenings in Connecticut.
CT Theme Parks and Fun Zones Opening
Connecticut's outdoor amusement parks will be allowed to open at 25% capacity this summer. Parking lots will be requiring cars to spread out to at least every other parking space to encourage social distancing. Many parks will require guests to pre-order tickets online to avoid crowds forming at park entrance. Inside the park, rides will have empty rows, lines will be rearranged, and safe distancing guidelines will be enforced between guests. Also, guests will be required to wear face coverings as they walk around the park and while on rides.
Quassy Amusement Park is the only major theme park so far with a definite opening date (June 20, 2020), but others are likely to follow suit shortly.
Swimming Pools Opening on June 17
Connecticut pool clubs, public swimming pools, and recreational pools are also being given the green light to open, but most will be limiting access either by operating at 50% capacity, limiting admission to members only, and/or requiring visitors to reserve a time slot to have fun in the water. To limit time in changing rooms, guests will be asked to arrive in swimsuits and shower prior to arriving. Swim lessons will also be limited to older children who do not require physical contact, and there will be no access to communal items such as pool toys, goggles, or kickboards. Cloth face coverings will be required throughout the pool facility, but will not be required while swimming.
Individual swimming pool facilities are adapting for these requirements as promptly as they can; check with local pools to see how close to June 17 they will open.
See our favorite Hartford swimming pools or Fairfield area swimming pools.
Movie Theaters and Other Indoor Entertainment Opening
Phase 2 also allows movie theaters, bowling alleys, arcades, ice skating, and other indoor venues to reopen, as of June 17. These entertainment venues must follow state guidelines, including 50% capacity and strict cleaning guidelines. Check with individual facilities to confirm opening dates.
RELATED: Connecticut Camp Guide 2020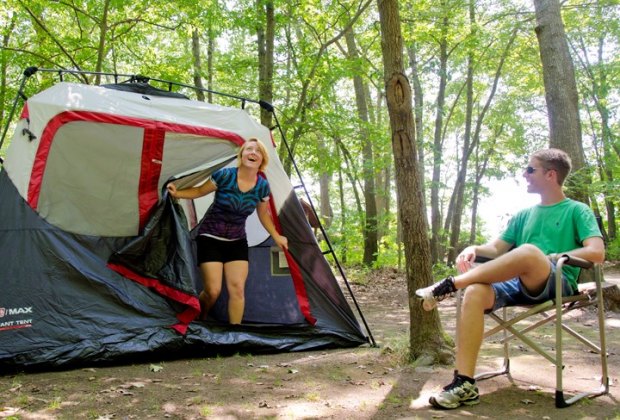 Camping is back for the season! Photo courtesy of KOA
Campgrounds Open in CT for Summer 2020
State Park and Forest campgrounds begin opening on July 1st to campers who have RVs with functioning bathroom and water systems. Many of the state's private campgrounds, however, are already welcoming RVers and a limited number of tent campers as well. The Mystic KOA is open for camping, for example, as is Nelson's Family Campground in East Hampton. Most community features and activities at these campgrounds have been canceled until further notice, and amenities are limited.
Connecticut Summer Camps Opening
Summer camp will look a little bit different this year, but day camps are allowed to open for the summer beginning on June 22, 2020.
Camps must meet all of the health and safety guidelines set forth by the state, of course. Campers can expect smaller groups, enhanced health screenings, face-masked counselors, and a change in regularly scheduled activities. For more information about specific camps opening in 2020, both in person and virtually, attend the free Mommy Poppins Online Camp Fair.
Museums, Aquariums, and Zoos Open in CT
We've been enjoying the outdoor exhibits at many of Connecticut's zoos, museums, and aquariums. Starting June 17, guests will be able to head inside, too. Visitors may notice limited interactive features, contactless payment, and visual social distance markers throughout exhibits.
Note that Connecticut's Beardsley Zoo has already opened as of June 1, 2020.

Mansfield Drive-In screens a trio of films nightly. Photo by Levin Aerial Works courtesy of Discover Mansfield
Drive-In Theaters Open in Connecticut
Old fashioned drive-in theaters have made a big comeback in 2020. In addition to several pop-up drive-in events, there are currently two drive-in movie theaters open for summer 2020 in the Nutmeg State. (At this time, the Southington Drive-In is not opening for the season.)
CT Pick-Your-Own Farms Open in 2020
Traditionally, strawberry picking kicks off at the beginning of June. Although many of the farms have not yet formally announced their plans to reopen, the governor has declared that PYO farms are essential to the local community. Many of these farms are figuring out how to incorporate new safety procedures into their experience, so stay tuned for more information to be released later this week.
Beaches and State Parks Open in Connecticut
State Beaches and Parks have been and will continue to be open for everyone to get out of the house and enjoy a little fresh air, with few exceptions; at this time, Kent Falls State Park and Seaside State Park remain closed for the duration of the public health emergency. State parks on the coast will allow beach swimming, but state parks with inland lakes will prohibit swimming this summer.
Many state parks are limiting the number of guests allowed into the park at any given time. For the best way to stay up to date on park closures, follow @CTStateParks on Twitter. Public restrooms will be closed at most state parks, and so will most observation towers, museums, and picnic areas.
Many town-run Connecticut beaches are opening for the season as well. In addition to decreasing the parking capacity, several towns are also limiting the number of non-residents allowed to access beaches. Your best bet is to check with the town's website or social media before packing the beach bag and hitting the road.
Fishing Open in Connecticut
The 2020 fishing season is now open! DEEP urges any budding angler to enjoy fishing as a solitary experience or with members of your immediate household.
When Will Connecticut Schools Reopen?
This is the million-dollar question: what will school look like in the fall? The Reopen Connecticut Advisory Group is currently mapping out plans for reopening our schools, and the state has released guidance to get the ball rolling. Calendars for the 2020-21 school year in Fairfield and in Hartford were released before the pandemic, but whether they are achievable remain to be seen. Until then—we have the beach.