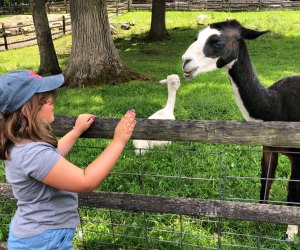 Connecticut Reopening Plan: What's Open and What's Closed for Families
If Coronavirus quarantine has got you down, help is on the way. Governor Lamont has begun rolling out a reopening plan, offering gradual relief to families and businesses exhausted by months of stay-at-home orders. Going outside has never sounded so thrilling. After two months of lockdown, only seeing each other in car parades, 7pm howls and virtual birthday parties, we finally have the beginnings of a plan to get out and enjoy the beaches, hiking trails, and more of Connecticut's natural beauty. If we do it responsibly, we should be able to enjoy some fresh air without putting people's lives at risk.
Phase 1 of Reopen CT begins on May 20. Read on to find out what that means for camps and businesses, as well as trails, beaches, farms, and more that we can now visit—as long as we adhere to social distancing protocols and cover up with face masks.
What's Open In Connecticut​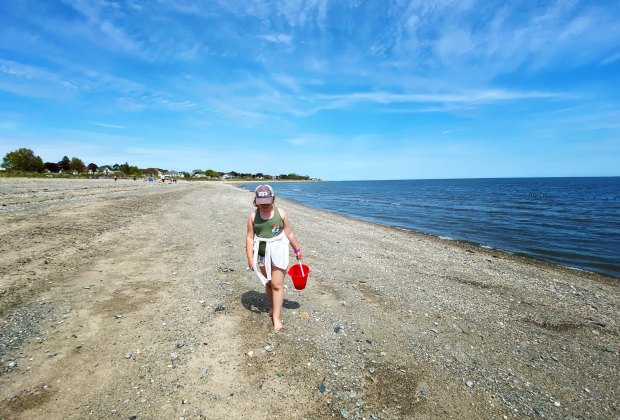 Russian Beach is open to visitors (including little shell seekers). Photo by Ally Noel​
Beaches and Parks Open in Connecticut
State Beaches and Parks have been and will continue to be open for everyone to get out of the house and enjoy a little fresh air, with few exceptions; at this time, Kent Falls State Park and Seaside State Park remain closed for the duration of the Public Health Emergency. Many of our state parks are limiting the number of guests allowed into the park at any given time. For the best way to stay up to date on park closures, follow @CTStateParks on Twitter. Public restrooms will be closed at most state parks, and so will most observation towers, museums, and picnic areas.
Many town-run beaches are opening for the season as well. In addition to decreasing the parking capacity, several towns are also limiting the number of non-residents allowed to access beaches. Your best bet is to check with the town's website or social media before packing the beach bag and hitting the road.
Campgrounds in Connecticut Open
The opening of campgrounds has been postponed until June 12 in all of the state's 12 public park campgrounds. The Mystic KOA is open for camping starting May 20th. Campers should be aware that there will be capacity restrictions and limited amenities.
Fishing Open in Connecticut
The 2020 fishing season is now open! DEEP urges any budding angler to enjoy fishing as a solitary experience or with members of your immediate household.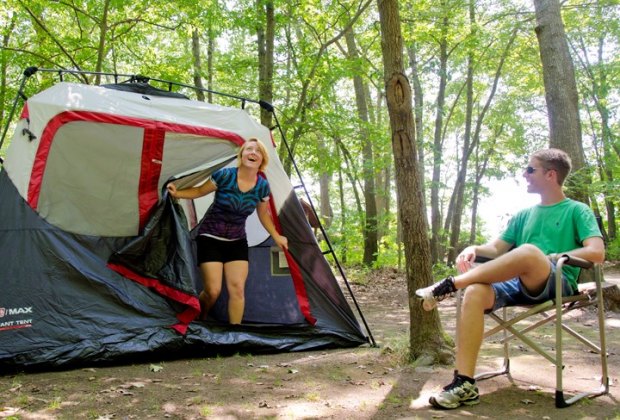 Go camping with the family for a change of scene. Photo courtesy of KOA
Museums, Aquariums, and Zoos Open in Connecticut
Mystic Seaport
Mystic
This popular tourist destination is usually decked out for Memorial Day Weekend, but this year's celebration will continue on a much smaller scale. Visitors are allowed to access only the outdoor portion of the grounds. The popular village buildings and indoor exhibits are closed. Face masks are required while on museum grounds. There are currently no water fountains, food service, or shopping. Admission to the public is free from May 23-29.
Mystic Aquarium
Mystic
Starting May 22nd, outdoor areas are open to the public, and guests will need to buy timed tickets online to enter. Visitors need to wear face masks, and there will be "discreet mandatory temperature screenings" upon entry as well.
Silverman Farm's Animal Farm
Easton
Silverman's animal farm is making a slow and safe reopening beginning May 20th. This year, guests travel through the farm following a one-way path. Hand-washing stations are placed around the area, and no picnics are allowed.
Stamford Museum's Outdoor Areas
Stamford
Stamford Museum is opening Heckscher Farm and hiking trails to members only May 22- June 7. All guests must preregister by visiting its website. Face masks are required for adults and children ages 4 and older. Hand-washing stations are available upon arrival, and social distancing must be strictly enforced throughout the grounds. The popular Sunday Farm Market is scheduled to open on June 7th. At this time, Nature's Playground, the Overbrook Nature Center, and HeckscherWILD! are closed.
Connecticut's Beardsley Zoo
Bridgeport
The Beardsley Zoo is scheduled to reopen on June 1. Many new safety measures are being put in place including staff training, new cleaning protocols, and social distancing guidelines for guests. You can learn more about the new safety regulations by visiting the zoo's website on May 29th.
New England Air Museum
Windsor Locks
Guests can explore the five acres of outdoor grounds of the NEAM starting May 23rd. Between 10am and 3pm on Saturday, Sunday, and Monday of Memorial Day weekend, admission is free ($5 donations suggested). No more than 200 people are allowed onsite at any time.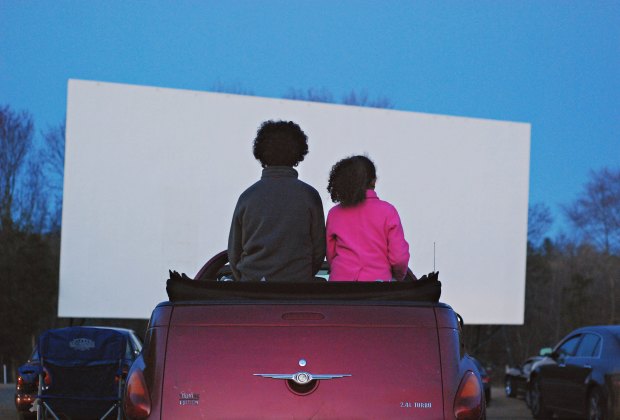 It's probably best to stay in your car at the Mansfield Drive-in Theatre. Photo courtesy of Visit CT
Drive-In Theaters Open in Connecticut

There are currently three drive-in theaters in the Nutmeg State, two of which are reopening for the season:
The Pleasant Valey Drive-In is kicking off its season with the blockbusters Jumanji and Doolittle. Cars will be spaced further apart, and tickets will be sold by credit card only. One concession window will be open for ordering and social distancing guidelines will be strictly enforced.
The Mansfield Drive-In is limiting the number of cars allowed at each screen. Tickets are only issued online, and at this time the playground is closed. The theater is using the FanFood app for customers to order food delivered to their cars.
At this time, the Southington Drive-In is not opening for the 2020 season.
Pick-Your-Own Farms Open

Traditionally, pick-your own strawberries kicks off at the beginning of June. Although many of the farms have not formally announced their plan to reopen, the governor has declared that PYO farms are essential to the local community. Many of these farms are figuring out how to incorporate new safety procedures into their experience, so stay tuned for more information!.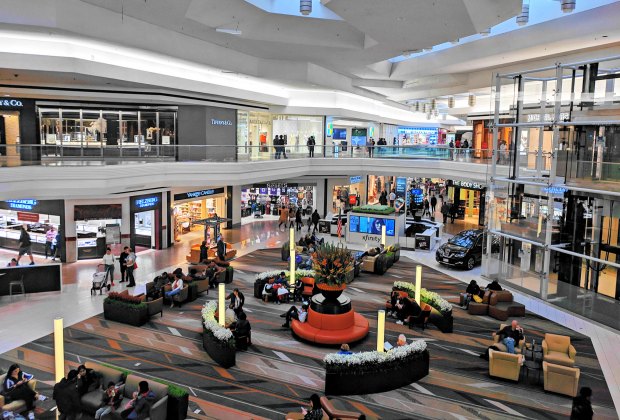 Westfarms, we've missed you. Photo by JJBers/CC BY 2.0
What Businesses Are Open for Delivery & Curbside Pick-Up
Just in time for warm weather, outdoor dining is allowed to re-open as of May 20 with specific safety measures in place. Many of our favorite waterfront dining experiences are eager to welcome families back. Diners should expect to have face mask regulations enforced when customers are not eating, be prepared to pay with a credit card, and observe social distancing guidelines.
In addition to our fantastic local shops, malls are allowed to open as of May 20th as well. Stamford Town Center, Trumbull, Connecticut Post Mall, Westfarms, and the SoNo Collection all began welcoming back shoppers this week. Each of these shopping centers will only be opening a limited amount of stores for the time being.
Many local toy shops, restaurants, and businesses will also continue curbside pickup and delivery.
RELATED: Ways to Support Local Connecticut Restaurants, Retailers, and More Right Now
Will Connecticut Camps Run This Summer?
Although residential and sleepaway camps in Connecticut have been shuttered for the season per the governor's orders, summer day camps are allowed to open for the summer beginning on June 29th. If the camp can meet all the health and safety guidelines set forth by the state, then day camps can open. Campers can expect smaller groups, enhanced health screenings, face-masked counselors, and a change in regularly scheduled activities. Some camps, like Hartford County 4H Camp, have decided not to offer a program this summer, but many YMCAs and local recreational camps are ready to welcome campers.
RELATED: Connecticut Camp Guide 2020
When Will Connecticut Schools Reopen?
This is the million-dollar question: what will school look like in the fall? The Reopen Connecticut Advisory Group is currently mapping out plans for reopening our schools. Calendars for the 2020-21 school year in Fairfield and in Hartford were released before the pandemic, but whether they are achievable remain to be seen. Until then—we have the beach.
Find more ways to keep kids happy and busy in challenging times on our new site for at-home classes, concerts, and other programs: Poppins@Home!