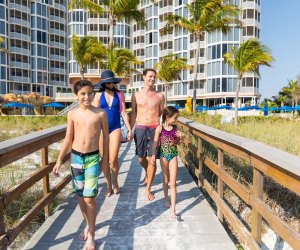 Family Resorts Reopening for Summer Vacations 2020
As states begin to reopen, some favorite family resorts are starting to welcome vacationers back with new cleaning and social distancing protocols. Whether you're looking forward to spend your summer vacation lounging on a Florida beach, pitching a tent for few nights at a California campground, or heading on a suburban New Jersey safari, there are plenty of great family travel destinations open now or preparing to welcome guests back soon. So, before you think a great summer vacation is out of the question, consider booking a stay at one of these awesome resorts on the East Coast, our West or in the Carribean and Mexico
Rest easy knowing heightened safety protocols and social distancing measures are in place. As a bonus, many of these family-friendly resorts are also offering "welcome back" specials to get guests through the doors. If you're interested in booking, be sure to click through to the resort websites for details on the special packages available right now.
As always, check out our Family Travel Guide for loads of family travel destinations, whether you're looking for day trip inspiration or you are ready to book a long holiday at a family-friendly resort.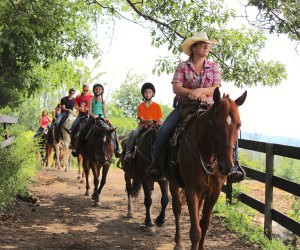 Enjoy beautiful trails and horseback riding at Pine Ridge Dude Ranch.
Family Resorts in the Northeast and Mid-Atlantic
Pine Ridge Dude Ranch – Kerhonkson, New York
This all-inclusive ranch experience in upstate New York gives families who would like to get away from it all and unplug in a rural setting precisely what they're seeking. Activities include year-round horseback riding on mountain trails, archery, rock climbing, and fishing. Kids love the petting zoo and tractor rides offered in the all-inclusive packages, which start at $1,450 for a four-day/three-night stay for a family of four. You won't have to worry about a thing: meals, an on-site spa for grownup pampering, nightly entertainment, indoor and outdoor swimming pools, water slides, and bounce pillows...Pine Ridge Dude Ranch has it all.
OUR LATEST VIDEOS
Reopening July 1, 2020, Pine Ridge Dude Ranch is expected to limit its capacity to 50 percent. Guests will have a temperature check upon arrival, and employees are tested at the start of each shift. Increased sanitation protocols are in place, and plated meals replace its usual buffet-style dining.
Stoweflake Mountain Resort & Spa – Stowe, Vermont
A beautiful mountain resort that's both child- and dog-friendly, Stoweflake truly is fun for the entire family. This Vermont resort offers families endless hiking and biking trails. You can improve your—and your kiddos'—golf and tennis games, kayak or paddleboard, head to a nearby swimming hole, or lounge at the on-site pool and Jacuzzi. When mom and dad need to have some R&R to themselves, check the kids into one of Stoweflake's Kids Camps for a full- or half-days worth of mountain fun. Don't forget to try out the latest ice cream flavors at Ben & Jerry's Touring Factory, which is just a few minutes away.
Stoweflake plans to reopen on June 12, 2020, following Vermont state laws. Because guests are required to be quarantined within the state for 14 days before checking into the resort, it's mostly open for in-state visitors. Changing regulations may ease this requirement deeper in the summer.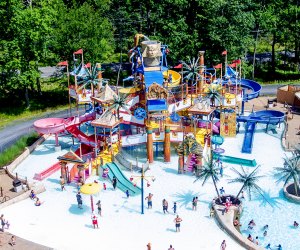 With Camelback's countless adventures, it's perfect for a Pocono Mountain getaway.
Camelback Resort – Tannersville, Pennsylvania
The Poconos provides a perfect family getaway for those traveling throughout the Northeast but the scenic region is a worthy destination no matter where you're coming from. With its exciting Aquatopia Indoor Water Park, Camelback Resort in the Poconos offers fun for the entire family at any time of year. Its on-site Camelbeach is the largest outdoor water park in Pennsylvania with more than 37 rides. An outdoor Mountain Adventure Park offers exhilarating zip line rides, a mountain coaster, mountain Segways, and more. And there's plenty of extras just for kids, from reptile shows to decorating donuts and Aquatopia T-shirts. There are a variety of packages to choose from, but the Zip, Zoom, Splash, which includes admission to Aquatopia and the Mountain Adventure Park, is a clear winner for families ready to book an unforgettable summer getaway.
Camelback Resort plans to reopen on June 11, 2020, with just 35% occupancy to ensure proper sanitation and social distancing. The resort has conducted a deep cleaning of the lodge and rooms, including the carpets and high-touch surfaces, such as television remotes and doorknobs. A lobby greeter welcomes guests with face masks and hand sanitizer, and the resort is offering flexible booking throughout the summer.
Oglebay Resort – Wheeling, West Virginia
Oglebay Resort in West Virginia is already open, offering nearly 2,000 acres of family-friendly fun, including two museums, indoor and outdoor pools, horseback riding, half a dozen restaurants, kayaking and Segway tours, a golf course, and a spa. It's also home to Good Zoo, the only AZA-accredited zoo in the state of West Virginia, so you and your kids can get up close with some wild animals without ever having to leave the beautiful resort.
Oglebay asks guests to limit physical contact with non-household members, including not having more than one person or household in the elevators at one time. High-touch surfaces in guest rooms and main areas are deep-cleaned regularly, and the on-site restaurants observe a 50% occupancy capacity.

Mohonk Mountain House reopens June 15, 2020, with enhanced health and safety protocols.
Mohonk Mountain House – Mohonk, New York
Reopening on June 15, 2020, Mohonk Mountain House is a beautiful historic spa resort in the Hudson Valley, just 90 miles outside of New York City. Head on a family hike, take a dip in a beautiful mountain lake, snuggle up in the cozy, nostalgic lounge for family game night, and enjoy kid-friendly dining options. Most activities, such as golf and canoeing, are included in the rate, but horseback riding, golf cart rentals, the spa (upon its reopening, which has not been set), and select other activities are available at an extra charge.
Enhanced safety protocols include extra sanitation of high-touch and high-traffic areas, meal takeout from the main dining area, contactless delivery of room service, and limited capacity at fitness classes. Note that the indoor pool and the Kids Club remain closed, but the lakefront beach area will open.
Salamander Resort & Spa – Middleburg, Virginia
Located an hour west of Washington, D.C., Salamander Resort & Spa makes creating family memories easy. Children have the option to build a cozy in-room campsite complete with a tent, comfy bedding, a lantern, and a stuffed animal. Want to get outdoors? Head to the 14,000-square-foot stable and get up close to Cupcake, a miniature pony, and the sweetest little resident at Salamander. Then, of course, there's shopping, touring the quaint and historic town of Middleburg, delicious family meals at Harrimans, and a chance to toast marshmallows at the fire pit to end the day.
Salamander Resort is accepting reservations after June 17, 2020. Masks and gloves will be readily available for guests, who will be required to wear facial coverings in hallways and elevators. When dining, parties are limited to six guests.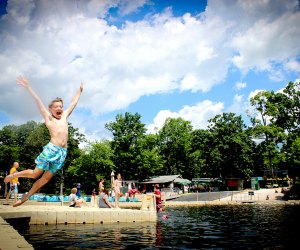 At The Woodloch, families are guaranteed to be engaged, entertained, energized.
The Woodloch – Hawley, Pennsylvania
With 1,500 acres of play space, The Woodloch is a real family treat, no matter what season you decide to visit. From a summertime lakeside getaway to winter wonderland vacations, families heading to The Woodloch can expect loads of family fun. Hiking, fishing, lawn games, magic shows, boat rides, and many other activities fill the calendar daily. There are also family fitness classes, a rock wall, and paintball. Kids and grownups alike can improve their golf game, enjoy spa treatments, and dine at one of four on-site restaurants plus snack and coffee shops. With four seasons of fun, once you arrive, you'll wonder why you ever have to leave.
Slated to reopen on June 5, 2020, The Woodloch has released its phased reopening plan emphasizing the safety of its guests and employees with a "yellow phase" in effect tentatively until June 19. It includes to-go meals only, encouraged PPE usage, temperature checks upon arrival, limited capacity in some areas and for specific events, and no daily housekeeping. Restrictions are expected to loosen as time progresses.
The Spruce Point Inn – Boothbay Harbor, Maine
Reopening on June 4, 2020, The Spruce Point Inn offers an enjoyable family getaway. Unique activities await, including whale watching and a boat cruise and tour of a nearby oyster farm. Or, stay on land and enjoy an oceanside pool, hiking and geocaching, and road biking. End your fun, relaxing day at the inn's nightly s'mores party.
Spruce Point is offering a generous and relaxed cancellation policy throughout the year. Safety protocols, such as social distancing and reduced capacity, will be implemented. Regular visitors, however, can expect some improvements—the resort has utilized this time away to make updates to the facility and grounds, which guests are sure to enjoy.

For families looking for a fun weekend getaway near NYC, Rocking Horse Ranch in the Hudson Valley is a definite crowd-pleaser.
Rocking Horse Ranch – Highland, New York
With a planned reopening date of June 12, 2020, families can book a summer vacation at the Rocking Horse Ranch. Your vacation includes anything from water sports to a thrilling indoor water park, and Buckaroo camp for children ages 6 to 12, plus fun at the Little Tykes Nursery for the youngest vacationers. Whether you want to learn how to ride horses or put your feet up and get a pedicure, Rocking Horse's offerings cater to the adventurous, serene, and everyone in between.
Upon reopening, Rocking Horse Ranch's summer activities will all be available to guests, including its brand new Eldorado Hot Springs.
Crystal Springs Resort – Sussex County, New Jersey
Nestled in the mountains outside of New York City, Crystal Springs Resort reopens June 4, 2020. Family activities include unique offerings like life-sized lawn chess games, archery and laser tag, horseback riding, hiking, fishing, the Action Park Waterpark, swimming pools, and marshmallow roasts. In light of state and federal regulations, some activities will limit participation and require visitors to exercise proper handwashing, social distancing, and sign a waiver. Though overall increased sanitation practices are in place, to limit contact, in-room housekeeping services will be limited.
RELATED: Florida Family Travel Guide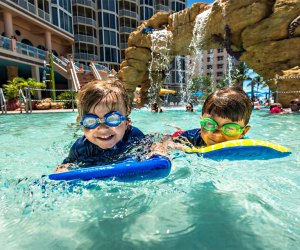 Kids will have a blast in the pool or at the private beach at Pink Shell Beach Resort in Fort Meyers, Florida.
Family Resorts in Florida
Pink Shell Beach Resort & Marina – Fort Myers, Florida
No matter your idea of an ideal vacation, Pink Shell Beach Resort & Marina likely has it covered. You can relax poolside or at the beach, play a friendly game of beach volleyball, enjoy a "Dive-In" movie night at the pool or sign the kids up for arts and crafts. You can even schedule a family portrait session on the beach. Families can enjoy lots of amenities, including on-site restaurants, water sports, spa treatments, boating, and more.
Pink Shell and its private beach have already reopened, but to ensure peace of mind, the resort is allowing full refunds for any canceled reservations between now and October 31, 2020; complete cancellations are allowed up to 24 hours before check-in. Complimentary face masks are available at the front desk, dining tables and pool and beachside chairs will be set six feet apart, and steps are being taken to ensure limited physical contact, including chalkboard menus in the dining areas.
Universal Parks and Resorts – Orlando, Florida
Universal Parks and Resorts is the first major Florida theme park to reopen, with a planned debut of June 5, 2020. With eight resorts associated with Universal Parks, there are plenty of options for families to choose from, no matter your budget or preferred hotel style. Whether you want to hang out in the beach-themed rooms and outdoor pools at Universal's Endless Summer Resort or enjoy an Italian seaside village at Loews Portofino Bay, all visitors can enter Universal's theme parks an hour early each day. This means hopping on rides without crowds is a real possibility.
Health protocols at Universal Parks and Resorts include requiring face masks. There are hand-sanitizing stations throughout, and visitors are encouraged to wash hands frequently. Capacity is limited, and social distancing protocols will be followed. Be sure to check with the theme park and your chosen resort for specifics.
The Henderson – Destin, Florida
Enjoy the crystal clear waters along the Florida Panhandle with a fun and relaxing stay at The Henderson. This family-friendly beachfront resort offers boogie board rentals, adult and family pools, a mommy and me spa package, outlet shopping, and more. Dog lovers take note: While The Henderson typically offers a canine ambassador program (yes, you read that correctly), due to current regulations, adorable pups Dune and Ranger won't return to the resort until late summer. With on-site dining, you may not need to leave the resort, but if you're in the mood for some of the best donuts around, might we suggest visiting Destin's own Donut Hole, which has been serving breakfast, brunch, and donuts 24 hours a day since 1985.
Rigorous cleaning protocols, floor markers, signage, and touchless hand-sanitizing stations have been installed. Dining tables have also been spread out, buffet-style meals are prohibited, and tables are limited to six guests.

If you never leave the 125-acre tropical paradise that is The Naples Beach Hotel & Golf Club, you won't run out of things to do.
The Naples Beach Hotel & Golf Resort – Naples, Florida
Enjoy 125 acres of tropical fun at The Naples Beach Hotel in Southern Florida. You can spend your vacation kicking back at the beautiful pools (there's an adults-only one for time alone), enjoying a spa treatment, playing a tennis match or round of golf, and taking a dip in the crystal clear Gulf of Mexico. Children ages 5-12 can enjoy complimentary supervised activities in the Kids Club, including swimming, beach walks, and more active fun. Get up to 30% off your stay during the hotel's Summer Savings Deal with travel dates ranging from June 1 to September 30, 2020.
Beach and pool access will be allowed once the hotel reopens; however, social distancing protocols must be maintained. Touchless hand-sanitizing stations are positioned throughout the resort, and clear protective barriers have been installed at various places as well.
RELATED: West Coast Family Travel Guide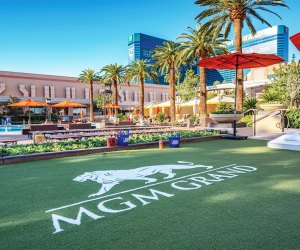 Stay at the MGM Grand for a fabulous family getaway.
Family Resorts in the Western US
MGM Resorts – Las Vegas, Nevada
The Bellagio, MGM Grand Las Vegas, The Signature, and New York-New York are reopening their doors on June 4, 2020, after a months-long closure. Though most well-known for its nightlife, Las Vegas is a fun family getaway. While some family-favorite attractions, such as the Hello Kitty Cafe and New York-New York's Big Apple Coaster, aren't slated to open until later in the summer, guests can still stroll botanical gardens, enjoy gourmet dining, and take a swim in the beautiful hotel pools. For safety, guests can be assured of employee health screening and PPE usage, digital restaurant menus, floor guides to maintain proper social distancing, and complimentary self-parking rather than valet.
Catamaran Beach Resort Hotel and Spa – San Diego, California
Are you looking for a great family vacation in SoCal? Look no further than the Catamaran Beach Resort Hotel and Spa. Local San Diego attractions, including Legoland California (i.e., our favorite SoCal theme park!) and SeaWorld are aiming to open their doors by July 1, 2020. Catamaran is located just three miles from SeaWorld and less than 30 miles from Legoland, so it's perfectly positioned to allow guests to take advantage of these family favorites. You can also stick around the resort and enjoy some R&R at the bayside lounge area, catch an exotic bird show, see fiery tricks at the nightly sunset luau, or up the excitement with kayak or paddleboarding rentals.
With a flexible travel policy through June 30, 2020, Catamaran allows a full cancellation up to 24 hours before your scheduled stay. Guests can also expect increased sanitation efforts on luggage carts, the front desk, and elsewhere. Doors will be propped open to limit physical contact and germ spreading. Face masks are required for guests over the age of 2 in the hotel lobby and while near other guests.
Tanque Verde Ranch – Tucson, Arizona
Immerse yourself in the American Southwest at Tanque Verde Ranch in Tucson. Whether you're looking to relax by the pool and enjoy yoga and spa treatments or get in some real adventuring with off-road Jeep rides, horseback riding, and mountain biking, there are loads of activities. Kids have a blast with everything the ranch has to offer, including getting up close to desert creatures at the nature center, doing arts and crafts, hanging out in the kids camps with children in the same age group, learning to ride horses, and going for hikes. And, with various dining options on-site, the family can sidle up to a cowboy cookout, grab a gourmet Southwestern meal, or enjoy other palate pleasers.
The ranch has reopened as of mid-May and implemented safety protocols, including limited seating in the dining areas, contactless check-in procedures, and limited capacity in public areas, such as the fitness center.
RELATED: Caribbean Family Travel Guide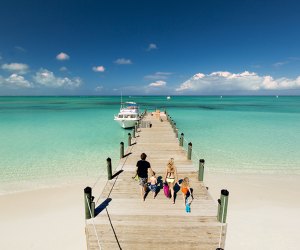 Beaches Resort-Turks and Caicos boasts a 12-mile beach and 10 impressive pools, which means endless all-ages fun for everyone.
Family Resorts in the Caribbean
Beaches Resort – Turks & Caicos
Beaches Turks & Caicos is a real treat for families. This all-inclusive resort overflows with activities and opportunities the entire family will love. There's a 45,000-square-foot water park, 10 swimming pools, an Xbox play lounge, meet-and-greets with favorite Sesame Street characters, a tropical train, and a 12-mile strip of beach with beautiful white sand and clear blue water. There's even a teen disco for older kids. Rent paddleboards, go scuba diving, snorkeling, or play beach sports. Parents can enjoy alone time with the Kids Camp option, where children have loads of fun with organized, supervised activities. Everything is included, and something is going on, no matter the time of day (or night).
From the airport to the resort and back, heightened hygiene protocols are being implemented. Beaches Resort guests have access to a private lounge in the airport where they will be offered a hand sanitizer and a complimentary mask. Once at the resort, guests can expect a precautionary temperature check, the chance to check-in online and skip the front desk, and deep cleaning of all areas, including those used for the Kids Camps and the Xbox Play Lounge.
Divi Little Bay Beach Resort – St. Maarten
If you're itching to get to the Caribbean, a stay at Divi Little Bay Beach Resort in St. Maarten in the Leeward Islands may be just the thing. There are three outdoor freshwater pools, spa treatments, and an outdoor fire pit. You can visit the historic Fort Amsterdam on-site, and Aqua Mania Adventures rents scuba gear or kayaks. No matter your vacation style, you'll find something sure to please. Its Kids Stay Free Program means children ages 5 and under stay free, and those ages 6 to 12 can stay and eat for just $63 per day.
Travel to the area reopens on June 15, 2020. The resort is offering an extended cancellation policy and booking specials.

Pack your bags and gather the family for the all-inclusive Nickelodeon Hotel & Resort in Punta Cana, Dominican Republic.
Nickelodeon Hotel and Resort – Punta Cana, Dominican Republic
You know a resort with "Nickelodeon" in its name is going to be one spot the kids are going to love, and with a slew of all-inclusive options and offerings, parents will love Nickelodeon Hotel and Resort in Punta Cana, too. Hang with favorite Nickelodeon characters like Chase, Dora, and SpongeBob, zip down a water slide at Aqua Nick, get drenched in green slime with the whole family at Nickelodeon Place and submerge yourself in Nickelodeon-themed rooms, fun, and dining. Of course, it's not just all cartoons—the grownups can enjoy gourmet dining, nearby golf courses, snorkeling, deep-sea fishing, spa treatments, and more.
Travel to the Dominican Republic continues to be limited until mid-June. The resort, however, is offering some great deals in anticipation of renewed travel, so be sure and check the website for current specials.
RELATED: Best All-Inclusive Resorts in the U.S. and Caribbean for Families

Enjoy the crystal clear waters at The Azul Beach Resorts.
Family Resorts and Vacation Packages in Mexico and Beyond
Azul Beach Resorts – Mexico and Jamaica
Azul Beach Resort locations in Mexico and Jamaica are specially tailored to family vacations. The Azulitos Playhouse offers games and activities on the beach for the entire family to enjoy. Children ages 5 to 17 can indulge in Vassa Spa's kids' services, including teen-oriented facials, age-appropriate makeup lessons, and mani/pedis. Parents of babies and toddlers appreciate the toddler-inclusive options like strollers, pack-and-plays, and other essentials available for use, allowing you to travel lighter—just bring the baby! Enjoy story time, check the kiddos in with a babysitter, enjoy some wine in the room—from the littlest family members to the oldest, everyone is sure to have fun.
Azul Beach Resorts are reopening as government regulations allow and offering some great travel packages.
The Reef Playacar – Mexico
Head to the famed Quintana Roo region in Mexico for some beautiful all-inclusive family-friendly fun at The Reef Playacar. Tour unique historical sites nearby, such as Chichen Itza, swim with dolphins, dine on the beach, zip line through Mexican jungles, and enjoy nightly entertainment. Special activities are planned each day for children ages 4 to 12, so kids feel pampered on their vacation, too.
The resort plans to reopen on June 15, 2020, and has extended its cancellation policy. Guests with previous reservations can take advantage of free upgrades if they reschedule rather than cancel their travel plans.
Club Med Resorts – Various Locations
From Mexico to the Maldives, Club Med is perfect for an all-inclusive family getaway, no matter where in the world you go. With activities and options to play, relax, explore, and dine together, these resorts make it easy, fun, and hassle-free. Play favorite childhood lawn games, take part in a resort-wide "escape room" experience, splash around at the pool or splash pads, and enjoy some fantastic food. And of course, as is expected at many family resorts, childcare and kids camps are available offering children a unique experience while mom and dad enjoy some R&R together.
The Club Med Resorts have announced reopening dates between June 12 and July 4, 2020, depending on the location. For reservations made after May 18, guests can cancel for a full refund until 15 days before travel. The resorts are offering specialized training to team members, spacious outdoor lounge areas, a capped resort capacity of 65%, and deep cleaning protocols to ensure the health and safety of guests and employees.
Photos courtesy of the hotels/resorts