All-Inclusive Winter Resorts: Woodloch Pines in the Poconos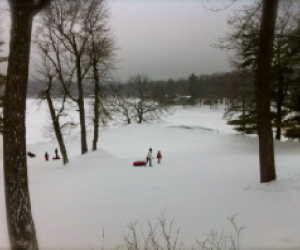 This is the first in a series of posts about All-Inclusive Winter Resorts for Family Vacations from New York.
Many people think of the perfect winter vacation as an escape to somewhere warm and sandy, but why not take a different tack and enjoy a family vacation where you can revel in all the winter fun our region offers? Winter resorts provide loads of activities like tubing, ice skating, skiing, snow shoeing and even horseback riding, plus entertainment and many other amenities to keep everyone in your family busy and happy. And the best part? There's no need to hop on a plane as many resorts are located within a few hours' drive of NYC.
Woodloch Resort, in the Pocono Mountains, is one of the best all-inclusive winter resorts near New York City. Not only do they have tons of activities to get you out of doors, but there's non-stop fun going on indoors too. Every day guests are provided with an activity schedule offering an array of special events in addition to all the regularly-scheduled daily activities. There are so many different options—the hardest part is squeezing it all into your stay!
In one weekend we ice skated on a lake, drove bumper cars, went tubing, tried out the shooting range, pet baby animals, took pony rides, played a live game of Family Feud, watched a magic show, played bingo, enjoyed the indoor pool, popped into the arcade and ate a ton of delicious food. Plus I snuck off for a little pampering at their classy sister spa, The Lodge at Woodloch, indulging in a massage and a few hours of luxuriating in their steam and water spas. If our trip was a day longer, we definitely would have packed in even more.
For small children, there's a toddler playroom packed with toys and an indoor gym for games and activities. They'll love playing in the indoor pool, especially in the splash play park, but there are no kids-only camps available. Woodloch is designed for family time.
A variety of accommodations are available, ranging from standard rooms to deluxe suites with their own kitchens and separate bedrooms. Private guest homes can also be rented. The accommodations are clean and cozy, but not luxurious. In particular, Woodloch has not jumped on the "luxury bed" bandwagon yet and the mattresses leave something to be desired in my beddie (that's like a foodie of beds—yes, we're making up words now) opinion.
The food is both plentiful and fresh. There is a good choice of entrees at every meal and food is served family style at the table. I found there were enough light options for my taste, but I still managed to overeat because of the abundance of food offered. The kids enjoyed sampling the foods from the kids' menu, as well as options from the regular adult menu.
With all the amenities that Woodloch offers, it's not surprising that it can be a bit expensive. Winter weekend rates range from about $175-$280 per night per adult for a standard room. Kids range from $40 to $175 per night, depending on their age, although there are occasional nights when kids under 6 stay free. Special packages are usually available—check their website for the latest deals. While it's not cheap, you're definitely getting your money's worth with all the activities available. And it's a wonderful place for a special occasion getaway; that's why many families choose it for family reunions and get-togethers.
The all-inclusive rate covers accommodations, three meals daily and a wide range of activities and entertainment but you will pay minimal fees for certain things such as snowmobiling, paintball and ice skating. Alcoholic beverages and soft drinks are also additional. An 18% gratuity will be added to your bill.
My family had a great time at Woodloch. Everyone was super-friendly and we enjoyed exploring the winter wonderland. I like a vacation that is relaxing, but also gives you the opportunity to be outdoors and get your body moving. I left with happily sore muscles and a cleared head.
Woodloch Pines Resort
731 Welcome Lake Rd.
Hawley, PA 18428
570-685-8000
Editor's note: This post is not a paid post and not related to any paid endorsement or advertising. All opinions expressed are solely those of the writer. Free or discounted lodging was accepted in the research of this post.