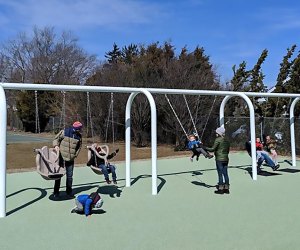 Inclusive Playground Opens in Greenlawn in Suffolk County
Parents with active tots know the value of outdoor play. It helps children gain self-confidence, develop muscle coordination, and burn calories. It also serves as a creative and stimulating outlet for their energy.
This would seem to be especially true for children with special needs. With that in mind, Greenlawn has welcomed a new, inclusive playground to Pickle Park. It makes running, playing, and generally having a good time easy and fun for children of all abilities.
Located in the Town of Huntington, it's a worthy addition to Long Island's top inclusive playgrounds and top playgrounds for toddlers.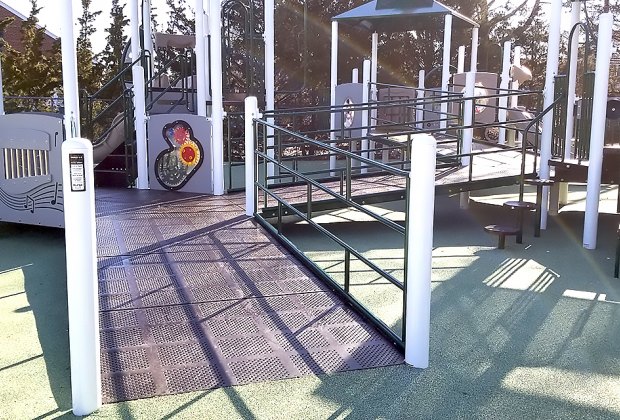 The playground includes slides, swings, areas to run, and more.
In a ribbon-cutting ceremony on March 23, a section of Liberty Park known as Pickle Park was christened as the area's signature inclusive playground. Designed for children ages 2-12, it includes slides, play panels, swings, and a slider. The playground's inclusive elements include a rubberized, cushioned surface; accessible swings; wheelchair ramps designed for children with sensory sensitivities; a rocking element for children with wheelchairs and seated children; and an accessible walkway that connects to the playground and seats.
The park is located on a half-acre parcel of land owned by the Harborfields school district. Its $400,000 price tag was split between the district and the Town of Huntington.
The ribbon-cutting ceremony welcomed officials from the Town of Huntington, school board members, and members of the Greenlawn Civic Association.
Town Supervisor Chad Lupinacci helped draft an agreement between the town and the school district in 2017, agreeing to host an inclusive playground where children of all abilities could play together. Kids could grow to appreciate each other's differences.
RELATED: Sensory Play Destinations for Kids on Long Island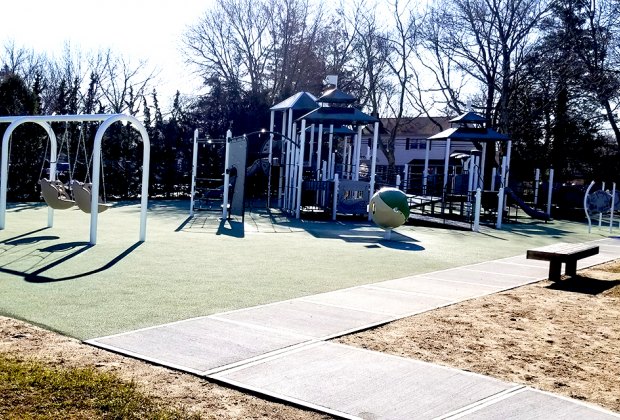 The landscape encourages safe but enthusiastic play.
Well-designed landscapes serve as the perfect background for children to grow physically, cognitively, and emotionally. Unstructured play time teaches children to investigate the world through their senses. The outdoor light and Vitamin D stimulate kids' immune systems. An outdoor environment encourages children to share, take turns, and engage in creative play.
Luppinaci said in a statement: "The Harborfields Community Playground is much more than just another playground. It is a testament to a community coming together for the greater good of bringing people together, teaching children to be inclusive, and to appreciate the differences of every person they encounter on their journey to adulthood."
Photos by Lauren Lembo for the Town of Huntington's public information office