Best Orchards for Apple Picking Near Chicago with Kids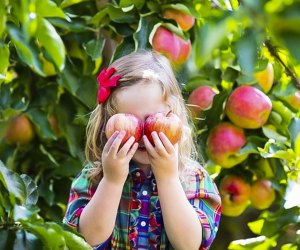 Get some fresh air this fall season with a trip to an orchard for apple picking near Chicago. Fall harvest season is already in full swing at several orchards throughout Illinois, Wisconsin, and Indiana. Families willing to take a one- or two-hour drive can enjoy country life for a day, with hayrides, petting zoos, corn mazes, and apple picking near Chicago. Some orchards even offer pumpkin picking and other fruits throughout the season.
We've created a list of the best apple orchards within a two-hour drive of Chicago for your apple picking (and, perhaps, pie-baking) enjoyment. Kids can play farmer for a day without breaking mom and dad's bank account at these orchards.
For other fun family trips near Chicago, try these Day Trips Near Chicago or Family-Friendly Weekend Getaways. For more fun things to do near Chicago this season, check out our Fall Fun Guide.
Please call or check websites ahead of your trip to ensure orchards are open and offering U-pick. Travel times are estimates and do not account for rush-hour traffic.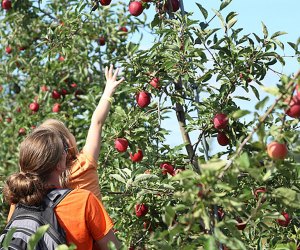 Kids can pick from the trees at All Seasons Orchard in Woodstock.
Apple Picking Destinations Northwest of Chicago
14510 Route 176
70-minute drive from Chicago Loop
In addition to apple and pumpkin picking, kids can enjoy more than 30 barnyard activities at All Seasons Orchard in Woodstock. A corn maze, petting zoo, giant animals, zip line, magic shows, pig races, bouncy houses, and pumpkin bowling are among the family favorites. The orchard is open daily in September and October and includes 15,000 apple trees. During some times of the season, little pickers can also get their hands on Asian pears straight from the tree.
RELATED: The Best Pumpkin Patches Near Chicago
Homestead Orchard—Woodstock, Illinois
11802 Charles Road
85-minute drive from Chicago Loop
The early bird gets the apple, starting usually in late July at Homestead Orchard, where Duchess and Early Blaze apples are available for picking by the last two weeks in August. The orchard has a one-peck minimum per family with children for $20. The family-owned farm also has pears and cherries available for picking, or kids can check out the bees kept on premises. The orchard's store is an 1880s horse barn that includes a room dedicated to World War II memorabilia including photos, maps, and models.
4914 N. Union Road
75-minute drive from Chicago Loop
Prairie Sky Orchard was started by kids. Ralph and SueEllen Arndt's 10-year-old daughter and 7-year-old son combined their allowances to buy $8 worth of pumpkin seeds to plant in their yard in 1991. The seeds yielded 200 pumpkins and gave rise to what is now a 2,000-tree orchard. Today, kids can pick apples, pears, and, of course, pumpkins at the orchard. Parents can also pick up a U-bake pie to take home.
15908 Hebron Road
95-minute drive from Chicago Loop
Apple pickers can head north toward the Wisconsin state line to visit what is said to be the world's only apple tree maze. Blaze a trail through 1.5 miles of trees containing nine varietals of apples, or select from more than 30 kinds of apples in the U-pick section of the orchard. Royal Oak also has an apple tree nursery for families who want to plant their own. On weekends, families can enjoy apple cider slushies and rides on the train, carousel, and hayrides. Pick-your-own apples are $7 for a quarter-peck or $13 per half-peck. Tokens for train, carousel, or hayrides are $3 each.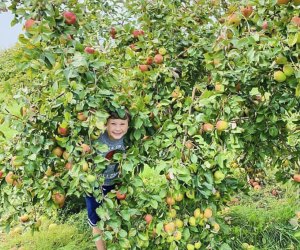 3709 Miller Road
80-minute drive from Chicago Loop
Families looking to pick more than just apples might enjoy a visit to this McHenry U-pick that also offers raspberries, pumpkins, green beans, tomatoes, and sugar snap peas with a minimum pick of $10 per person. On weekends, Stade's "Farmtractions Park" has more than 30 activities for families, including a petting zoo, giant pumpkin cannon, carousel, semi-truck slide, hamster run, zip line, corn maze, and duck races. Rides and games can be pay-as-you-go or in packages.
Lang's Orchard—Woodstock, Illinois
17411 Secor Road
75-minute drive from Chicago Loop
Families looking for simplicity might enjoy Lang's Orchard. The 44-year-old, family-owned Woodstock orchard touts itself as old-fashioned and affordable, where the only fees are for the apples picked. Lang's is now home to 13 different varieties of pick-your-own apples and a store that sells simple jams, jellies, salsa, and honey.
Apple Picking Destinations to the West of Chicago
11783 Waterman Road
75-minute drive from Chicago Loop
Kids can check out the free play area, petting zoo, and straw maze at this far northwest suburban apple orchard. During the fall months, Honey Hill offers horse-drawn wagon rides, weather permitting. An 1880s barn on the site has been converted into a craft and gift loft, and families can enjoy apple cider, apple cider donuts, honey, caramel apples, and freshly baked pies from the shop.
RELATED: Amazing Corn Mazes Near Chicago for Kids
19412 Shabbona Road
75-minute drive from Chicago Loop
Kids can enjoy after-school specials at this orchard's barnyard if they can make it out to Malta on a weekday between August 27 and October 30. The barnyard includes a jumping pillow, animal petting zoo, apple cannon, apple launcher, apple train, and pony rides. Adventurous families can find their way through a corn maze in addition to the barnyard on weekends. U-pick apples are available for $15 per five-pound bag. A cider house on site shows kids how apples are pressed, and allows adults to get a taste of hard cider, apple wine, or apple ale.
2500 Johnson Road
50-minute drive from Chicago Loop
While its name might make it seem small, Keller's is home to more than 30 varieties of apples. Each picker must purchase a bag (starting at $8 for a quarter peck) before entering the orchard. Before or after picking, families can pick pumpkins or enjoy a 10-acre corn maze, wagon rides, pedal tractors, a kids' straw maze, sandboxes full of grain, farm animals, and a kids' play area with a pirate ship and castle. Sunflower picking has been added to the list of attractions for 2022. Admission to the attractions is $9 for anyone older than 3.
1N318 Watson Road
65-minute drive from Chicago Loop
Progress through the seasons at Kuipers by picking apples, then pumpkins, and finally Christmas trees at this far west suburban farm. Admission prices range from $13 to $22 and include a pumpkin or a quarter-peck bag of apples. Hayrides and train rides run continuously to tour the orchard on weekends and hourly on weekdays. A children's play area boasts attractions such as a playground, chalk house, giant spider web, and pig races, some with additional fees.
Apple Picking Destinations East of Chicago
200 S. County Line Road
55-minute drive from Chicago Loop
This Indiana orchard is one of the more affordable apple picking venues, and also is less than an hour from the city. Families can select their own experience with $1 admission and pay-by-the-pound feature for U-pick apples, pumpkins, or sunflowers. A tour of the bee yurts is also only $1, and live music performances play at the picnic area for free. The corn maze and kids farm also offer varying levels of admission for $5-$10.
Apple Picking Destinations North of Chicago
1050 Crest Road
45-minute drive from Chicago Loop
For families who are just in it for the fruit, this no-frills orchard offers many varieties of apples for $10 for a half-peck bag or $20 for a full peck. The orchard has no hayrides, petting zoos, or corn mazes, but it also doesn't charge for parking or admission and is closer to the city than many other orchards.
W6384 Sugar Creek Road
100-minute drive from Chicago Loop
Founded by Norweigan immigrants in 1848, this Lake Geneva area orchard has apple picking for the whole family, and fruit wine tasting for the grown-ups. Select from a variety of apples for picking or buy mulberries, wine, apple sauce, honey, or baked goods in the Apple Barn store. Visiting this orchard could also tie into a larger trip to Lake Geneva.
5006 South Sylvania Avenue
70-minute drive from Chicago Loop
After enjoying Apple Holler donuts, jams, jellies, and applesauce all summer at local farmers markets, you can pick your own Apple Holler apples and pears from mid-August to November. Apple-picking experiences start at $10 per person and include a tractor-drawn orchard tour. The orchard's farm park includes a cow maze, little red hay barn, corn maze, Amish built train, goat bridge, and bee observation exhibit.
All photos courtesy of the farms/orchards